Big machine events revved back up in September and October. Tradeshows like The Utility Expo and GIE+EXPO (now called Equip Exposition) drew equipment pros back out to explore the world of off-highway construction and landscape machinery. Commencing Sept. 28-30, the 2021 installment of The Utility Expo was the largest in the show's history (you might remember it as ICUEE in the past) with more than 900 companies spread across 32+ acres of the Kentucky Exhibition Center. It was a hot show in multiple ways, and more than 16,500 attendees came from all over the nation and beyond to enjoy the expansive event (focused on the many facets of utility construction).
GIE+EXPO was equally impressive and in Louisville. Oct. 20-22 at the Kentucky Exposition Center, over 675 companies exhibited with co-located Hardscape North America. There were more than 70 new exhibitors paired with a lot of cool attractions like the Drone Zone, where attendees flew actual drones indoors, and the UTV Driving Experience, which featured the testing of all types of utility vehicle brands on an outdoor track. GIE+EXPO drew 23,922 total attendees in 2021, an increase from the shows in 2019 and 2018, and introduced a new name and brand for the annual event. Equip Exposition will debut in 2022 (read more below), which will take place in Louisville Oct. 19-21, 2022.
I explored both of these events for multiple days with booth appointments scheduled every half hour to talk to manufacturers about new machinery, corporate maneuvers and market insights. Many of the machines and attachments that impressed me the most are featured in our big print magazine cover story for Nov./Dec., the Innovative Iron Awards (those machines will be highlighted this December on this website). But, there was a ton of other news that I couldn't pass up sharing right now — in categories we don't often cover enough — like trucks. Here's a great example…
Truckin' with Utility Expo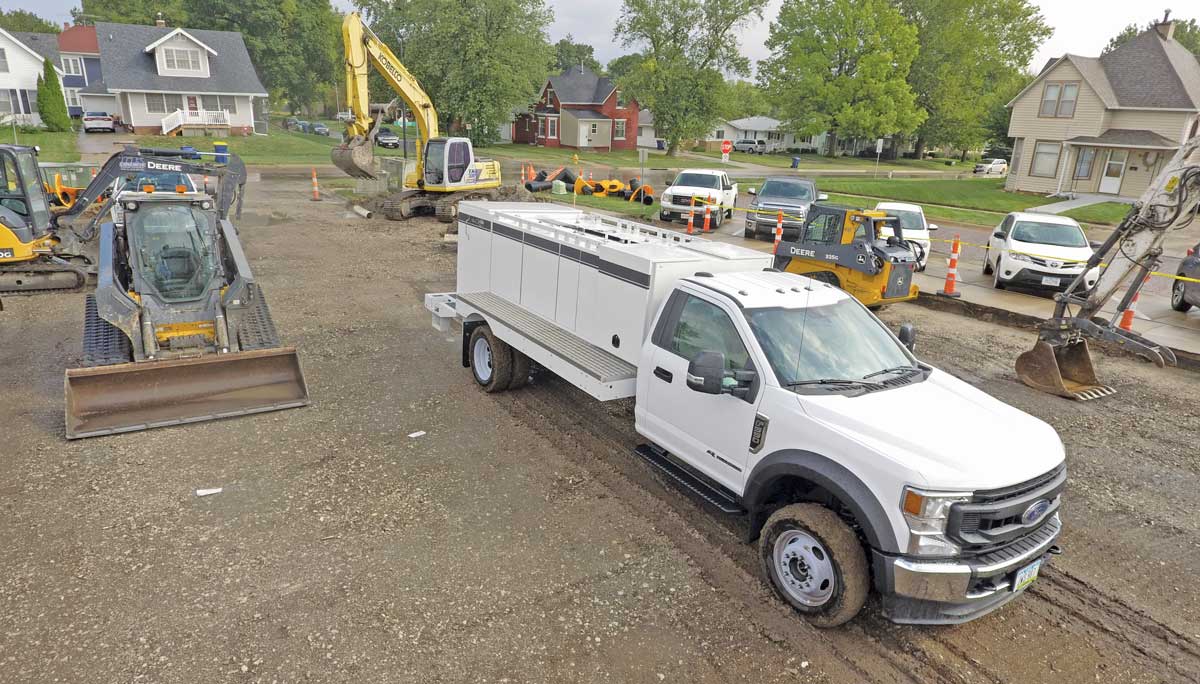 I stopped by the Thunder Creek Equipment booth at The Utility Expo to check out innovative bulk diesel, diesel exhaust fluid (DEF) and fleet maintenance products. On display was Thunder Creek's Service and Lube Upfit Platform or SLU, which combines the tailored precision of Thunder Creek's Service and Lube Trailer with the nimbleness of a medium-duty service body. This is the smallest such service truck in the industry and does not require a commercial driver's license or a HAZMAT endorsement, saving customers from increased insurance costs and the cost of hiring highly sought after CDL drivers. That's a huge deal.
The SLU is uniquely equipped to thrive in tight, urban environments. It can be configured to carry up to eight oils or maintenance fluids, plus diesel, diesel exhaust fluid, grease and compressed air. The entire SLU pneumatic pumping system is powered by a built-in VMAC air compressor, which allows for more storage in the truck body for filters, tools and an optional grease keg. Fluid volumes are configurable in 115-, 55- and 25-gal tanks, depending on a customer's fleet maintenance needs. Fluids supported include fresh oil, reclaimed oil, grease, antifreeze, reclaimed antifreeze, high-flow oil, diesel fuel and DEF. Total capacity for the SLU is 690 gal. The small size of this service truck blew me away.
What can we say? We love rental. So much so that we published a Digital Rental Guide covering everything you need to know when renting a machine. Check it out here!
Sticking with truck tech, Vanair released a ton of mobile power solutions at The Utility Expo that fit on commercial vehicles. The coolest announcement was the upcoming release of its EPEQ Electrified Power Equipment product line. Available to customers in the new year, EPEQ includes a variety of zero-emissions, electric-powered tools and systems using Vanair's specifically developed line of ELiMENT lithium iron phosphate batteries. EPEQ products include electric motor-driven air compressors, electric-hydraulic power units, AC power inverters, welders, Level 1 and 2 EV charging, electric-driven underdecks, electric-driven abovedecks, alternators/regulators and DC-DC converters.
EPEQ is a fully self-contained and independent system that can be mounted on or within combustion engine vehicles, electric vehicles or even on trailers. On electric vehicles, it can either work with the host vehicle's batteries or independently. The EPEQ Series is a great solution for those customers desiring to operate their equipment at the jobsite with zero emissions and significantly reduce noise, heat and weight levels, while reducing equipment maintenance costs and overall vehicle life-cycle costs. It is also perfect for van-type vehicles that do not have a PTO or customers who desire to turn their vehicle engine off.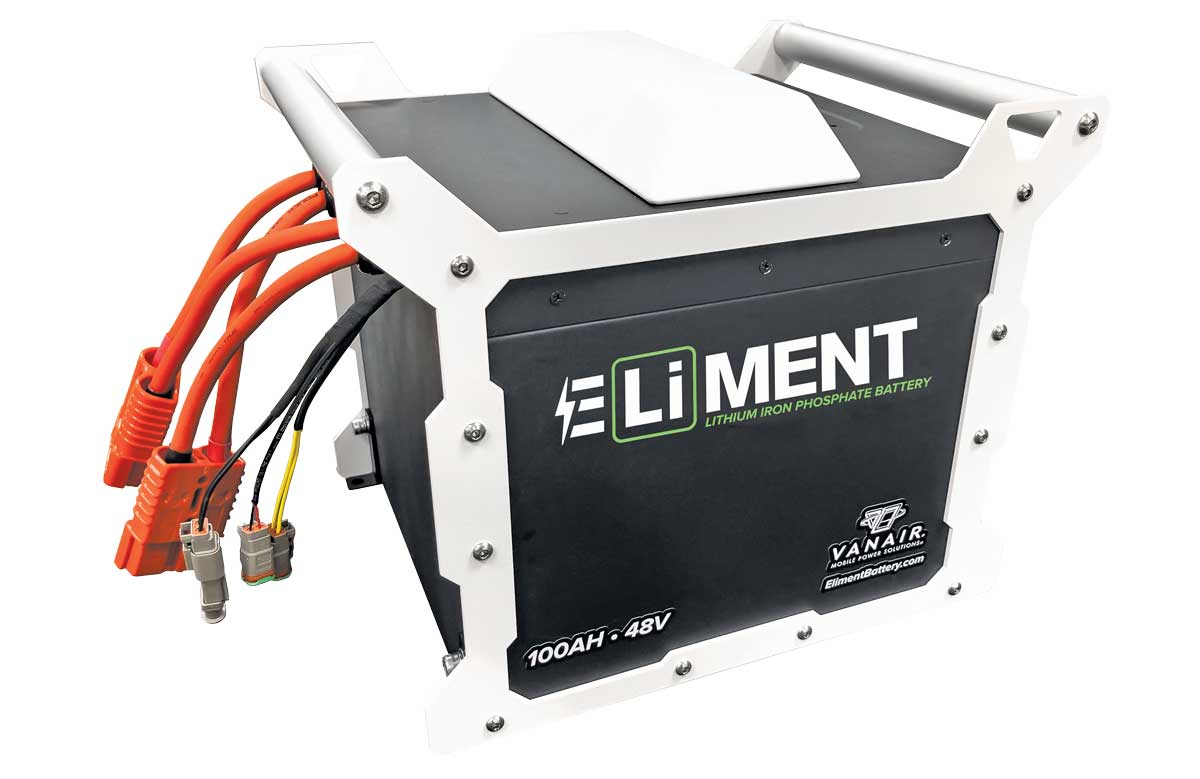 Since I don't get enough space to talk about trucks (we're often too dialed into off-highway earthmoving equipment), I definitely have to mention Zeal Motor's famous Fat Truck, which was at The Utility Expo in a pickup version. The 2.8P was designed to answer the specific market need to transport material and tools to the jobsite while looking utterly awesome doing it. Many industries are requiring an amphibious vehicle to bring payload through harsh conditions with the occupants separated from the payload. The 2.8P has a wide variety of options like a high-speed capstan, vegetation control spraying unit, water tank, fire fighting foam kit and small service crane for recovery after a storm. The 2.8P has a payload of 2200 lbs, traveling speed up to 25 mph (3 mph through water) and only 1.6 psi of ground pressure at its max payload, which is five times less than a human footprint.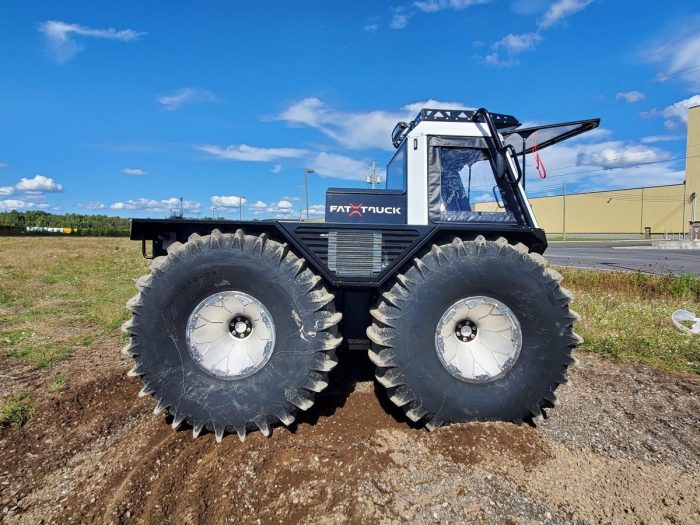 Of course, The Utility Expo wasn't just about trucks. Case launched the biggest track loader in the industry, the TV620B, which is featured on pages 24-25. CM Labs Simulations released its Vortex Edge Plus suite, which runs CM Labs' full fleet of VR earthmoving, lifting and forestry equipment training packs including excavators, backhoes, dozers, wheel loaders, motor graders and way beyond. John Deere teased the electric version of the 310L backhoe, which is still in prototype phase, while United Rentals demonstrated its digital and excavation safety solutions. I highly recommend you type "Utility Expo" into the search engine on compactequip.com, and you'll find pages of new machine news from the show on our website.
OPEI Launches Equip Exposition, Opens New Offices in Louisville
The Outdoor Power Equipment Institute (OPEI) announced that GIE+EXPO will rebrand and relaunch in 2022 as Equip Exposition, evolving the industry's largest tradeshow and starting a new chapter for the event while reinvesting in its host city. Concurrent with the launch of Equip Exposition, the OPEI Board of Directors and Kiser, joined by Louisville Mayor Greg Fischer, Secretary of the Kentucky Tourism, Arts and Heritage Cabinet Michael Berry and other invited guests, cut the ribbon on new show offices on Main Street in Louisville right before GIE+EXPO started in October. In 2019, GIE+EXPO was the sixth largest tradeshow in the United States, according to the Gold 100. We're excited to help OPEI and Equip Exposition start that next chapter.
GIE+UTVs+Lots More

A few weeks later, GIE+EXPO brought me back to Louisville. The Kentucky Exposition Center is one of the biggest and best venues in America with outdoor space to accommodate field operation and digging with machinery, so it attracts some big machine shows. As mentioned, I don't have attendee numbers, but GIE+EXPO was packed. Long lines of green pros (often with families) queued to operate equipment on some beautifully cool fall days in October.
GIE+EXPO was the first time I got to see Bobcat's new L65 and L85 compact wheel loaders. Bobcat has gotten into so many new product categories over the last few years — tractors (again), small articulated wheel loaders, commercial mowers and now full-size compact wheel loaders. With standard bucket capacities of up to 1 cu yd, the L65 and L85 make fast work of tough material handling in landscaping, construction, agriculture and onward. In addition to buckets and pallet forks, the L65 and L85 easily integrate with a variety of other Bobcat attachments. In fact, the power Bob-Tach System allows operators to share select attachments across their skid steer and track loader fleet. Also, the operator can optimize the performance of said attachments relative to the task at hand with Attachment Control Mode, which enables operators to control the engine and travel speeds separately, optimizing auxiliary hydraulic performance.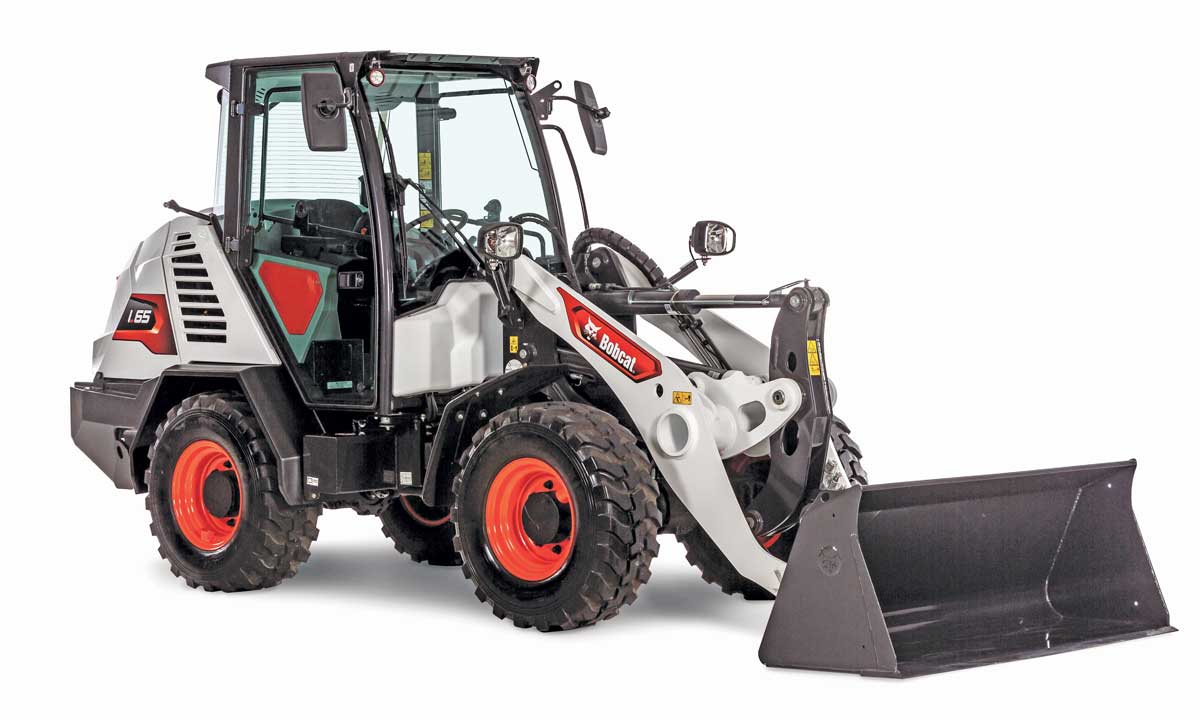 The L65 and L85 come equipped with tons of other coolness: a newly redesigned 2.4-liter turbocharged Bobcat Tier 4 engine; two-speed travel (travel mode/work mode); bucket level indicator; differential lock; inching pedal; 5-in. display with jog shuttle; Z-bar mechanical self-leveling; high-flow hydraulics (L85 only); and LED work lights. Additional upgrade options on the L65 and L85 include an Attachment Control Device (7 pin connector), automatic ride control, enclosed cab with HVAC, rearview camera and a cloth suspension seat. These are two mighty additions to the Bobcat lineup.
Moving from wheel loaders to loader backhoes, New Holland Construction launched its B75D at GIE+EXPO. This loader backhoe is being marketed as an economy class solution, ready to tackle a wide range of projects with rental-level amenities, 74-gross-hp diesel engine and over 18 ft of max digging depth with a long stick (14 ft with a normal stick). Staying under 74 hp means the 3.4-liter FPT engine features a diesel oxidation catalyst (DOC) and no DEF for increased fuel efficiency, faster response times and less hassle. The unit has standard four-wheel drive and power shuttle synchromesh transmission with four forward and four reverse gears. While this is an economy unit focused on rental, landscape yards, roading and city work, the B75D keeps safety at the forefront with a ROPS/FOPS certified canopy and four front and two rear halogen work lights, keeping the operation running into the night.
LiuGong North America Releases 1.8-Metric-Ton Mini Excavator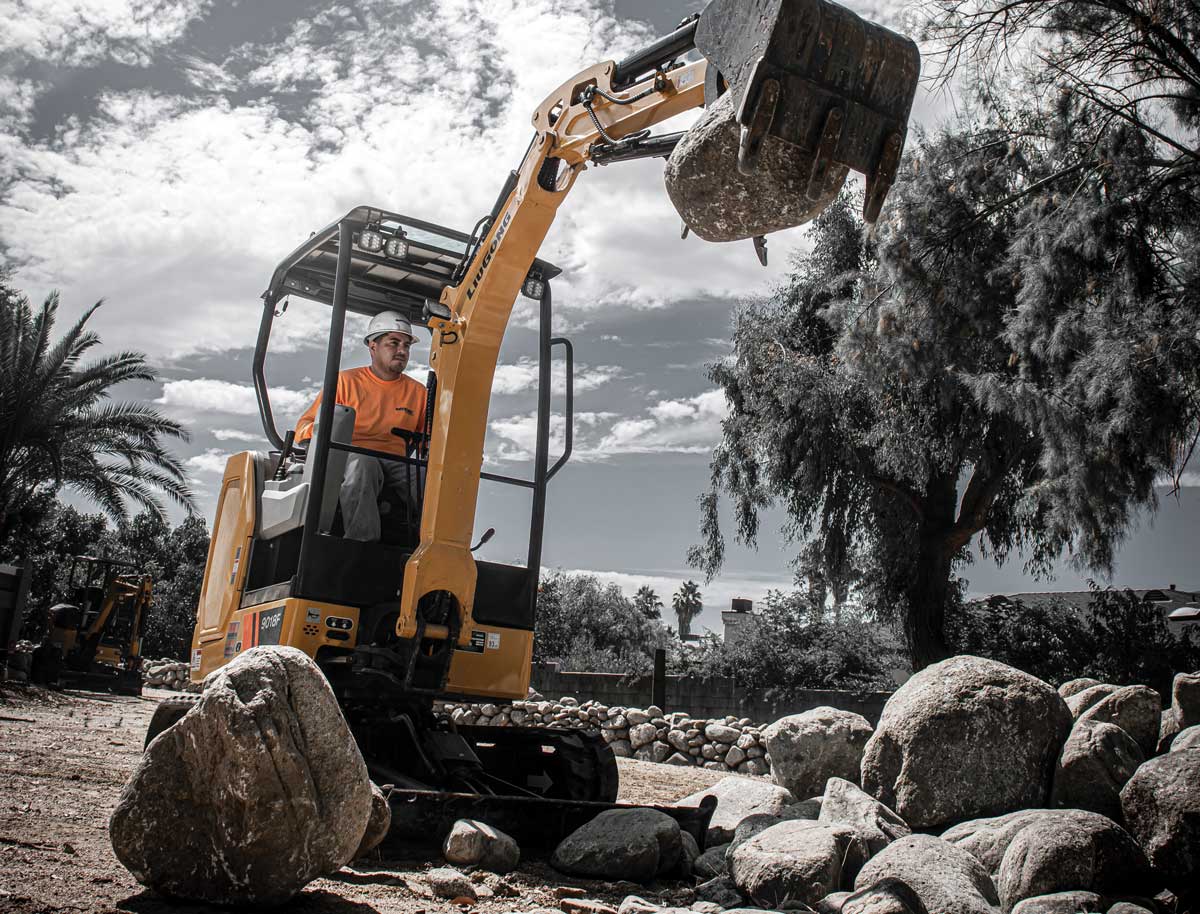 Launched in September and on display at The Utility Expo, LiuGong North America released the first of its new F-Series excavators. The 9018F is a 1.8-metric-ton mini class excavator. Its compact dimensions, foldable dozer blade and retractable undercarriage make it ideal for working in tight spaces, providing flexibility for multiple applications. The company expects the 9018F to be especially useful in the utility and landscape markets. The unit is available with both a FOPS-rated closed cab as well as a TOPS-rated canopy design. The closed cab 9018F version stands just 7 ft, 7 in. tall, resulting in a lower height that all but eliminates headspace concerns while traveling in restricted spaces or while being transported. Its 51-in. outside tread to outside tread measurement retracts to just 39 in., allowing it to easily pass between onsite obstructions and through almost any bay door. For more info, visit liugongna.com.
Both of Kubota Tractor Corp.'s indoor and outdoor booths were super busy at GIE+EXPO. While its 2022 commercial mower turf products were the main attraction, Kubota was also showcasing its RTV lineup with the gas-powered RTV520, launched in March of 2021 with a new look and updated features. The new RTV520 features a more powerful two-cylinder Kubota liquid-cooled EFI engine that provides more than 17 hp and gives instant power with greater throttle control. It's important to note that Kubota basically invented the diesel category of utility vehicles, so engineering a Kubota gas power plant this small for a UTV is always notable. The RTV520 is equipped with a variable hydrostatic transmission, which offers a smooth driving experience at low speeds, and dynamic braking that allows for one-pedal operation.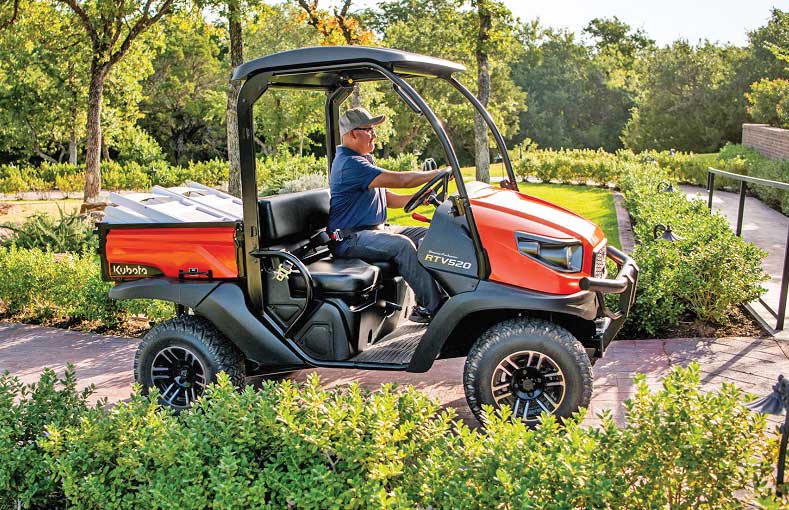 At 54.7 in. wide and 74 in. tall, the RTV520's narrow stance allows it to easily travel the slimmest passageways and fit through the tightest spaces. It's engineered with a heavy-duty cargo bed, sporting 441 lbs of cargo capacity and 1,168 lbs of towing capacity. With a tight turning diameter of just 21.7 ft, the RTV520 can access areas where bigger UTVs simply can't. Kubota continues to offer an awesome variety of commercial-grade utility vehicles from its crossover Sidekick, another gas variant that goes up to 40 mph and is great for work and play, to the RTV-X1140, which sports two rows of seating, and the back row can fold up to add bed space.
Sticking with cool UTVs, the Kioti brand was showcasing the latest luxury addition to its K9 utility vehicles at GIE+EXPO, the all-new K9 2400 Cab, which is tricked out with amenities — an awesome audio system with speakers, air conditioning, heat and defrost, a tilt-opening windshield and four-wheel drive. The K9 2400 Cab boasts advancements to reduce vibration and noise in addition to a redesigned CVT with engine braking capabilities. I inspected the cab in person, and the enhanced automotive vibe made me want to drive it home. Landscapers, landowners and pros of all sorts will get similar impulses, especially with that 24-hp, three-cylinder, in-line vertical, water-cooled Daedong diesel engine and a ground speed up to 31 mph — not to mention hydraulic power steering, four-wheel drive, 12.5 in. of ground clearance, 1,598 lbs of payload capacity and 1,300 lbs of towing capacity.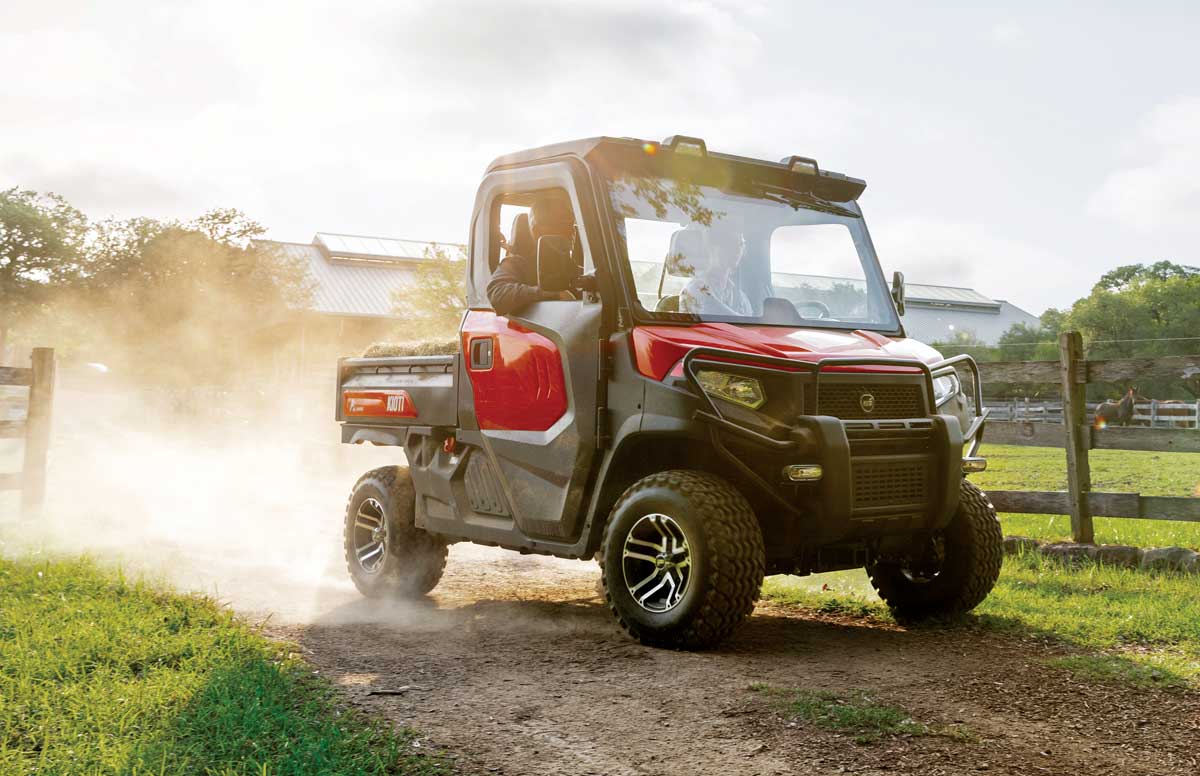 Kioti was also teasing lots of other products, including walk-behind mowers, a new line of grapples (three compact and three standard-duty grapple rake models) and its yet-to-be launched skid steer and track loader models (two medium-sized, vertical-lift machines). Their booth was full of great compact equipment.
Overall, GIE+EXPO was incredibly busy, so I can't possibly encapsulate this great show in this news spread. I explored Vermeer's compact articulated loaders (the ATX units), which are excellent sit-on tool carriers with telescoping booms, ideal for landscaping, snow removal and tree care work. Takeuchi highlighted its TL12R2 radial-lift compact track loader, featuring a completely redesigned operator's station with a 5.7-in. multi-informational color display and precision pilot controls. To read more about these units and lots of other machines, roll over to compactequip.com where we have extensive coverage and analysis.
Keith Gribbins is publisher of Compact Equipment.
Tags:
Bobcat Co.
,
Case Construction
,
GIE+EXPO
,
Kioti
,
Kubota
,
LiuGong North America
,
New Holland Construction
,
November December 2021 Print Issue
,
OPEI
,
The Utility Expo
,
Thunder Creek Equipment
,
Vanair
,
Zeal Motor