The Biggest Construction Trade Show in America Takes Over Vegas, March 7-11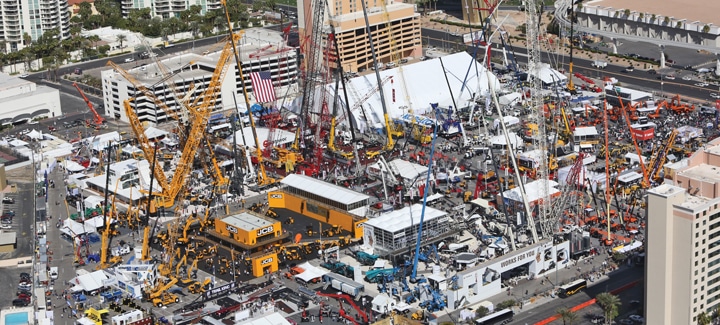 It only happens every three years. It's considered the ultimate American construction event, and only bauma in Germany (which also only happens every three years) is bigger. Equipment manufacturers coincide important product launches with it. More than 100,000 attendees travel from all over the world to come see and shop this mammoth construction, aggregates and ready-mixed concrete event. In 2017, it will have a record 143 education sessions across 10 different tracks. It's even held in conjunction with the International Fluid Power Exposition or IFPE.
It's called CONEXPO-CON/AGG, and this mega construction show is coming to the Las Vegas Convention Center (the only place big enough to hold it) from March 7-11. CONEXPO 2017 will feature a record 2,500,000-plus net sq ft of exhibits of the newest product innovations and technologies in the construction industries, aimed at increasing productivity, reducing downtime and enhancing safety and sustainability.
You'll have no "Fear of Missing Out" (FOMO) on the future of construction with the new Tech Experience at CONEXPO and IFPE, which is a special area that will extend the technology shown on the show floor and is dedicated to presenting emerging construction innovations that are driving change and process improvements across the industry.
"We've designed this as an engaging experience that will bring to life the trends and solutions that are developing now and emerging in the next several years for the jobsite, workforce and infrastructure," said show director Sara Truesdale Mooney. Mooney explained the Tech Experience will also feature a Tech Talks educational forum and spotlight the Infrastructure Vision 2050 initiative of the Association of Equipment Manufacturers (AEM).
"And don't miss the world's first fully functional steel 3D printed excavator," Mooney added. CONEXPO and IFPE also announced a partnership with the The Call of Duty Endowment. Attendees of the show will be allowed to make a donation to the endowment for entrance into a pretty rad concert.
"We've already had our first major donation to help raise funds for the endowment," said Mooney. "We're thrilled to announce that Terex Corp. has donated a benefit concert featuring multi-platinum rock band Foreigner for Wednesday, March 8, generously hosted by Brooklyn Bowl in Las Vegas."
That's only a few of the amazing events happening on, in and around CONEXPO and IFPE exhibitions (just don't forget about the National Utility Contractors Association's annual convention being held at the Palms Casino Resort the weekend before, March 4-6). For more info on CONEXPO and to register, visit conexpoconagg.com.
Cat 300.9D VPS Hybrid Excavator
Caterpillar has added the model 300.9D VPS (Versatile Power System) to the Cat range of mini hydraulic excavators. The versatile design of the 300.9D VPS benefits both the owner/operator and the rental company by allowing the machine — in conjunction with its separate hydraulic power unit — to work either with its diesel engine or from a remote electrical power source, with no loss of performance. Having an electrical drive system remote from the machine enhances utilization and rental options. The 300.9D VPS can be rented alone for regular applications or with the hydraulic power unit when the job requires low noise and zero emission.
For more info, visit booth N10924, booth G4490 or cat.com.
Kobelco SK45SRX-6E
The new Kobelco SK45SRX mini excavator delivers full-size benefits with short-radius capabilities and exceptional features. Equipped with a Tier 4 Final engine, the SK45SRX packs plenty of power for hydraulic performance. The integrated flow pump system delivers fast and smooth operation while raising the arm and boom — even during heavy loads. And, an automatic two-speed travel feature ensures smooth and efficient travel on the toughest jobsites. The SK45SRX supplies ample muscle for heavy-duty digging and lifting and is excellent for loading, placing and dozing in various applications.
For more info, visit booth N10002 or kobelcousa.com.
Volvo EW60E Wheeled Excavator
The latest in the expanding line of Volvo excavators is the EW60E, a wheeled model designed for operator comfort with power deceptive of its size. The machine's compact design, long arm, optional fixed boom and offset boom, long dozer blade and auxiliary hydraulic and thumb pipings make it suitable for a wide range of applications. The EW60E has a 10 percent larger cab than predecessor models. Visibility has been improved with thinner pillars, while a rear-view camera and 7-in. color LCD display help eliminate blind spots. Grouped controls are available on the right-hand side, and the control system offers operators the chance to pre-set functions.
For more info, visit booth N10036, booth G3894 or volvoconexpo.com.
Takeuchi TB216H Hybrid Excavator
Takeuchi features its first hybrid dual-powered excavator in its lineup with the TB216H compact excavator. The TB216H features both an electric motor and diesel engine with its own pump group to power the hydraulics. Machine performance is consistent regardless of the power source the operator chooses. In diesel mode, the machine is powered by a Yanmar Tier 4 Final engine that offers an output of 14.9 hp. For emissions-free environments, the machine can be powered by the 14.2-hp electric motor. The diesel engine is ideal for normal day-to-day operations, and electric power is ideal for enclosed jobsites where it can be plugged into a 400- to 480-volt, three-phase power source.
For more info, visit booth C20753 or takeuchi-us.com.
Hyundai R30Z-9AK Compact Excavator
Hyundai Construction Equipment Americas announced it will unveil four new equipment models and introduce important upgrades to many current models at the triennial CONEXPO show. Hyundai plans to display more than 20 machines in its 22,500-sq-ft exhibit space. A full-line manufacturer of wheel loaders, excavators, compaction rollers and forklifts, Hyundai plans to debut additional models in its HL900 Series of wheel loaders and HR-9 Series of tandem-drum compaction rollers. Hyundai also will add a fourth zero tail swing model to its 9A Series of compact excavators, the 23-hp, 3-ton-class R30Z-9AK model (pictured), which offers a maximum dig depth of 8 ft, 2 in. and a bucket breakout force of 4,030 ft-lbs. Hyundai will also unveil Tier 4 Final engines and other upgrades to its full line of compaction rollers.
For more info, visit booth N11603 or hceamericas.com.
---
Power Hungry?
Doosan Portable Power and Kubota Engine Offer Powerful Generators
Doosan Portable Power
Doosan Portable Power now offers three newly designed models to its mobile generator lineup — G25, G50 and G70. These mobile generators incorporate numerous innovations based on customer input and are aimed at improving operator experience. The newly packaged Tier 4 Final-compliant generators offer improved fuel efficiency, extended runtimes and the industry's lowest sound levels, according to Doosan. The G25, G50 and G70 models are the first mobile generators equipped with Doosan-built engines — the D18, D24 and D34 respectively. The introduction of the G50 mobile generator marked a size increase in the Doosan product line.
For more info, visit booth G4476 or doosanportablepower.com.
Kubota Engine America
Kubota Engine America will feature both its compression-ignited and spark-ignited engine lines, as well as the company's new LowboyPro generator, the GL14000, on the show floor. The GL14000 is a Tier 4 certified, 14-kVA single-phase generator that complements Kubota's existing Lowboy II line but is designed with a higher output to fit a wide range of industries with diverse applications. It can switch between 50 and 60 Hz, acting as a single source of power for end-users with different power requirements based on region, and it is powered by Kubota's reliable D902 diesel engine. The GL14000 is quiet, with noise levels as low as 65 dB while running. Kubota is also excited to unveil something new at the show this year, so see'em on the show floor.
For more info, visit booth S84912 or kubotaengine.com.
---
John Deere Skid Steers/Track Loaders
John Deere will be showcasing four Tier 4 Final G-Series skid steers (312GR, 314G, 316GR and 318G) and one compact track loader (317G). These new machines were designed to level the playing field for today's rental, ag material handling, construction and landscape customers. The five models, including three vertical- and two radial-lift options, boast big reliability and serviceability, and are full of customer-requested features aimed at improving operator and machine productivity, uptime and lowering daily operating costs. The G-Series machines feature an improvement in horsepower-to-weight ratios and an optimized boom design that enables lift heights over 10 ft on the vertical-lift models and a 20 percent increase in breakout forces on the radial-lift models.
For more info, visit booth N12525 or deere.com.
ASV RT-120 Forestry Compact Track Loader
ASV LLC, an industry-leading manufacturer of high-performance compact track loaders and skid steers, introduces the Posi-Track RT-120 Forestry. The large-frame RT-120 Forestry features more power and productivity with less ground disturbance. Maximum power and torque, along with excellent cooling capacity, make the RT-120F capable of using the largest attachments for long periods of time without bogging down or overheating. The rugged machine makes mulching, brush cutting and highway and utility work faster and easier. Like all ASV equipment, the RT-120F includes maximum efficiency hydraulics and innovative, high-capacity cooling systems.
For more info, visit the Manitex International booth G4464 or asvllc.com.
Wacker Neuson Skid Steers/Track Loaders
Wacker Neuson is introducing a new line of medium frame skid steer and compact track loaders that are the ideal fit for a variety of applications. Four new skid steer and two new compact track loaders were developed from the ground up, offering the power and torque needed to lift more, push more, work longer and maneuver through challenging jobsite obstacles. They have the comfort and convenience owner/operators expect and the durability they demand. With a best-in-class transferable engine warranty of four years or 4,000 hours, these new models are ideal for inventory management and resale.
For more info, visit booth G3435 or wackerneuson.us/en/home.
HitchDoc Push-Off Bucket
Make shaking materials out of your skid steer bucket a thing of the past with the industry-leading, patent-pending Push-Off Bucket by HitchDoc. This innovative ejector bucket will minimize wear and tear on your machines by quickly and smoothly unloading itself. The hydraulically-controlled ejecting blade allows for the operator to hit new dump heights and reach new lengths by roughly 4 ft. Dump cycles can be a smooth, quick, two seconds or a slow-feathered dumping for accurate placement. Don't worry about materials getting stuck or jammed behind the ejecting blade, this bucket is self-cleaning with forward and backward movements.
For more info, visit booth G71813 or hitchdoc.com.
Worksaver Grader Blade and SARG
Worksaver Inc. is exhibiting at CONEXPO for the first time in 2017. Worksaver will be featuring its skid steer grader blade and SARG (Sweep Action Rock Grapple). The patented SSGB-8B Grader is designed for asphalt, landscaping and concrete flatwork contractors. The unit has an 8-ft, six-way, hydraulically-controlled moldboard operated by an in-cab remote. With an optional laser system, the grader will maintain grade to tight tolerances. Worksaver's SARG is designed for skid steers and handles rocks, brush, logs, stumps, debris, scraps and more. Operators are able to sort large or small rocks and debris with just one tool.
For more info, visit booth G71225 or worksaver.com.
---
Rolling Large
Camso and MWE Will Offer Excellent Tire and Track Options at CONEXPO
Camso Tire and Track Solutions
Knowing that productivity and profitability are all about choosing the right tire for any application, Camso is showcasing its toughest range of tire and track solutions. Visitors will have the chance to learn about the company's newest releases: the SKS 753 and SKS 532. The SKS 753, with its innovative non-directional tread pattern, was built with versatility and durability for optimal performance on mixed and hard surfaces. The Camso SKS 532 was designed for soft surface applications with durability and extra traction. Also on display are other recent Camso product releases: the SKS 775, SKS 732 and SKS 793S, which complete its Next Generation skid steer line.
For more info, visit booth C20561 or camso.co.
MWE Solid HD Skid Steer Tires
Engineered to handle the most severe applications, MWE Solid HD skid steer tires combine the benefits of a hard surface tire with enough tread to give plenty of traction. The 2 1⁄2-in. deep massive tread lugs and taper voids pattern promote self-cleaning while mud-breakers eliminate mud from suctioning. With a smaller wheel, the MWE Solid HD offers the most rubber from rim to road. These flat-proof tires are ideal for recycling, paving, milling, as well as any hard surface, severe service application. They are available in 33×12-18 and 30×10-16 sizes.
For more info, visit booth C20369 or tracksandtires.com.
---
JCB 3CX Compact Backhoe
JCB's 3CX Compact backhoe combines the digging power and ease of use of a compact excavator with the capabilities of a compact wheel loader. Its 6-ft-wide by 9-ft-high footprint makes it 35 percent smaller than JCB's standard 3CX backhoe. Compatibility with numerous attachments gives optimum versatility. A three-speed hydrostatic transmission allows 3CX Compact operators to switch between low and high range for greater pushing power and a 25-mph maximum travel speed. Powered by a 74-hp, JCB, Tier 4 Final engine, the 3CX Compact needs no diesel particulate filter (DPF), simplifying maintenance costs. JCB's LiveLink telematic tracking and monitoring system comes standard.
For more info, visit booth G3364 or jcb.com.
Miller ArcReach
Welding operations can significantly improve productivity and operator safety while also positively impacting weld quality with ArcReach remote control technology from Miller Electric Mfg. Co. Recently expanded to three additional machines for portable welding applications found in the construction, fabrication and shipbuilding markets, ArcReach allows welding operators to adjust and set voltage at the weld joint — without the use of control cords. This significantly reduces the downtime spent walking to and from the power source to make adjustments, while also improving safety by reducing exposure to tripping hazards and lessening operator fatigue.
For more info, visit booth B7502 or millerwelds.com.
Chicago Pneumatic AR95 Tandem Asphalt Roller
Chicago Pneumatic Construction Equipment (CP) now features a brand-new tandem asphalt roller with the AR95. The new diesel roller joins the complete line of CP compact tandem asphalt rollers and soil compactors. The ride-on rollers offer a larger-scale complement to the popular line of CP light compaction equipment. The AR95 is utilized primarily for small-scale compaction work like patching, bicycle paths, small parking lots and driveways. The roller is also available in a gasoline version with the AR90G. Both feature vibration on the front drum, with drive on both the front and rear drums. The AR95 drum width measures 36 in. and weighs 2,976 lbs.
For more info, visit booth C31727 or cp.com.
Genie GTH-5519 Telehandler
The Genie GTH-5519 is an ideal workhorse for today's jobsites. As a general-purpose machine, it can fit into tight spaces, help unload trucks and can efficiently carry tools such as augers and sweepers. The unit is purposefully designed to offer a Deutz TD 2.9 L4 Tier 4 Final engine to meet today's emissions standards. The engine is designed in such a way that it does not require a diesel particulate filter, only a diesel oxidation catalyst muffler. The power of the engine is 74 hp at 2,600 rpm. A redesign of the combined engine and hydraulic system radiator offers better cooling capability to the engine and to the hydrostatic transmission.
For more info, visit booth G3382 or genielift.com.
Kohler Direct Injection Diesels
Kohler will be highlighting several engines at CONEXPO 2017, which are ideal for compact equipment, including the company's Kohler Direct Injection (KDI) diesel engines. The award-winning KDI diesel engine line now includes eight models, all of which meet the latest emissions standards without a bulky and inefficient diesel particulate filter or DPF. The impressively compact engines are designed to deliver optimal power and torque for the toughest jobs while also maximizing fuel consumption and limiting emissions. Be sure to stop by the CONEXPO booth to talk with some Kohler engine experts.
For more info, visit booth S84053 or kohlerengines.com.
---
Mini Attachment Takers
Ditch Witch and Boxer Are Exhibiting Excellent Compact Tool Carriers
Ditch Witch SK600 Mini Skid Steer
Designed for small landscape and irrigation jobs, the Ditch Witch SK600 mini skid steer has a narrow frame for better maneuverability in tight, compact spaces. Powered by a 24.8-hp Kubota diesel engine, the compact, yet mighty machine delivers maximum efficiency to the attachment for enhanced jobsite productivity and added versatility. A best-in-class operator station improves the machine's stability and ground clearance compared to similar models on the market. Operators can effectively maintain hydraulic flow to the attachment with an easy-to-use, auxiliary-control foot pedal. And, optimized machine hydraulics deliver the smoothest ride in the industry, says Ditch Witch.
For more info, visit booth C31927 or ditchwitch.com.
Boxer 950HD Compact Utility Loader
The Boxer 950HD includes many class-leading features previously found only on full-size skid steer models, says the company. With the industry's highest hinge pin height, the 950HD can easily dump over a 6-ft side wall. The 950HD also features: class-leading 48-hp diesel engine; advanced electronic display with onboard diagnostic capabilities; multiple mode settings, allowing the operator to tailor the machine to the application; and two joystick operation patterns. The machine's hydrostatic operating system allows proportional control of the joysticks with variable speed output.
For more info, visit booth S5682 or boxerequipment.com.
---
Tags:
ASV
,
Boxer
,
Camso
,
Caterpillar
,
Chicago Pneumatic
,
CONEXPO-CON/AGG
,
Ditch Witch
,
Doosan
,
Genie
,
HitchDoc
,
home
,
Hyundai
,
JCB
,
John Deere
,
Kobelco
,
Kohler
,
Kubota
,
Miller
,
MWE
,
Takeuchi
,
Volvo
,
Wacker Neuson
,
Worksaver