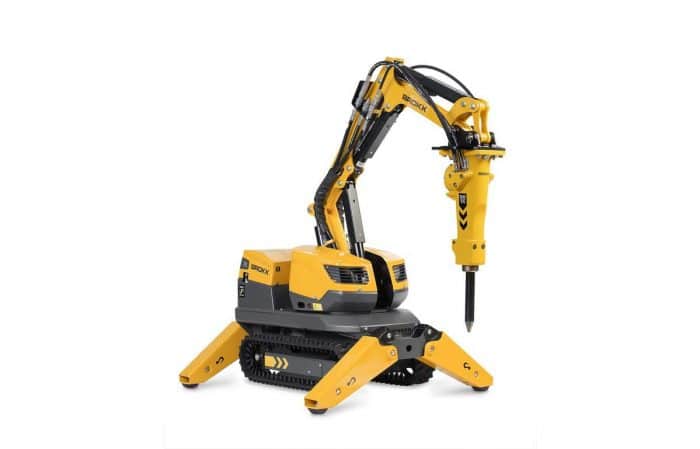 CONEXPO cometh. We're talking about the biggest tradeshow in America by physical size. It only happens every three years, and it's all centered around construction equipment. CONEXPO-CON/AGG will happen again March 14-18, 2023, in Las Vegas. We'll be there. So will everyone else. Follow our coverage right here. Here comes more important CONEXPO news…
Brokk, the world's leading manufacturer of remote-controlled demolition machines, offers the Brokk 70, the smallest electric robot in the Brokk range. At just 35 inches (880 millimeters) tall and 23.5 inches (597 millimeters) wide, the Brokk 70 fits through narrow doorways and into tight spaces, making it ideal for interior demolition applications. And with a base weight of just 1,235 pounds (560 kilograms), it can be transported on an ordinary passenger elevator, making it ideal for top-down demolition projects in urban areas.
Brokk will showcase the Brokk 70, along with other equipment innovations, at booth C20349 during CONEXPO-CON/AGG 2023, March 14-18 in Las Vegas. As with all Brokk machines, the Brokk 70 offers superior reach and movement. The three-part arm extends to 10.5 feet (3.2 meters) vertically and 8.8 feet (2.7 meters) horizontally.
Outfitted with a BHB 105 hydraulic breaker with 159 joules of hitting power, the Brokk 70 can be equipped with advanced features, including water spray to suppress dust and air cooling for hot environments. The machine also pairs seamlessly with concrete crushers, drum cutters, grapples, scoop buckets and more.
The Brokk 70 incorporates the SmartConcept system, which ensures improved performance and uptime. SmartConcept consists of three features: SmartPower, SmartDesign and SmartRemote. SmartPower senses when the power supply is poor or faulty then compensates before damage to components occurs, allowing contractors to use the machine with generators or unreliable power sources. With 70% fewer cables, rugged components, LED headlights and easily accessible grease points and hydraulic hoses, SmartDesign extends machine life and provides unprecedented ease of maintenance. An ergonomic remote control — the SmartRemote — incorporates adjustable straps, intuitive controls and professional-grade radio technology with almost 1,000 feet (300 meters) of wireless working range.
For more information on the Brokk B70 visit www.brokk.com.
Compact tool carriers, compact utility loaders, mini skid steers. Whatever you call them, we can all agree these machines pack a lot of productivity in a small package. Learn more about them here! Tags: Brokk