Bomag hosted nearly 1,200 guests representing approximately 60 countries, from North America to faraway New Zealand, during its third biennial Innovation Days, held September 18-23, in Boppard, Germany. During two-day workshops and presentations, customers experienced the company's products in action, learned about new and key technologies from application experts, and witnessed manufacturing first-hand in factory tours. This year's week-long Innovation Days also gave Bomag an opportunity to showcase it newly constructed demonstration and training center.
"Our biennial Innovation Days is the most important Bomag event because it gives our customers the opportunity to tangibly experience our products. In our new demonstration facility, we are able to show our new ideas and technologies in a realistic construction site environment," said Ralf Junker, president of Bomag. "Our strength lies in our engineering expertise, our production range and our quality standards. We are convinced that close partnership and co-creation with our customers are the key elements to meeting market demands successfully. Our credo is always, 'Customer first!'"
New demonstration and training center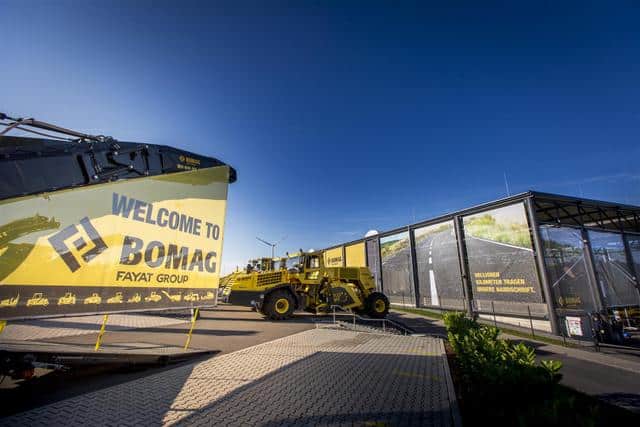 This year's Innovation Days were the first conducted in the newly constructed demonstration and training center. It is equipped with five training rooms and three service workshops. The adjacent demonstration grounds, spanning a football field in size with a roofed hall, holds about 400 seats, offers ideal conditions to demonstrate Bomag products in a real-life construction environment, and contains sufficient space to train customers on the machines. With this investment, Bomag continues to strengthen its extraordinary customer focus and further advances the knowledge transfer to operators for more efficient use of the products.
Jonathan Stringham, vice president of marketing at Bomag and responsible for the demonstration and training center, stressed the value of the new facility for Bomag. "In our new demonstration and training center we can show our machines and offer training in a real-life construction site environment. It is important for our customers to see how the machines actually work and what they are able to do," he said.
Worldwide innovations in compaction technology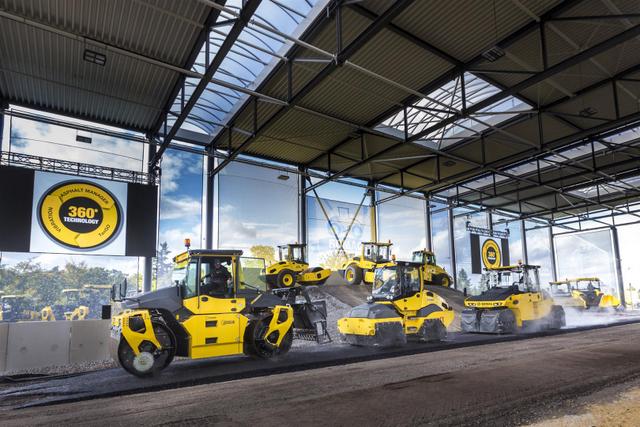 In line with the motto, "Building tomorrow with 60 years of experience," Bomag presented its extensive product portfolio plus a few novelties at Innovation Days. New introductions included the BW 154 APO and the 174 APO tandem rollers with split drums, currently available. These rollers combine tangential oscillation technology with a split drum, a first for the compaction sector. Combining these two technologies offer contractors two distinct advantages: sensitive compaction via drum oscillation and a reduction of the shear forces due to the split drum. These rollers deliver perfect mat surfaces, even when compacting in tight curves and radii. Furthermore, the drum without belts is entirely maintenance-free.
The BW 138 tandem roller, another new development, will be equipped with dual amplitudes starting January 2018. In addition to the standard 0.020-in amplitude, it will feature a second, 0.008-in amplitude. The second amplitude will reduce vibration, allowing the flexible use of the roller in cities, on very thin asphalt layers or when compacting around structures.
"At Bomag, innovation is part of our corporate culture and the vivid exchange with our customers. High operator-friendliness is therefore an important aspect in developing new technologies and products. Innovation is often in the details, like the combination of existing oscillation technology with a split drum," said Jonathan Stringham.
For more info on Bomag, click this link. It's super easy to click. Honest.
Tags:
Bomag
,
Innovation Days