The evolution of compaction machines has come a long way since the days where early roadbuilders determined that their cut stone road surfaces were only as good as the foundation in which they rested. Obviously, the equipment used for soil compaction has vastly changed and improved over the years, but one thing remains true: Soil compaction is an integral part of the construction process, and it is vital that any project including structures, roadways, walkways and earth retaining structures have a plan for compaction. Properly done, soil compaction adds many years to the useful life of structures by increasing the foundation's strength. Soil compaction is commonly specified for large and confined areas on most jobsites. To compact soil in confined areas, vibratory rammers and plates are typically used. Traditionally, these machines have been powered by gasoline and diesel engines, however, due to increasingly strict environmental regulations, rammer manufacturers were required to engineer new solutions in order to comply to the Environmental Protection Agency's increasing standards.
No Cords, No Fumes
Today, continued emissions regulations and concerns for operators' health and safety have led to new developments in confined area compaction equipment. Companies are changing the industry with the introduction of battery-powered rammers (Wacker Neuson recently introduced the industry's first cordless, battery-powered rammers and plates). Zero emissions compaction equipment offers a new solution for contractors and rental customers to access commercial interior construction or indoor renovation projects. They also offer use in poorly ventilated areas including trenches and tunnels and on projects with strict emissions and noise guidelines such as hospital, schools and residential areas or any project where a non-spillable fuel source is required.
For example, Wacker Neuson's cordless, battery-powered rammer was the perfect solution for a plumbing company replacing sewer pipes on a school renovation project near Milwaukee. Trenches throughout the interior floor of the school's athletic building were dug and sewer pipes replaced. The job specified the vibratory compaction be used on the backfill of the trenches. Due to the students and staff using the building, the contractor was informed that no gasoline powered equipment could be used during working hours.
"Typically, we would use a gasoline compactor on a job like this, but that wouldn't work for this sensitive application," says Ryan Fetterolf, lead operator and plumber for the job. "The cordless rammer worked just like a gas model, but emissions free and performed really well for this job."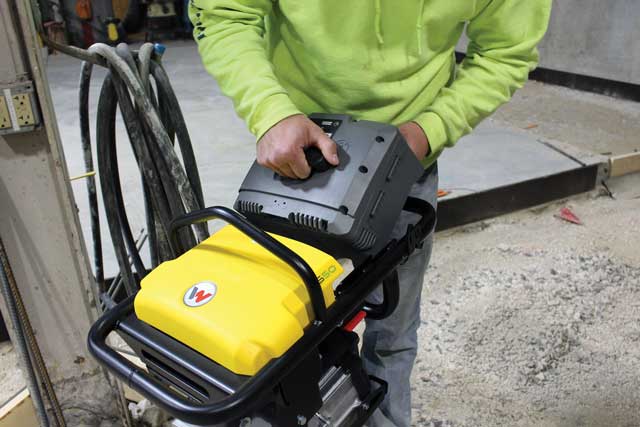 Using cutting-edge battery technology, the compactors offer a variety of advantages that are ideal for contractors and rental houses. The maintenance-free electric motor dramatically reduces service time, contributing to the low cost of ownership. The machines are extremely easy to operate. A simple, push button start is all that is needed to begin working, and the charging indicator light on the battery keeps the operator informed as to the status of the charge. Companies are even developing battery-powered compaction equipment platforms as a modular concept.
The battery and charger can be used on both the rammers and plates, which increases flexibility and economic efficiency. Under typical working conditions, most battery charges can last a standard working day. The charge on Wacker Neuson's lithium-ion battery will last under continuous run time for about 60 minutes for the plate compactor and 30 minutes for the rammer. At first glance, this may not seem like a long time, but typical use during the compaction process is to run the machine for just a few minutes at a time. The battery can be easily be removed without tools and placed into the charger during idle times to keep the necessary charge.
A common option is to have two batteries on site, so a fully charged battery is always at the ready. The battery system also provides constant power output over the entire discharge phase, providing full compaction performance from the first to last minute of work. The battery system has been designed to retain 80 percent capacity even after 1,500 charge cycles and is able to withstand tough construction site conditions. To put that into perspective, a rammer with a single battery can compact up to 9,000 linear ft of trench in a day, while a plate compactor can compact over 18,000 sq ft, about 40 yds of a football field, in a day. These numbers increase dramatically when a second battery is on hand.
As industry trends continue to move toward zero emissions, easy to operate and low maintenance machines, rental center operators and environmentally conscious contractors will find that battery-powered compaction equipment will become essential to their equipment fleets.
Fred Paul is the sales engineering manager for Wacker Neuson.