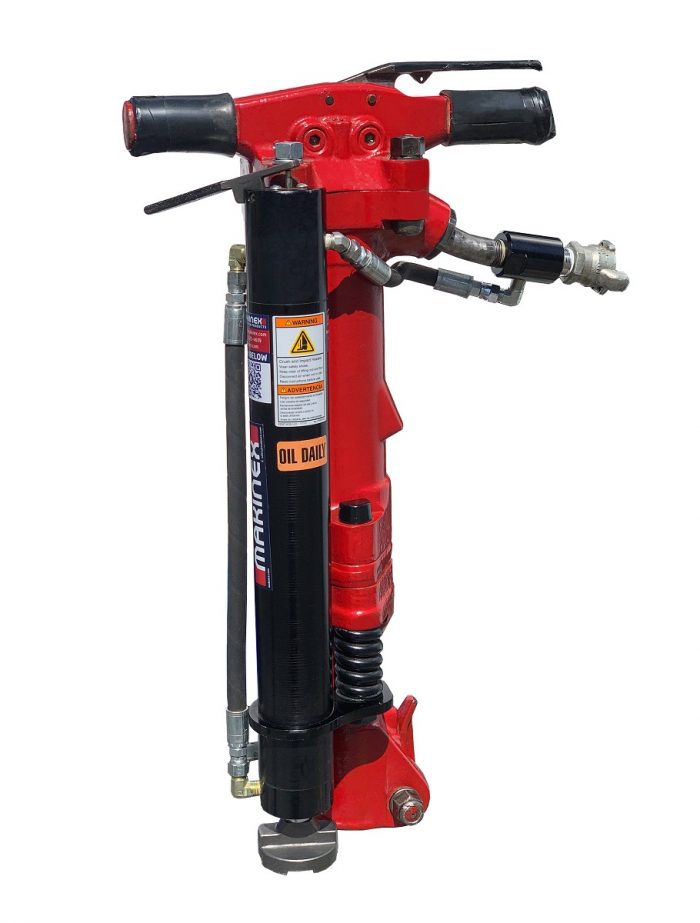 Pneumatic hammers are still thriving, but not all the users are. Demolition work is no joke. It's hard on your body, hard on your equipment and just an overall hard day of work no matter what way you look at it.
The average pneumatic hammers operate at 1200+ blows per minute. One can only image the fatigue that can lead to injuries on the job. Providing solutions to these inefficiencies and safety concerns is something Makinex has always excelled at.
Makinex has just proudly launched the Lift Assist. The Makinex Lift Assist is a simple, easy-to-install attachment for 60- to 90-lb pneumatic hammers. The ergonomically designed Lift Assist reduces operator stress and fatigue, dramatically resulting in high productivity, all while keeping safety at the forefront.
Each Lift Assist pushes and lifts 350 lbs of force — not only lifting the weight of the pneumatic hammer, but also releasing the buried chisel from the ground, allowing each of the 1,200+ blows to have a smooth exit and transition to continue the cut or demo. It operates on the same airline the pneumatic hammer is already running, so no additional power or air source required.
Being made in the USA, the Lift Assist is built solid and will last for years to come. And maintenance on the Lift Assist is identical to the maintenance on a pneumatic hammer. Anytime the hammer is oiled, the Lift Assist is oiled.
The Makinex Lift Assist is compatible with the following brands: APT, Ingersoll Rand, Tamco, Atlas Copco, Michigan Pneumatic, Chicago Pneumatic and more.
Tags:
Makinex