Curb Roller Manufacturing, a leader in shaped concrete roller screeds, offers curb tools that pair seamlessly with the company's Curb Roller CM4000 stock drum profiles. The lightweight, versatile curb tools come in both walking and hand styles. The Curb Roller is a single-operator machine for shaping curb and gutter that, with its stock drum profiles, applies to multiple curb styles.
Curb Roller Manufacturing will showcase its Curb Roller and accompanying curb tools in Booth O31934 at World of Concrete, scheduled for Jan. 17-19, 2023, at the Las Vegas Convention Center in Las Vegas.
"We take pride in being a growing resource for the entire concrete shaping and finishing process," said Seth Ulmer, Curb Roller Manufacturing sales manager. "Our curb tools provide contractors with reliable tools to shape and finish all types of curb and gutter projects."
Curb Roller Manufacturing offers 31 stock curb tools, each matching a corresponding stock drum profile. Custom curb tools are also possible and have virtually no shape or size limitations. These built-to-spec tools have a three-weeks-or-less lead time. The diverse selection of curb tools assists contractors in producing a smooth, consistent finish for a wide variety of projects including monolithic curbs, storage unit grooves and more. A variety of shapes ensures crews can consistently and accurately meet the specifications of different curb and gutter projects.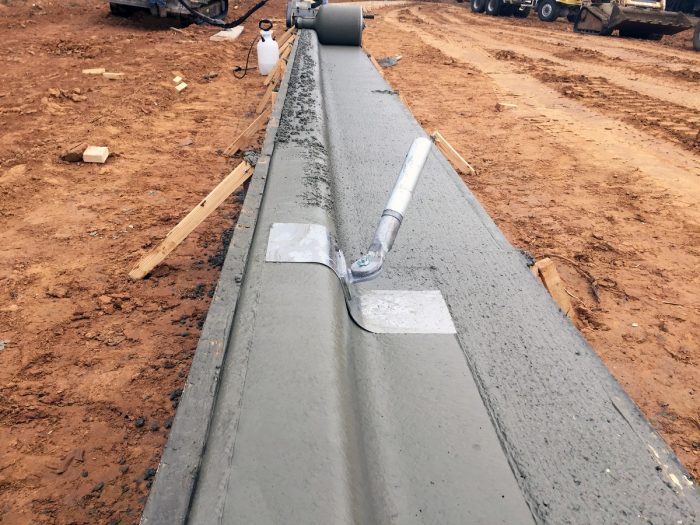 Curb tools from Curb Roller Manufacturing are available in both walking and hand tool configurations. The walking curb tools attach to a bull float so operators can comfortably finish the project in an upright position, a benefit that the Curb Roller machine provides for improved operator ergonomics throughout the job. Curb Roller Manufacturing also offers tools with a wooden grip for operators who prefer hand tools.
"Operator safety is a prominent focus for our products at Curb Roller Manufacturing," Ulmer said. "We strive to provide operators with solutions that allow them to get off their hands and knees to complete curb and gutter work. With each piece of equipment, we strive to supply crews with the tools to get work done seamlessly and comfortably while helping contractors improve their bottom line."
Other products in Curb Roller Manufacturing's lineup include the Badger Curb Maker, Lynx Screed System, Batt Screed, Eel Screed and Hydra-Screed, each designed to help contractors raise efficiency and profitability.