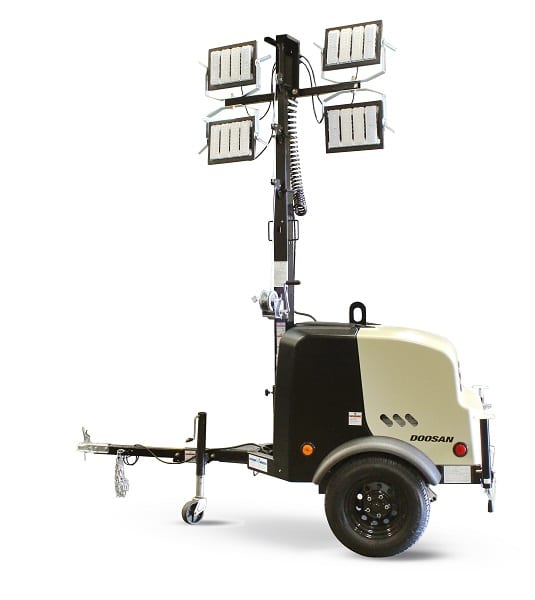 Doosan Portable Power is showcasing a whole lot of new products and updates at World of Concrete. Take a look at some of the highlights.
Light Towers
Doosan Portable Power has expanded its product line of portable light towers with the addition of the LCV6 and LCV8 models.
Both the LCV6 and LCV8 light towers feature a small-body design and vertical mast that allow for greater maneuverability, ease of transport and low operating cost. A new clamshell-style canopy is made of highly durable composite material yet is lightweight for easy access to internal components for regular maintenance.
Both LCV light towers are standard-equipped with a vertical mast that manually extends to 23 ft. The vertical mast design significantly cuts setup time compared to the traditional laydown mast, and the upright mast position improves transport safety.
With a new compact footprint, 17 units can fit on a standard flatbed trailer for more cost-effective transportation. The LCV6 and LCV8 are 82 in. long and 55 in. wide with a travel position height of 101 in.
Mobile Generators
Doosan Portable Power now offers three newly designed models to its mobile generator lineup — G25, G50 and G70.
The G25, G50 and G70 mobile generators incorporate numerous innovations based on customer input and are aimed at improving operator experience. The newly packaged Tier 4 Final–compliant generators offer improved fuel efficiency, extended runtimes and the industry's lowest sound levels — all without sacrificing reliability and performance.
The G25, G50 and G70 models are the first mobile generators equipped with Doosan-built engines — the D18, D24 and D34 respectively. The high-performance engines deliver increased fuel economy, unrivaled motor starting capability and reliable operation in extreme conditions. The D18 and D24 engines are designed with a diesel oxidation catalyst (DOC) aftertreatment system, which is virtually maintenance-free. The D34 engine consists of DOC with selective catalytic reduction (SCR) aftertreatment.
Air Compressor
Doosan Portable Power has introduced the P250/HP210 Tier 4 Final portable air compressor. The "two-in-one" model delivers the pressure and flow typically supplied by two units in a single air compressor. The P250/HP210 is the only air compressor on the market to offer 210 cfm high-pressure mode.
The P250/HP210, which replaces the P250/HP185 in the Doosan air compressor lineup, offers dual compression modes. The P250/HP210 delivers 250 cfm of air at 100 psi in low-pressure mode and 210 cfm of air at 150 psi in high-pressure mode.