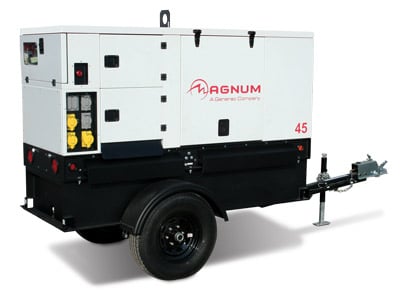 Proper generator maintenance is vital for keeping your jobsite powered up. If there's any downtime at all, you risk falling behind schedule and going over budget. Maintaining your generator's engine is the first step toward continual uptime on the worksite. A poorly maintained engine slows down your operation and reduces your profitability. It also brings unneeded safety risks to the job. Routine engine maintenance helps keep your generator operating safely and properly over a long period of time. Many generators come with a basic engine maintenance schedule courtesy of the engine manufacturer. Be sure to regularly remind yourself and others of the numerous tasks that must completed at varying time intervals.
Safety First
Before servicing a generator engine, you should always follow proper safety protocol. Typical instructions include the following:
A Daily Inspection
Each day on the worksite should start with a visual walk-around inspection of your generator prior to starting the engine. These daily inspections are critical as serious damage may occur to the prime mover if left unchecked. Your daily inspection should include checking the oil, coolant and fuel levels. When checking the oil level, only add more if the level is below the add mark and never fill past the full mark. Do not overfill the crankcase. Coolant level should be checked by visually inspecting the coolant overflow jug commonly located near the radiator. Coolant should be added directly to the overflow jug only when the engine is stopped and completely cooled, and you should not surpass the full mark on the jug. Other items you should check daily include tire pressure, electrical connections and the fuel filter. The radiator fins also should be inspected for debris and cleaned as needed.
Regular Service Intervals
In addition to daily inspections, there are numerous other items you should check at regular intervals. These intervals can range from inspecting every 100 hours of operation to every 3,000 hours or more. Many engine items in popular generators should be serviced every 250 to 500 hours or 12 months, whichever comes first. One of the more important steps at this stage is changing the engine oil and replacing the oil filter. Temperatures dictate appropriate oil viscosity, and cold weather can have a more dramatic effect on the condition of the oil filter.
Other recommendations include the following:
■ Replace the oil vapor recirculation filter and fuel filter elements.
■ Check your oil filter regularly.
■ Service the battery.
■ Check the engine mounts, air intake hoses, electrical ground connection and cooling system.
■ Lubricate the leveling jacks.
■ Inspect the fan belt and check for wear, such as cracks, fraying and stretching. While the fan belt is removed, inspect pulleys and bearings by rotating and feeling for hard turning or unusual sounds.
Jim Schoelles is a technical service supervisor with Generac Mobile Products.
Tags:
2015 June Print Issue
,
Engines
,
Generac Mobile Products
,
home