For decades, telescoping material handlers or telehandlers have been working in high lift and extend applications — feedlots, factories, construction sites, orchards and rental yards. In fact, telehandlers are popular rental choices because they're so versatile. They are, as JLG senior product manager John Boehme says, "first on a jobsite and the last to leave." Compact models are rented for landscaping, residential construction, farm and ranch and warehouse materials work.
Smaller telehandlers are broadening the range of telehandler usefulness. JLG's new SkyTrak 3013 is a fresh example of what the manufacturer calls an "ultra compact" telescoping handler. The unit can lift 2,700 lbs up to 13 ft high and 7 ft outward, all on the strength of a 25-hp Kubota engine. Rear-wheel steering helps the small machine maneuver in spaces a 6,000-lb capacity telehandler operator wouldn't dare enter. It's easy to see the 3013 becoming a popular rental.

JCB offers a slightly larger subcompact model, the 504-13. It also can lift a load 13 ft high and moves nimbly with four-wheel steering. But its payload ranges up to 4,000 lbs thanks to a 39-hp Perkins diesel engine. At almost 10,000 lbs, the 504-13 is nearly twice the weight of the 3013, dimensions that also make it an appealing rental unit.
Small isn't all, though. United Rentals' most in-demand telehandler has a 10,000-lb lift capacity, according to Brent Kuchynka, vice president for corporate fleet management. "The majority of companies doing any type of work above 20 ft need the additional load capacity to lift products or materials." United Rentals offers three configurations or sizes that meet the varying needs of its customers.
While the 6,000-to-10,000-lb telehandler has been the rental industry's prime mover, that's changing. "Other than some very large telehandlers, the most quickly growing class is the 5,000-lb model, a truly compact telehandler," says Austin Caskey, Sunbelt Rentals product line manager. "Primarily because that size is so versatile, they're being used instead of tractors, backhoes and skid steers."
This versatility is what requires a telehandler renter to be upfront with rental agents about how they actually will use the rented machine. "The person renting should make sure the agent understands how much weight he will need to lift and how far he needs to reach that load," Boehme says. "Those two criteria should be the starting point guiding selection of a model."
The brand of telehandler being rented at a national rental office can vary from store to store and region to region. Popular brands in any one area often are stocked to meet the local renting public's preference and familiarity with a particular manufacturer's controls. Says Kuchynka: "We carry three to four brands of telehandlers. The majority of rentals are based on total cost of the rental and availability."
Properly equipping a rented telehandler to accomplish a designated task is the rest of the story. The configuration of SkyTrak units illustrates the value of getting the machine you need.
"All SkyTrak telehandlers are built for rental," says Boehme. "They boast a simple design and are field-proven for their durability and reliability." Newly redesigned SkyTrak models offer an integrated hitch for off-road towing and recovery, a boom-mounted lifting lug for a suspended load and attachments ranging from a side-shift carriage and pipe-grapple to a trash hopper and a fork-mounted work platform.
And will you need pneumatic, foam-filled or solid tires on your telehandler? The machine shopper should know such details before entering the rental lot. Caskey calls them "pieces of a puzzle. If you don't know how much you'll be lifting and what the terrain is and share that information with a rental agent, you can end up operating the telehandler improperly or unsafely." Boehme adds that renters "have a wide range of source information available to them online today. Being educated before one walks in the door to transact business is suggested."
Kuchynka offers cautionary advice of a different kind: Is the person renting the machine really looking after you? "Be aware of agents that don't ask what application you're using the telehandler for," says the United Rentals vice president, "and be aware of rental houses that don't provide you with an operating manual or some kind of rental protection plan."
Rental agents, in turn, have a responsibility to ask something of renters: Are you a certified telehandler operator? Anyone renting a telehandler must have completed OSHA-approved training for the machine, which includes classroom lectures, interactive computer learning and written material, followed by hands-on practical training and a thumbs-up on a final evaluation.
If you are trained — that is, if you know how to read a load chart, understand the need to balance a load, appreciate the jeopardy that comes from carrying a load in an elevated position and see the sense in not navigating a slope at an angle — you can safely and legally drive a telehandler off the rental lot.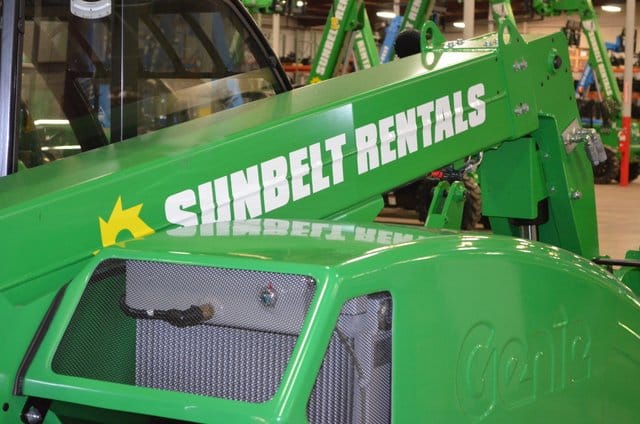 Sunbelt Rentals offers "certified heavy equipment operator training at every location, with local experts to help you get up to speed," says Caskey. "We're a one-stop shop." Not all rental companies offer training and certification, but it is a must for anyone looking to rent and operate these machines, as well as for those overseeing or working alongside them. In any event, Caskey recommends a rookie operator not try to do too much too fast. "Complete a site assessment and know your load, your surroundings and your limits. If you're a first-time telehandler user, don't start out on a busy jobsite."
How much will you have to fork over to rent a telehandler? A mid-range 6,000-lb capacity model could cost $250-$500 a day, $700-$1,300 a week and $2,000-$3,000 a month. According to Caskey, "telehandlers generally are rented for longer than one day." But not always. Boehme notes there "is really a mixed bag of rental needs in the market. Some people rent the machines for a day or week to complete a single job. Others rent them seasonally and others annually."
Giles Lambertson is a freelance writer for Compact Equipment.