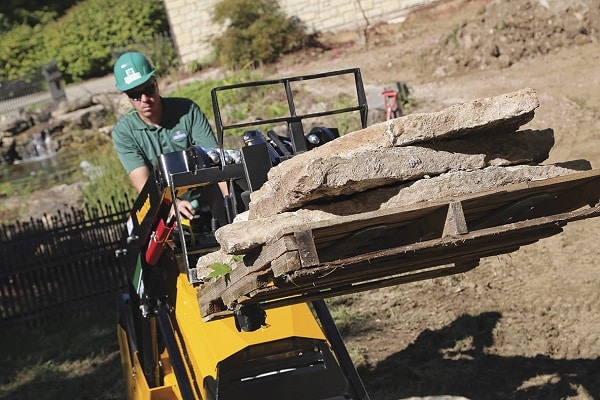 Whether it's landscaping, tree care work or even utility installation, compact tool carriers, often called compact utility loaders (CULs), are small, versatile machines that can have a big impact on any jobsite. And while there's a lot of variety in the work that they do, contractors may have one major thing in common when it comes to CULs: the efficiency and productivity gains they see when they add these powerful machines to their equipment lineups.
Working in tight spaces
It's the compact design of CULs that helps contractors accomplish jobs they'd otherwise be unable to take on. Brian Stephens knows this well, as his company, T Com LLC uses a pair of Vermeer CTX100 mini skid steers to help install telecommunication lines in residential and commercial areas around Nashville, Tennessee. It's a city and region experiencing rapid residential, commercial and industrial growth, and as one of the fastest-growing cities in the country, Nashville's needs for utility and communication infrastructure development has T Com crews working nonstop on jobs like boring, plowing, microtrenching and aerial placement of fiberoptic communication lines.
Yet the landscape in and around Nashville poses unique challenges to Stephens' company. He refers to the area as a "briar patch" in which sometimes challenging soil conditions converge with logistical issues like vehicle traffic to sometimes make even the simplest job a challenge for the the Nashville native and his workers.
"It's not always an easy place to work, but we have worked hard to carve ourselves a niche here. A large part of that is boring work," Stephens said. "We try to have all the tools in our toolbox at our disposal to use when the job calls for them."
Compact utility loaders are one of those tools that Stephens said sees a lot of use on a growing number of T Com jobs. Referring to them as "support equipment" for the larger trenching and drilling jobs his crews take on, the compact utility loaders have helped T Com complete jobs in tight areas – something that's increasing in demand in the Nashville area.
"Especially in this metro area where we have a ton of existing utility lines and space constraints limit our conventional open-cut, plowing and boring abilities, these mini skid steers allow us to move into place and cut narrow, shallow trenches in the pavement and come back with fiber, conduit or another product," Stephens said. "Having these in our toolbox gives us a lot more flexibility when we go out on a job and work with an engineer to build these networks."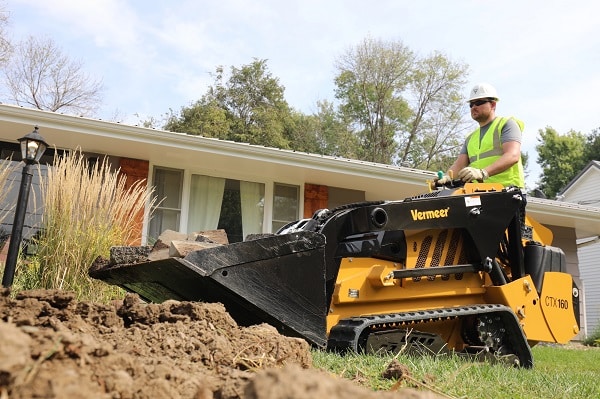 Small footprint, big capacity
It's not just a CUL's small footprint but its capacity in handling large trees and limbs on the job that makes a Vermeer S925TX mini skid steer such a good fit for Amon Vanderlinden at One Life Tree Service in Lincoln, Nebraska. Vanderlinden started One Life Tree Service as a "side job" when he was working for a central Nebraska-based utility company. He developed his love for climbing as a forestry technician in Washington state prior to moving to Nebraska, and it's a skill he uses frequently on residential tree care jobsites where operating space is tight and there's a premium on nimble, dexterous equipment and workers.
Many of One Life Tree Service's primarily residential jobs call for access in backyards where personnel and machinery must pass through a gate as narrow as 36 in. More so, being able to load brush with a CUL helps take the tough work away from your crew members. By providing both of these things, the S925TX helps Vanderlinden complete the residential tree care jobs that comprise the majority of his company's work. And he's able to save time and resources by using the machine.
"Getting into backyards is huge for us, and the lift capacity on this S925TX is big for us too. We get through the work and cleanup way quicker and better with this machine," Vanderlinden said. "Fifty to 60 percent of our jobs are in backyards, so if I can fit through a 36-in. gate, then I am good to go. Before this machine, it would have taken two or three guys half a day to do some jobs. Now we can do that same amount of work in way less time — sometimes with one person. The S925TX has cut down on the time needed for each job dramatically so we can handle more work and be more successful."
An attachment for almost everything
Adding several different models of Vermeer CULs over the years has enabled Ryan Foret to diversify the business he started in high school. What was originally a lawn care business has evolved and grown over the years to include a variety of landscaping and general contracting jobs, many of which benefit from a compact utility loader.
In the 20 years since the inception of The Foret Group in Thipodaux, Louisiana, the company has diversified into different types of work ranging from small landscaping jobs to larger general contracting work, some of which involved the construction of large office buildings. The diversity of the company's work is a good place for a Vermeer CUL like the ones Foret has on many of his jobsites today.
"I think about this machine as our Swiss Army Knife," said Foret, cofounder and chief operating officer of The Foret Group. "We have multiple attachments ranging from trenchers and buckets to augers, trench backfillers and soil cultivators. So, when we take it to a landscaping jobsite, it's taking the place of a bunch of different machines, not just a loader."
On top of the diversity of landscaping and general contracting jobs the small but mighty machines help Foret's company secure, they've also helped him continue developing his business in a time when the entire industry is challenged by a labor situation in which there's a general shortage of qualified workers.
"The more mechanized we can get, the less dependent we are on general labor, which is extremely scarce," Foret said. "We simply cannot fill all of our worker slots during the peak season. This equipment helps us continue to compete for the jobs we need."
With CULs, Stephens, Vanderlinden and Foret have found ways to make their jobsites more efficient. Better yet, these mini but mighty machines can help save crews from day-in and day-out intensive labor.
Tags:
home
,
One Life Tree Service
,
T Com
,
The Foret Group
,
Vermeer