In the past, boom lifts were primarily designed to develop best-in-class specifications. Today, that's all changing. Now, access equipment designs give more attention to the demands of real-world jobsites and the needs of the users operating these machines.
"Access equipment designs are going through a significant transformation," says Ignacy Puszkiewicz, senior director of future technology and industrial design at JLG. "This new generation of machines looks and operates very differently. It's no longer about general specification updates. It's about combining innovation with technology to solve the most common jobsite challenges, like working on uneven or inclined terrain."
Solving Jobsite Challenges
For example, Puszkiewicz says many applications and working environments can be rather challenging for a boom lift with a traditional oscillating axle to work with the boom elevated out from transport position. That's because these machines are only rated to work on firm, level surfaces (with 5 degrees or less of grade). And, most jobsites aren't flat. These are the types of situations that lead to operators putting in a lot of extra effort to get work done at height. This means that they are coming up with alternative ways to make their access equipment more productive, including:
Constant repositioning
Additional jobsite preparation, including leveling the ground
Employing a bigger machine with further reach to access the work area from a level spot beyond where they'd ideally like to place the machine
Using multiple machines
Cribbing the machine on a localized platform to attain a level work surface
Shoring up the ground or stone leveling a raceway to attain a level work surface
Puszkiewicz believes that the access industry's future will be for OEMs to develop practical technology solutions that are nearer to ground level, introducing the concept of a "smarter" chassis. "Technologies that enhance a machine's chassis system not only offer safety enhancements but also extend the versatility of access equipment in changing ground conditions, improving operators' productivity," says Puszkiewicz.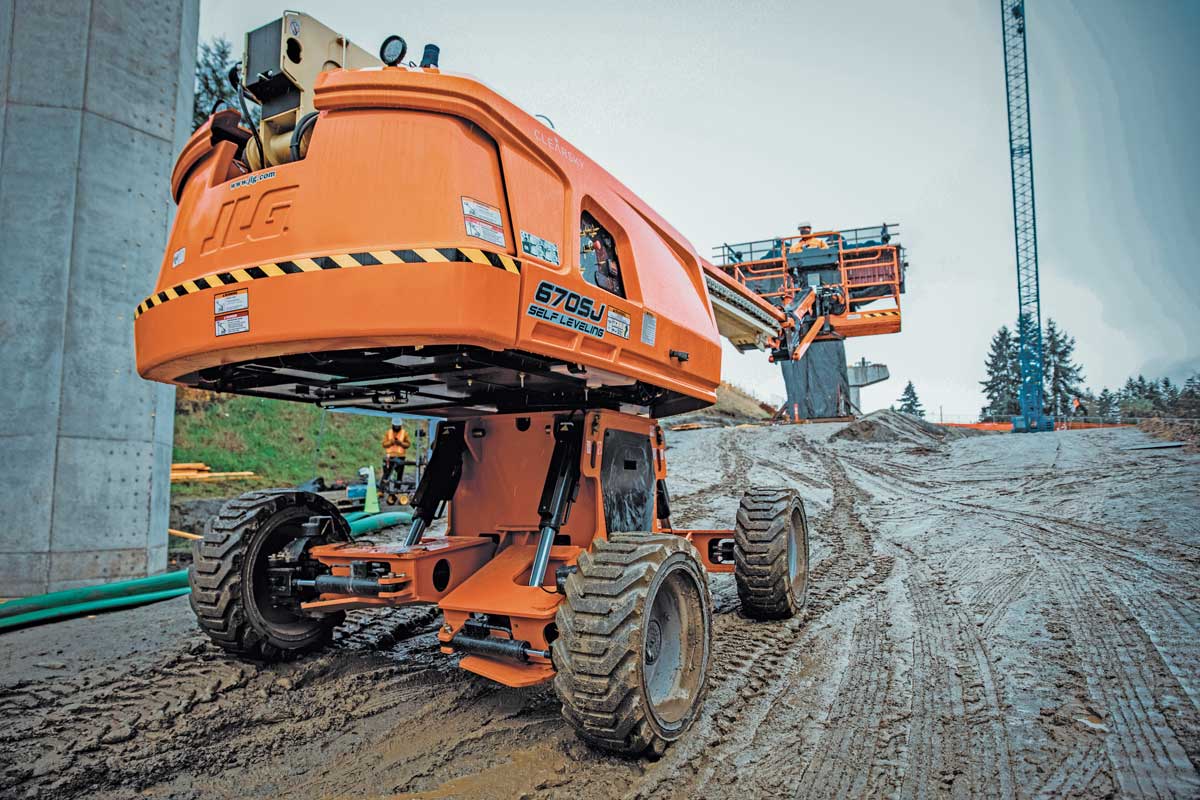 New Technology Coming to Market
Smarter chassis technologies will benefit not only general construction applications on undeveloped surfaces but also work on improved surfaces where infrastructure is already established. "Technology can help operators working in city centers that want to get closer to buildings but can't because of the imbalance in height between the streets, curbs and sidewalks," says Puszkiewicz.
He adds: "Also, operators working near bridges and overpasses, on jobsites which can be extremely limited on space because of ongoing traffic or water obstacles, could benefit from using machines with advanced chassis technology."
This type of ground-level technology can also save a significant amount of time and money because it eliminates the need for excessive, costly jobsite preparation, such as grading work to level surfaces. And, it eliminates the need for cribbing so these machines could be used on more types of jobsites. In turn, the technology would allow machines to work closer to buildings with less positioning while providing operators with a more comfortable, stable feeling when operating in rugged conditions.
According to Puszkiewicz, several recent developments in machine chassis technology have been developed that now offer operators new ways to be productive when working on uneven terrain. For instance, self-leveling technologies are designed to adjust a machine's capability under certain conditions to the ground or surface being worked on.
John Deere Debuts Anti-Vibration Undercarriage on 333G Track Loader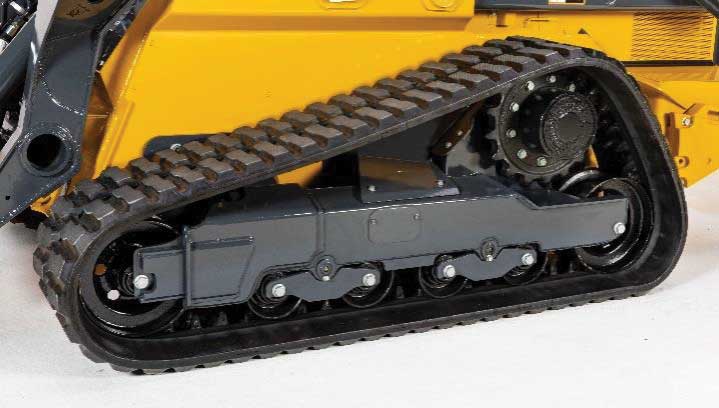 John Deere recently expanded its compact equipment offerings with the introduction of the anti-vibration undercarriage system for the 333G compact track loader. Designed to reduce machine vibration and increase operator comfort, the anti-vibration undercarriage system was created as a solution to combat operator fatigue and enhance user experience. Key features of the anti-vibration undercarriage system include: an isolated undercarriage, bogie rollers, updated grease points, hydrostatic hose protection shield and rubber isolators. By utilizing an anti-vibration suspension at the front and rear of the track frame and absorbing shock through the rubber isolators, the machine provides a smoother ride for the operator. These features also enable the machine to travel at higher speeds while retaining material on the job and permit the machine to flex up and down, creating a more comfortable operator experience, ultimately helping reduce operator fatigue. For more info, visit deere.com.
Self-Leveling Technology
According to Puszkiewicz, self-leveling technology is designed to adjust the boom lift's chassis to the ground conditions (rather than adjust the machine's capability to ground conditions).
"Boom lifts are often used because operators want the mobility of movement when working at height," says Puszkiewicz. "This means these types of MEWPs are not equipped with outriggers, which enhance machine stability, especially when working in challenging ground conditions. With self-leveling technology, the machine is engineered to automatically level itself in all directions, at all times, even when driving the unit elevated."
With this technology, Puszkiewicz says, the control system of the machine ensures that all four wheels are in constant contact with the ground, improving the machine's traction on rugged terrain. The benefits of this are:
Operators (and occupants) will feel more stable during travel due to less bouncing of the unit when it is traversing over rough or uneven terrain. This will improve operation and reduce fatigue.
Terrainability of the machine is aided by improving traction.
The need to crib and/or grade the work area is minimized, and the trial and error of repositioning to find level ground is eliminated. This translates to improved productivity so operators can get more done at height.
Looking Ahead
Technological advancements continue to transform the access industry, and self-leveling technology is an example of a step change for the industry — one of many new technologies that will truly transform how people work at height by increasing productivity and enhancing safety best practices. "As technology evolves, the idea is that these innovations will not only change how the industry works today," finishes Puszkiewicz, "but that these advancements will be the way forward too."
Jennifer Stiansen is the director of marketing at JLG.
Perkins Engines Distributor Clarke Powered Solutions Awarded Additional Territory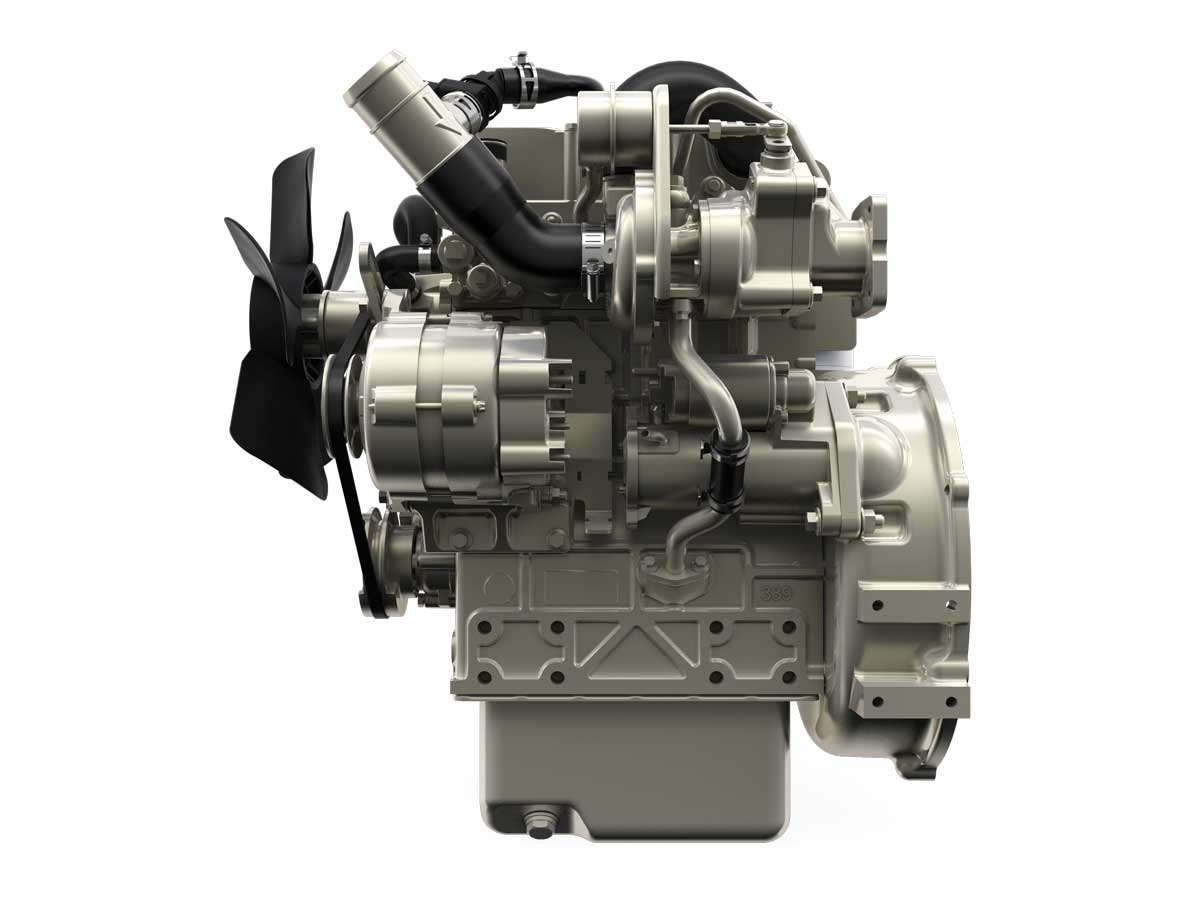 Perkins Engines distributor Clarke Powered Solutions has been awarded additional states — Kentucky and Virginia — to its customer service area that now covers 26 states across the Midwest and Eastern regions of the United States. The addition of the states to Clarke's territory is part of an overall Perkins distributor plan to further strengthen the Perkins North American service network by providing engine expertise and services for Perkins powered machine owners and operators for more than half the nation. "Since Clarke joined Perkins as an authorized distributor, they have proven they are more than committed to their customers' success by providing the utmost service and support across their entire territory," said Jaz Gill, vice president of global sales, marketing, service and parts at Perkins.
For reprint and licensing requests for this article, please click here.