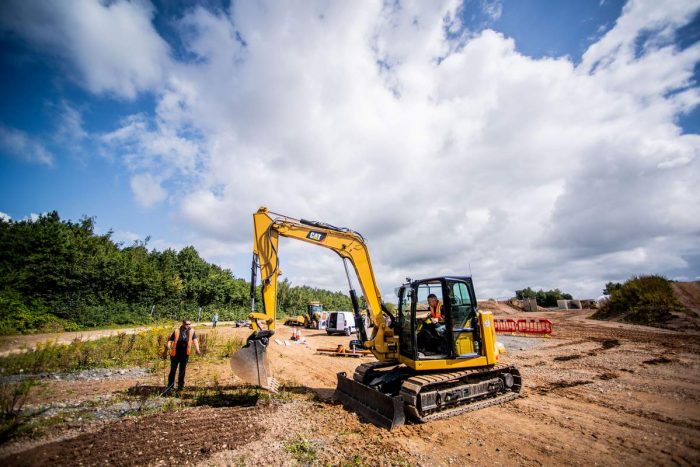 So, you need to rent a compact excavator. Well, we've actually already written that story, so do read it right here. Maybe you need to dig a drainage trench or maybe you need to break up an old concrete pool using a hammer and grapple attachment. Mini or compact excavators have a wide range of applications potential, which is what makes them uber popular on rental lots.
Usually defined as excavators under 6 metric tons of operating weight, the 3.5-ton mini excavator sector is one of the most popular in the rental market, but the 5- to 6-ton market is heating up. For some basic definers, compact excavators have dig depths between 5 and 20 ft, cabs or ROPS operating stations, various tail swing configs, the ability to use attachments and diesel engines ranging from 13 to 70+ hp. Most capitalize on rubber track undercarriages that are great for navigating terrain with high flotation and a light footprint, fitting into cramped worksites to A) give precise and powerful dig performance, B) wield attachments like thumbs, grapples and brush cutters or C) all of the above and more.
If you want to learn everything there is to know about compact excavator, you gotta read this feature linked, but if you want to know which compact excavators are the most popular on rental lots, just continue below.

John Deere's 35G Compact Excavator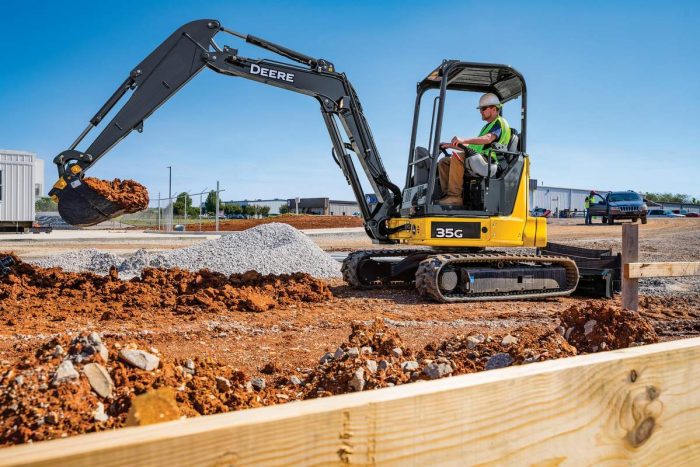 John Deere's 35G compact excavator is designed for rental, commercial and residential building, landscaping, underground and site development. The 35G offers a 23-hp Final Tier 4 engine and a wider and longer operator's station than the previous models, providing improved operator comfort and productivity. In addition, the machine delivers increased visibility for work in close quarters more comfortably and safely. Within the operator station, a multifunction monitor provides a coolant temperature and fuel gauge, clock, two trip meters, regeneration inhibit, auto shut down control and machine hours among the many functions. Attachments and options also strengthen the 35G's offerings. The 35G compact excavator can be equipped with an optional hydraulic adjustable-angle backfill blade that features 25 degrees of adjustment to both the left and right for more efficient trench backfilling. For more information, visit johndeere.com.
Kubota's U35-4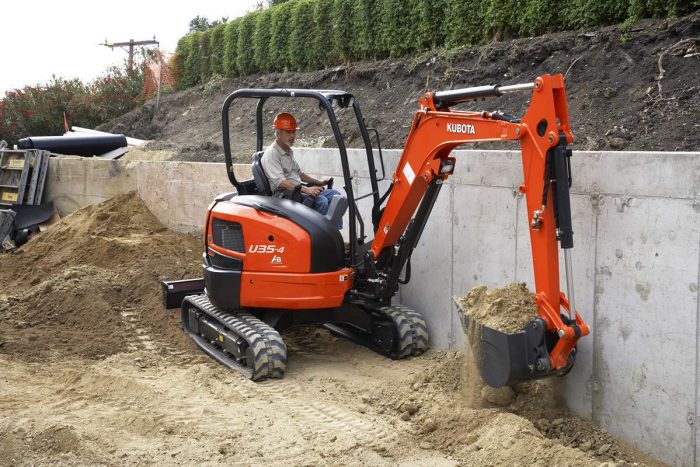 The U35-4 is Kubota's most popular rental excavator. The U35-4 is a 3.5 metric ton reduced tail swing compact excavator with ample operating space, superior performance and power. The U35-4 features an AUX1 diverter valve critical to rental owners who are changing attachments regularly. The AUX1 diverter valve allows the use of an additional hydraulically driven attachment such as a flail mower or hammer, while leaving the very popular hydraulic thumb connected. The U35-4 also features an optional angle blade, spacious cab, and auto idle to reduce overall costs. With a wide range of attachments and 24.8 hp at its disposal, the Kubota U35-4 compact excavator is here to help you reach for the stars. To learn more, visit kubotausa.com.
Doosan's DX35-5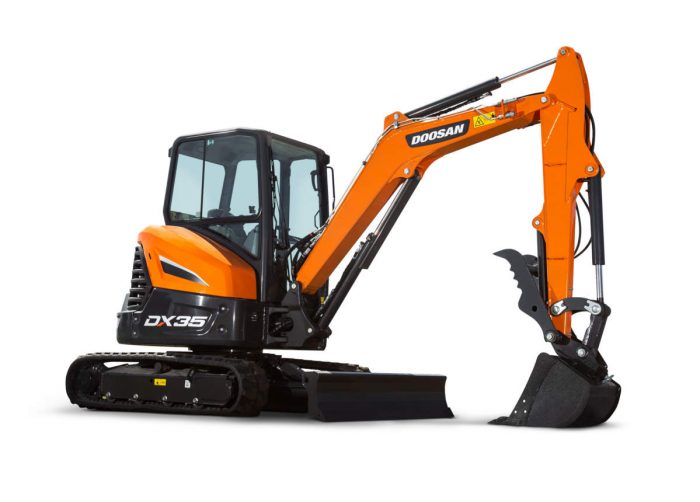 Featuring a zero tail swing and a 31-hp engine, the Doosan DX35-5 mini excavator packs a punch. The DX35-5 is an ideal machine for operating on congested jobsites. Operators can work where larger earthmoving machines can't. With the load-sensing hydraulics and cushioned cylinders, the machine performs work smoothly. Whether operators are digging, dumping soil into trucks or placing hardscape materials, the machine's cylinders provide best-in-class cycle times. Built tough with integrated slew brakes, on-board diagnostics and automatic glow plugs, the DX35-5 lets operators spend less time in the shop and more time on the jobsite. For more info, visit na.doosanequipment.com/en/construction-equipment/mini-excavators/dx35-5.
Mini excavators are making big waves on jobsites all over North America. Click here for the latest news on these machines and the companies that make them.
Caterpillar's 308 CR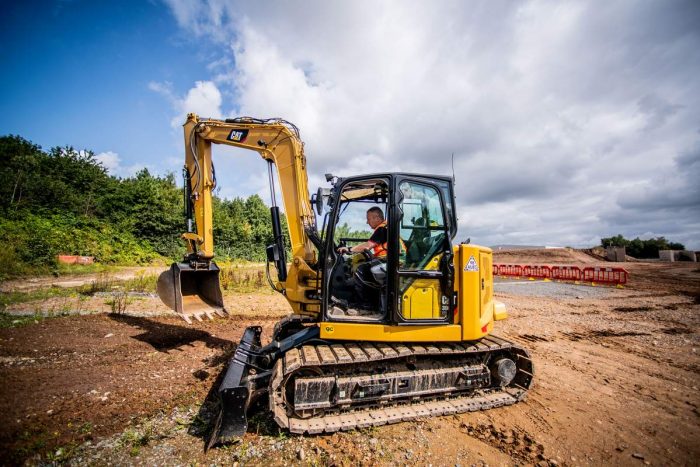 The Caterpillar range of Next Generation mini hydraulic excavators has been expanded with the addition of six new models in the 7- to 10-ton category. The new models provide a selection of basic configurations, allowing customers to choose the machine that works most efficiently in applications routinely encountered. These units are ideal for rental. As with all Cat Next Generation mini excavators, the new models feature heavy duty main structures, fuel efficient engines, load sensing hydraulics, spacious cabs and the exclusive Cat Stick-Steer system. The most popular unit might be the 308 CR, a compact radius model with a swing boom. The 308 CR VAB, featuring a variable angle (two-piece) swing boom. It' also available with a long-stick option that increases dig depth by approximately 22 in. For more info, visit cat.com.
Yanmar's SV40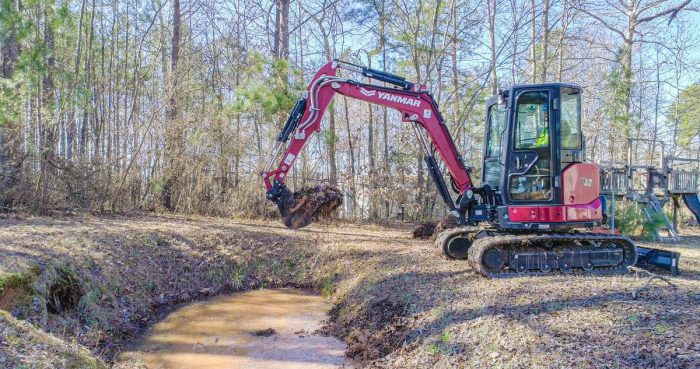 Redefining the definition of compact power, the Yanmar SV40 is pushing the limits on an excavator of its size. A 4-ton class mini excavator, Yanmar's SV40 is powered by a 39-hp Tier 4 Final Yanmar engine. It is a game changer amongst compact excavators with best-in-class power, digging force and lifting capacity for work on construction, utility and landscaping applications. The SV40 is Yanmar's most technologically advanced mini excavator and was designed specifically for the North American market. It has advanced-technology hydraulics with best-in-class implement cycle times and overall improved hydraulic system performance. The SV40 is built to work effectively with options for a second PTO function, four- or six-way blade and an additional counterweight. For more info, visit yanmar.com/us.
Mecalac's 6MCR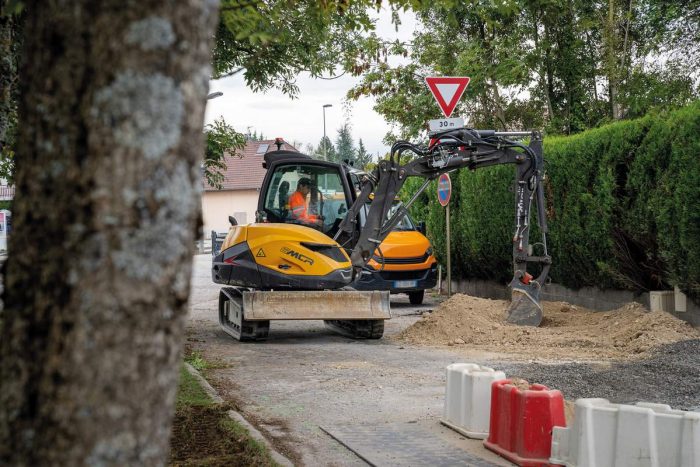 Mecalac, a global leader in the design, manufacture and distribution of compact construction equipment for urban environments, offers its 6MCR crawler skid-excavator which gives operators superior speed, productivity and compact operation over traditional mini excavators. The 6MCR, part of the MCR Series, provides the swiftness of a skid steer with the 360-degree rotation of an excavator for versatility and travel speeds up to 6.2 mph, two times faster than any small excavator. The machine is truly multifunctional, acting as a skid steer, excavator or rough terrain forklift, depending on the attachment — which is easily connected with Mecalac's patented quick coupler, Connect. The 6MCR combines Mecalac's innovative three-part arm and a rotating ability to deliver superior performance as part of the company's signature 360-degree compactness. For more info, visit mecalac.com.
Takeuchi's TB240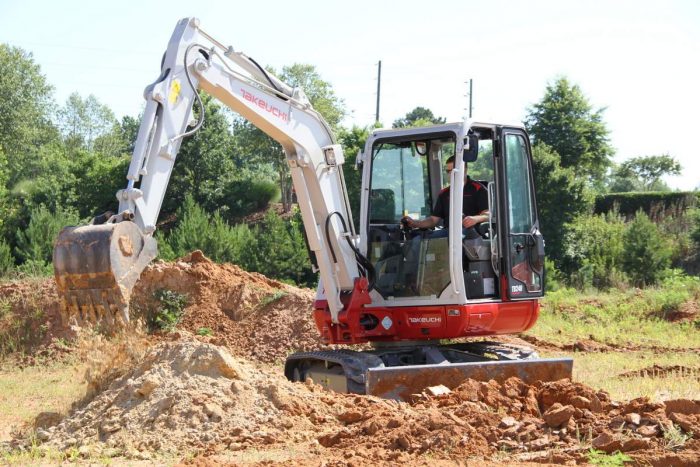 Weighing in at 8,570 lbs, Takeuchi's TB240 compact excavator features all-steel construction and a rounded body for improved functionality and visibility. The machine's reinforced boom is designed to provide greater durability and fewer breakdowns. With an impressive bucket breakout force of 9,959 lbs and a maximum arm-digging force of 4,110 lbs, the TB240 can tackle a broad range of applications on demanding jobsites. The excavator's ground-level, panoramic serviceability and convenient rear engine access make maintenance fast and easy, so you can quickly get the machine off the lot and back out into the field. The excavator's Tier-4-Final, 35.8-hp engine features three working modes, Standard, ECO and High Altitude, so operators can choose the mode best suited to their applications. Learn more at takeuchi-us.com/compact-excavators.
Wacker Neuson's EZ36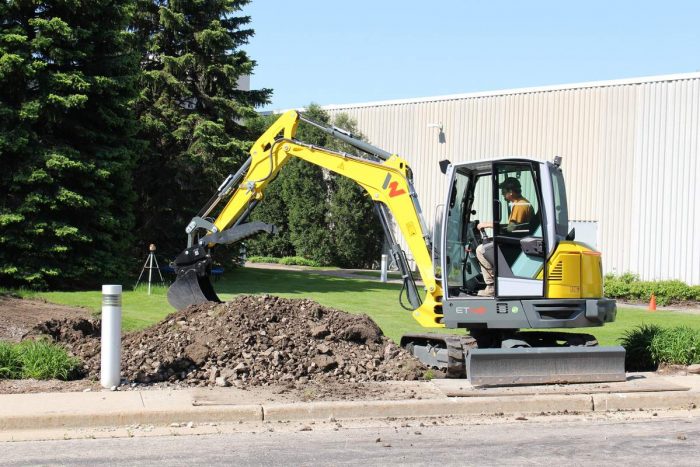 Wacker Neuson's 3.6-ton, EZ36, compact excavator with a minimal tail swing design is a versatile machine for a variety of applications, especially rental. The 3.6-ton class excavator is among the most popular size in the market, so Wacker Neuson included features and benefits that would stand out in the crowded field. The EZ36 combines the technology and operator comfort of a larger machine in a powerful, yet economical package. With best-in-class dig depth (11 ft, 6 in.) and reach (18 ft, 6 in.), the EZ36 is highly productive and offers the performance of a conventional track loader with maneuverability and stability on a minimal swing machine. The user-friendly operating concept and comfortable cab starts with the ergonomic joystick, jog dial, keypad and 3.5-in. display all within easy reach and view. For more info, visit wackerneuson.com.
LiuGong's 9018F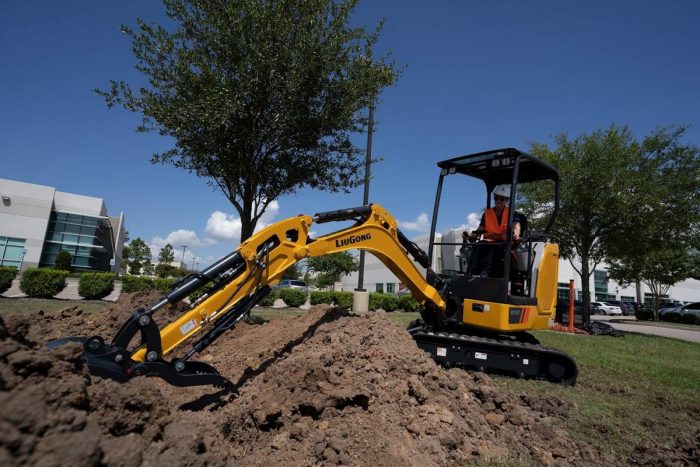 The 9018F is a reduced tail-swing, 1.8 metric ton mini-class excavator and represents the smallest of the powerfully efficient LiuGong F-Series excavator models. Its compact dimensions and retractable undercarriage alone give its users several transportation and application benefits. The 9018F is a powerful, robust base unit for a variety of attachments. It also supports the installation of consumer-requested aftermarket add-ons. The unit is available with both a closed pressurized cab, featuring heater and window defroster, as well as a canopy design. The closed cab 9018F version stands just 7 ft, 9 in. tall, resulting in a height that all but eliminates headspace concerns. The 9018F unit's short stature combined with a retractable undercarriage give its operator access to the most restrictive workspaces. For more info, visit liugongna.com.
Kobelco's SK75SR-7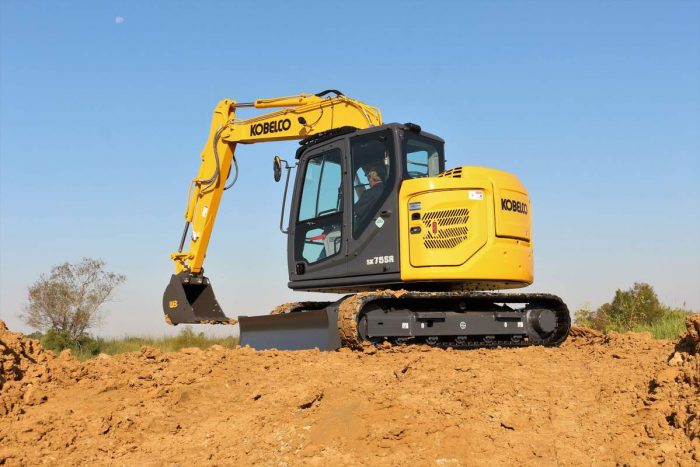 The Kobelco SK75SR-7 has the power, fuel economy and features needed to tackle jobs in tight spaces. With a dynamic digging force of 15,900-lbs and an impressive ~37 percent increase in digging speed, the SK75SR-7 delivers continuous operation and reduces cycle times. This unit maintains superior productivity and efficiency while working at high power levels, lifting heavy loads and traveling on steep grades. The SK75SR-7 boasts premier operator comforts, including: an optimized control layout with a jog dial and 10-in. color monitor, built-in rear, left and right-side cameras with a customizable split-screen display function to enhance operator awareness and jobsite safety, and a standard ergonomic lever and air ride suspension seat to reduce operating force and fatigue by ~25 percent. Enhanced multi-function capabilities include an attachment selection system with adjustable flow-rate presets for the bucket, breaker, nibbler and thumb, allowing the operator to change between tools quickly and easily. For more info, visit kobelco-usa.com/excavators.
Keith Gribbins is publisher of Compact Equipment.
Tags:
Cat
,
Caterpillar
,
Doosan
,
John Deere
,
Kobelco
,
Kubota
,
LiuGong
,
Mecalac
,
Takeuchi
,
Takeuchi-US
,
Wacker Neuson
,
Yanmar
,
Yanmar America