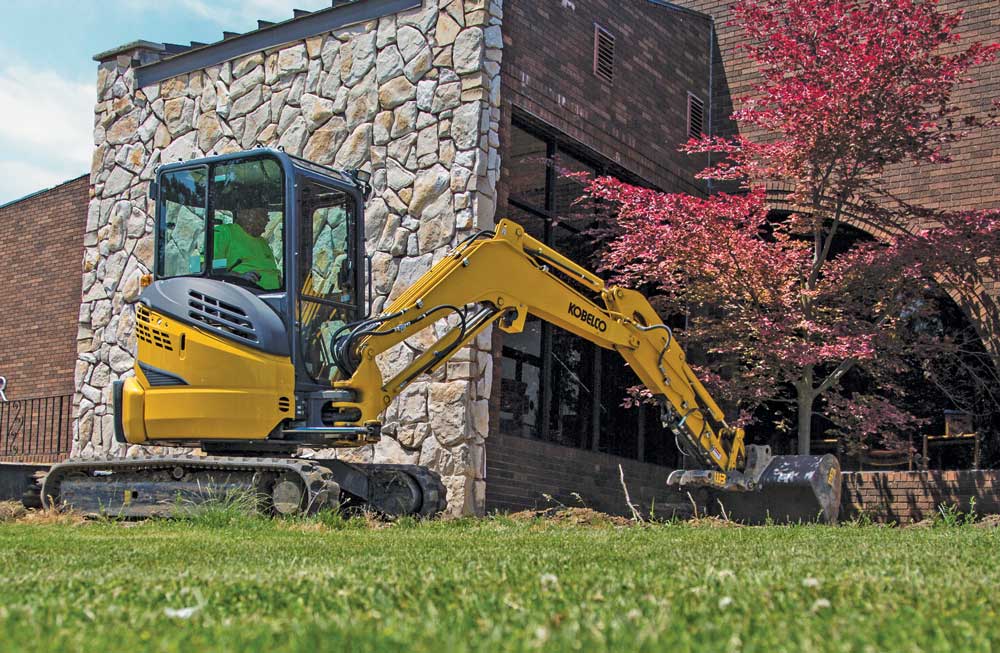 Let's face it, sometimes you could use a hand — or in some cases — an extra piece of equipment. Whether you need an extra machine to meet a tight deadline or tackle a job that's a little too big for the tools you have, rental is the perfect option to give your operation the boost it needs. Mini excavators make great rental machines to serve all sorts of customers and applications.
"There are many scenarios in which a contractor, municipality or even an individual may need to rent a mini excavator — when a contractor is down a unit or has a large project where they are under a time crunch, taking on a job that requires a unit with different capabilities than what the contractor currently has on hand or a homeowner that is doing a big landscaping project around their property," says Todd Dohnal, dealer development manager for Kobelco USA. "Whether a mini excavator is rented or sold, customers are using it for similar applications. Mini excavators have primarily been used for dirt work. But today, a wide range of attachments are available for minis, which expands the unit's capabilities and opens the door to new opportunities for utilizing the machines."
If rental is the right option for you, it's important to find a machine that meets all of your needs. That search begins with understanding what applications the mini excavator is expected to perform. With such a big demand for mini excavators, equipment lots are stocked with plenty of different machines to choose from.
"In their equipment rental evaluations, contractors need to consider how tight of an area they will be working in, how deep they need to dig and how wide of a bucket is needed," says Derek Taylor, district sales manager for Arizona at United Rentals. "Contractors also need to consider whether a cabbed or uncabbed unit is needed for the job and whether they will be running any attachments on the unit, such as a hammer, auger or power bucket."
As for size, mini excavators in the 3- to 5-metric-ton range are a popular choice for rental thanks to their ability to fit on compact jobsites. Lee Padgett, product manager for Takeuchi, says that machines in that size are great for most homeowner and light construction applications, as well as handling a wide range of attachments. Taylor adds that the most popular size unit among contractors is typically a 7,000-lb excavator that has a 9- to 10-ft dig depth.
Hauling is also a concern and mini excavators that fit within the 3- to 5-ton size class are perfect for no-hassle transport.
"Machines in the 7,500- to 8,000-lb range are very popular for rental applications because they're easy for contractors to haul," says John Comrie, product manager at Volvo Construction Equipment. "While requirements may vary state by state, you can typically haul this size equipment without a special license. 10,000 lbs is the magic number — if a customer can keep the load under 10,000 lbs with extra buckets and materials, it makes the compact excavator a very appealing machine for rental."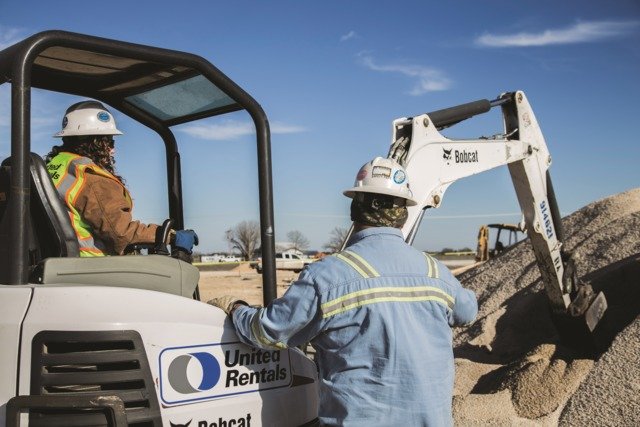 A comfortable operator is a productive one, so finding an excavator rental that best suits an operator's preferences is important. Renters should scope out potential units to see if they will be a good, comfortable fit.
"The saying it's like riding a bike doesn't necessarily apply to excavator operation. Comfort with the operating environment is essential to productivity," says Comrie. "Contractors should take time to fully inspect the interior of the cab, become familiar with the controls and determine if the panel positioning, seat and mirrors are accommodating to their work style. If unsure of the size of excavator needed, the dealer or rental house will encourage a short demo of the compact excavator, letting the contractor operate it under real-world conditions. This is critical to determine if the machine is a good match for a project but also if an operator can comfortably work inside the cab for hours at a time."
Speaking of controls, Dohnal points out that most mini excavators come standard with a pattern control change option which allows the operator to easily switch the joystick control pattern to what they are used to or find simple to operate. However, he recommends that renters make sure the option is available prior to signing a rental agreement.
As mentioned earlier, attachments help mini excavators conquer all sorts of jobs so finding a dealer that can supply those tools is key.
"Do not just consider the models a rental house offers but also the attachments," says Comrie. "Look for a rental house that not only stocks a wide variety of attachments but also stocks compact excavators that will interface well with a variety of attachments."
Dohnal adds, "Make sure the bucket or attachment fits the application. For example, if you are loading brush and digging, then a unit with a bucket and thumb is essential."
Another consideration is price. Mini excavators can be rented on a daily, weekly and monthly basis, so rates will vary depending on your rental period. It's also important to note that pricing can fluctuate across the country, and the length of the rental can help you score a better deal.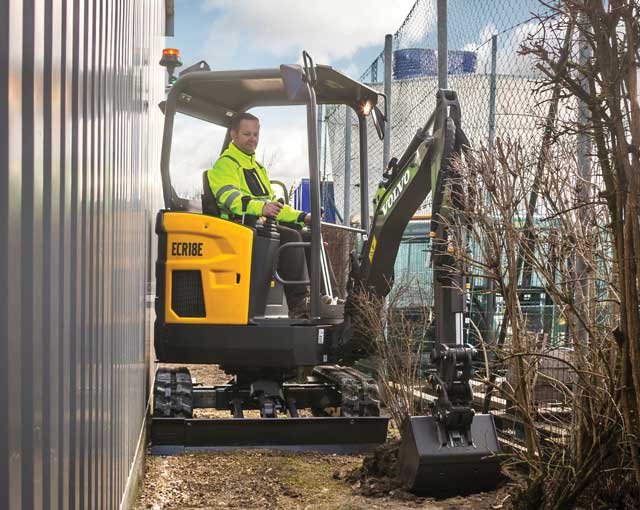 "Rental costs vary depending on geography and especially by the attachments that are on a unit," says Dohnal. "In a typical rental house, three days equates to one week, and three weeks equates to one month. The longer period of time you rent, the better deal you can make. Delivery charges depend on the size of the unit and its proximity to the location it was rented. Some companies include the delivery charge in their rental rates for customers within a certain radius from their location. It is all in how that rental company or dealer chooses to market themselves against their competition."
As for rental rates, Taylor says that since mini excavators come in a variety of sizes — anywhere from 1,000 to 18,000 lbs — the rental cost can vary drastically. Day rates can range from $150 to $485 and monthly rates from $1,100 to $3,490. It's important to shop around to find not only a machine that fits within your budget (as well as fits your needs), but a dealer who will offer good equipment and customer support.
"Just like anything in life, do a little homework," says Dohnal. "Sometimes the lowest rental price is not the best option. Does the company have a well-used fleet or do they keep them in good shape? Do they complete their own service in case you have an issue with a unit while renting? What do other people say about the business?"
No matter the length of the rental, contractors should perform a thorough inspection of the mini excavator to make sure it's been well taken care of and ready to work. A well-kept machine will allow crews to stay on track and not on the sidelines.
"Uptime is crucial to a contractor's operation, and before committing to a long-term compact excavator rental, the contractor should approach the machine in question just like they would if they were to purchase a piece of equipment," says Comrie. "Contractors should conduct a visual inspection of all the major wear parts and ask the rental house about the previous jobs the excavator was used on. A renter should ensure all routine maintenance is up to date and hoses are properly connected and free of leaks."
---
On the Rise
"The annual U.S. sales of mini excavators are increasing to over 40,000 units per year," says Todd Dohnal, dealer development manager for Kobelco USA. "It is definitely a business segment that all manufacturers are paying attention to and continuously updating, upgrading and incorporating new technology into their respective lineups for the market."
---
Check Out Two New Mini Excavators from Wacker Neuson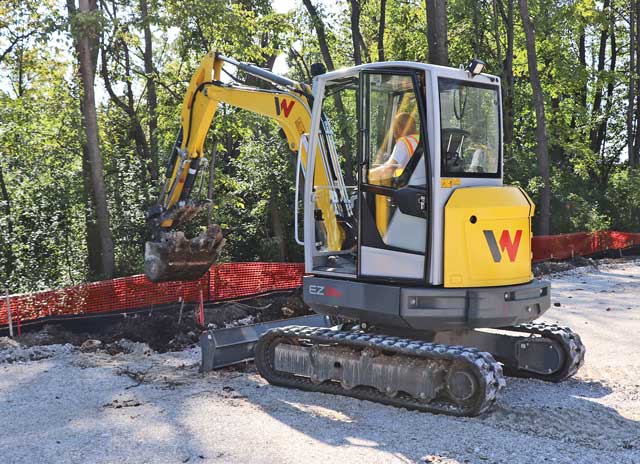 Wacker Neuson continues to optimize its excavator line with the addition of two models that are built for operator comfort, stability, power and serviceability. The 3.6-ton EZ36 and 2.6-ton EZ26 compact excavators with a minimal tail swing design are versatile machines for a variety of applications.
The 3.6-ton class excavator is among the most popular size in the market, so Wacker Neuson looked at features and benefits that would stand out in the crowded field. The 24.5-hp EZ36 combines the technology and operator comfort of a larger machine in a powerful, yet economic package. With best-in-class dig depth (11 ft, 6 in.) and reach (18 ft, 6 in.), the EZ36 is highly productive and offers the performance of a conventional track loader with excellent maneuverability and stability on a minimal swing machine.
The user-friendly operating concept and comfortable cab starts with the ergonomic joystick, jog dial, key pad and 3.5-in. display all within easy reach and view. The large cab offers plenty of head and leg room, adjustable seat and armrests, plus creature comforts such as ample storage compartments, mobile phone cradle and USB port. The ISO/SAE control pattern change over switch is conveniently located in the cab, allowing operators to select their preferred pattern quickly. The air conditioning system keeps the operator cool all day, and a unique four position adjustable windshield is ideal for ventilation and jobsite communication. The dual flange roller system on the undercarriage improves lateral stability while digging and loading as well as reduces noise and vibration while traveling.
The EZ26 also offers a modern design, comfortable cab with wide entry, ergonomic controls and quick, cost-saving maintenance access. The 2.6-ton unit is ideal for working in tight spaces and is a great choice for landscape and backyard projects. It's easy to transport with eight tie-downs, six on the track and two on the dozer blade. Powered by a 20.4-hp Yanmar Tier 4 Final engine, the EZ26 has a dig depth of 9 ft and maximum reach of 15 ft, 5 in.
Both the EZ36 and EZ26 are available with the Wacker Neuson's exclusive Vertical Digging System (VDS). VDS enables progressive tilting of the superstructure by up to 15 degrees to compensate for slopes, saving up to 25 percent on material and time costs. For more info, visit wackerneuson.us.
Tags:
home
,
June 2019 Print Issue
,
Kobelco USA
,
United Rentals
,
Volvo Construction Equipment