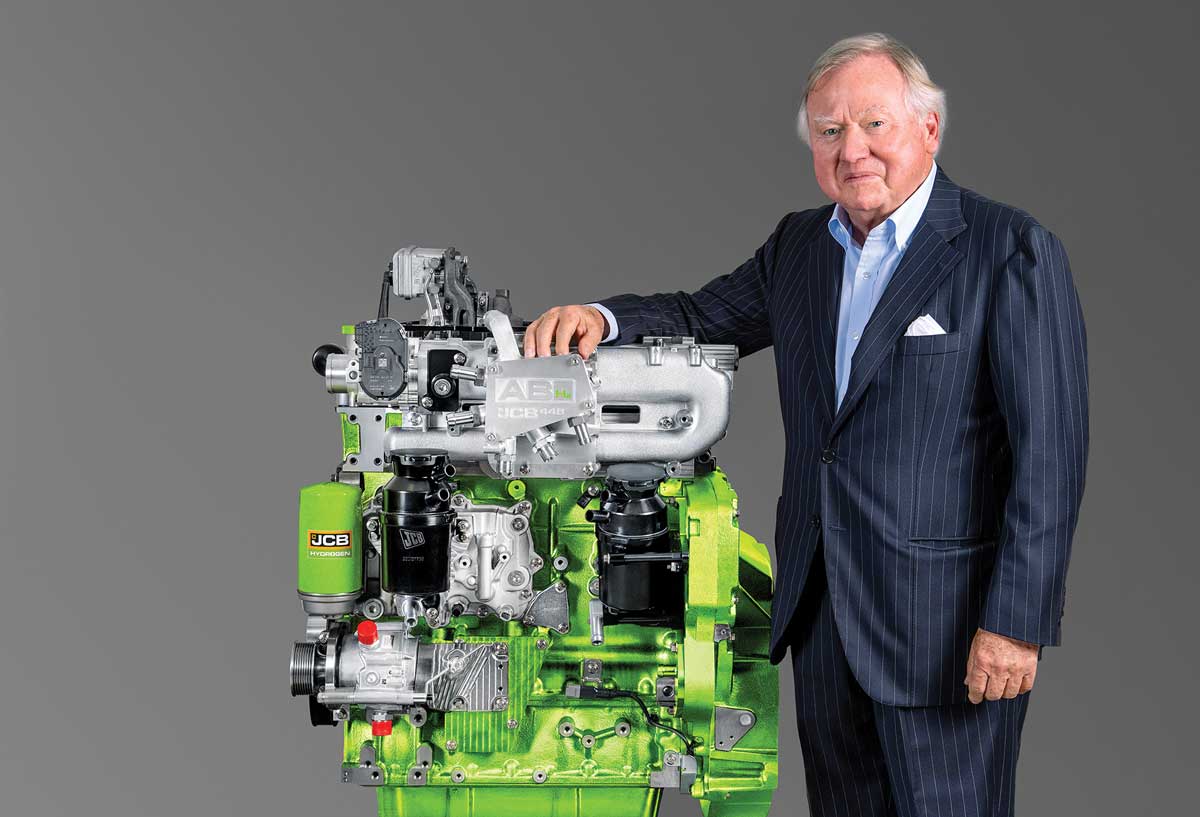 One of our big editorial focuses for the summer of 2023 is technology, and the centerpiece of our online coverage comes with our Top Tech series of feature stories and e-news articles. From electric and hydrogen to AI and VR, the Compact Equipment team tackles the top technologies evolving the off-highway equipment industry in this five-part Top Tech guide. Click here to see the other four articles.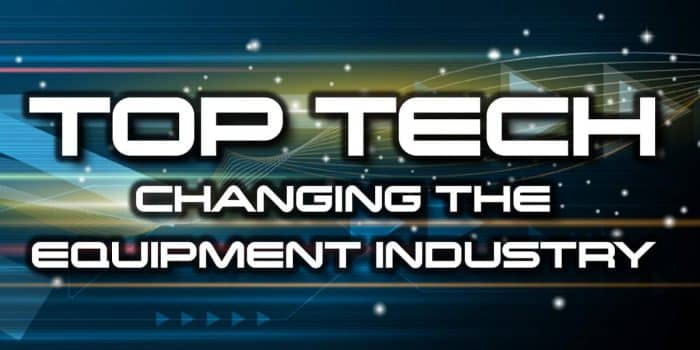 Alternative propulsion is pushing off-highway construction equipment in new directions. Electric or battery-powered compact equipment can be found on dealer lots in 2023, but electric will have limitations. A lot of construction equipment manufacturers do not see the practicality of bigger battery-powered construction equipment weighing over 6 metric tons. Battery packs for bigger equipment cost too much, weigh too much and would likely result in loss of machine performance, so what's the alternative?
Hydrogen is a viable zero emissions fuel option for off-highway machines, and there are two big technologies for H2 propulsion floating around the market right now — hydrogen fuel cells and hydrogen combustion. JCB has worked with both. Earlier this year, I traveled to England to do a deep dive article on JCB's 4.8-liter, four-cylinder hydrogen combustion engine that uses H2 gas (not fluid) that's ignited with sparkplugs (vs. a diesel that uses compression) and emits zero emissions (only water vapor). This H2 engine is geared toward midsized construction equipment, and JCB showcased a prototype backhoe, telehandler and H2 fuel truck. The company also highlighted a prototype 20-metric-ton excavator powered by a hydrogen fuel cell, but only as an example of technology it wasn't embracing.
Hydrogen fuel cells work like batteries, producing electricity and heat as long as a fuel (in this case hydrogen) is supplied. A fuel cell uses the chemical energy of hydrogen to cleanly and efficiently produce electricity, and it only emits water as a byproduct. JCB cited a variety of challenges when using fuel cells in construction equipment: fuel cell availability; complex and difficult cooling parameters (which is why fuel cells are more popular in moving applications like haul trucks, wheeled excavators and cars because of the cool air when driving); difficult maintenance and fuel cell contamination from dust and debris; uncertainty about resale value; and the use of a special coolant, which is so expensive the engineering team termed it "whiskey" because it's about the same price per liter as a good bottle.
Yet others see big potential in hydrogen fuel cell tech. Hydrogen fuel cells are cleaner. For example, burning hydrogen at high temperatures in a combustion engine can create nitrogen oxides or NOx, which is a pollutant, which must be controlled and/or cleaned up. Hydrogen fuel cells can also be more efficient, especially when paired with an electric motor. Hyundai Construction Equipment has been developing fuel cell technology since 2020 with the help of Hyundai Motors and Hyundai Mobis, working together to develop hydrogen fuel cells for forklifts and medium and large excavators.
This is the same technology seen in Hyundai's Nexo fuel cell-powered cars. In 2022 at bauma (that big German tradeshow that only happens every three years), Hyundai announced the HW155H hydrogen-powered wheeled excavator concept. Hydrogen fuel cells for the excavator are mounted in the rear of the machine's upper structure. The tanks that fuel them are located on the right-hand side of the machine, opposite the operator's cab. The fuel cell relies on a chemical reaction between the stored hydrogen and oxygen that is present in the air. The fuel cell stack generates electrical energy from this reaction, with an inverter converting this energy into usable electrical power. This is used to drive the hydraulic pump which powers the machine in the normal way.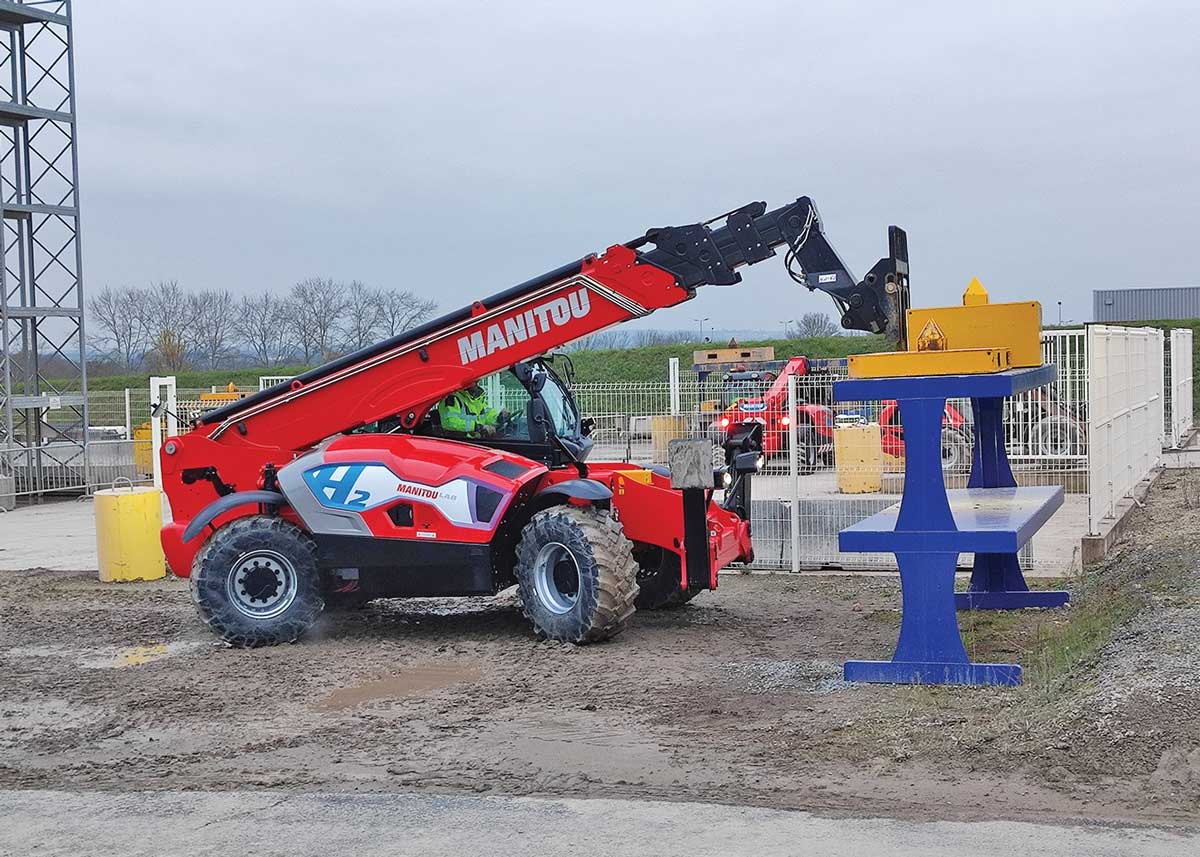 Manitou Group, a specialist in material handling, aerial work platforms and earthmoving equipment (it owns compact equipment brand Gehl), presented a roadmap for research and development on hydrogen-powered machines last year with a prototype telehandler running on hydrogen. Manitou's first prototype is built around a fuel cell, but the group has noted it's experimenting with hydrogen combustion options as well. Manitou has had something like 50 engineers and technicians dedicated to this project since 2021, and it hopes to offer its customers a 100 percent hydrogen-powered telehandler by 2026.
Maybe the biggest convincing factor for hydrogen combustion vs. hydrogen fuel cells for me is that contractors understand combustion technology already. Hydrogen combustion engines look just like regular diesel engines, they fit into the same engine envelop as diesel engines and they are refueled in the same way a diesel is refueled — with a hose and fuel truck — noting this is H2 in gaseous form, not liquid. Plus, hydrogen combustion engines don't require rare earth elements like batteries and fuel cells, which have uncertain supply chains and volatile pricing. Double plus, fuel cells are heavier, more expensive and require a purer grade of hydrogen to operate.
FPT Industrial, an Italian-based multinational designer and manufacturer of transmissions, axles and engines (an Iveco Group brand), showed off a hydrogen fuel cell powertrain for heavy-duty apps way back in 2018. But recently, FPT Industrial has been showcasing its FPT XC13, calling it the first multi-fuel single-base engine, as it can be configured to run diesel, natural gas, biomethane and hydrogen combustion. A hydrogen combustion version debuted on Prinoth's Leitwolf h2Motion snow groomer, noting Prinoth also makes tracked carriers for construction apps. The FPT XC13 hydrogen version is a 13-liter, six-cylinder engine, delivering 460 hp and 2,000 Nm of torque.
The Different Types of Hydrogen Fuel
Hydrogen fuel can be produced in a variety of different ways. The way the hydrogen fuel is produced will be indicated by its color code. Here a few of the most popular types today.
Green Hydrogen is made by using clean electricity from surplus renewable energy sources such as solar or wind power and the use of an electrolyzer. An electrolyzer is a system that uses electricity to break water into hydrogen and oxygen in a process called electrolysis. Through electrolysis, the electrolyzer system creates hydrogen gas.
Pink hydrogen is generated through nuclear energy and an electrolysis system. Nuclear-produced hydrogen can also be referred to as purple hydrogen or red hydrogen.
Blue hydrogen is produced mainly from natural gas, using a process called steam reforming, which brings together natural gas and heated water in the form of steam. The output is hydrogen but also carbon dioxide, which must be captured to get its blue designation.
Grey hydrogen is the most common form of hydrogen production today. It is created from natural gas or methane, using steam reformation but without capturing the greenhouse gases made in the process.
Black and brown hydrogen use black coal or lignite (brown coal) in the hydrogen-making process. This is the most environmentally damaging process to make hydrogen fuel.
At bauma last year, Liebherr exhibited its R 9XX H2 hydrogen-powered excavator, which is powered by a Liebherr H966 hydrogen combustion engine (six cylinders). Liebherr has noted that its components product segment plans to start producing that series of hydrogen motors by 2025, and a four-cylinder hydrogen prototype was also teased in its booth. In March, at CONEXPO-CON/AGG (that tradeshow that happens in Vegas every three years), Kubota showed off a 3.8-liter hydrogen engine concept. Similar to gasoline engines, the 3.8-liter hydrogen engine offers spark ignition while packing a punch at 85kW — which is also the power required for a 45kVA generator. Kubota specifically sees this engine for use in portable power generation and aims to establish a dedicated hydrogen-fueled generator for early adopters.
So, what are the challenges? Like electric, the infrastructure for hydrogen fuel still needs to be built, but the current U.S. government seems ready to build it. In June, the Biden-Harris Administration released the U.S. National Clean Hydrogen Strategy and Roadmap, a framework for accelerating the production, processing, delivery, storage and use of clean hydrogen. A part of that roadmap includes focusing on building those regional networks with large-scale clean hydrogen production and end-users in close proximity. Learn more at hydrogen.energy.gov.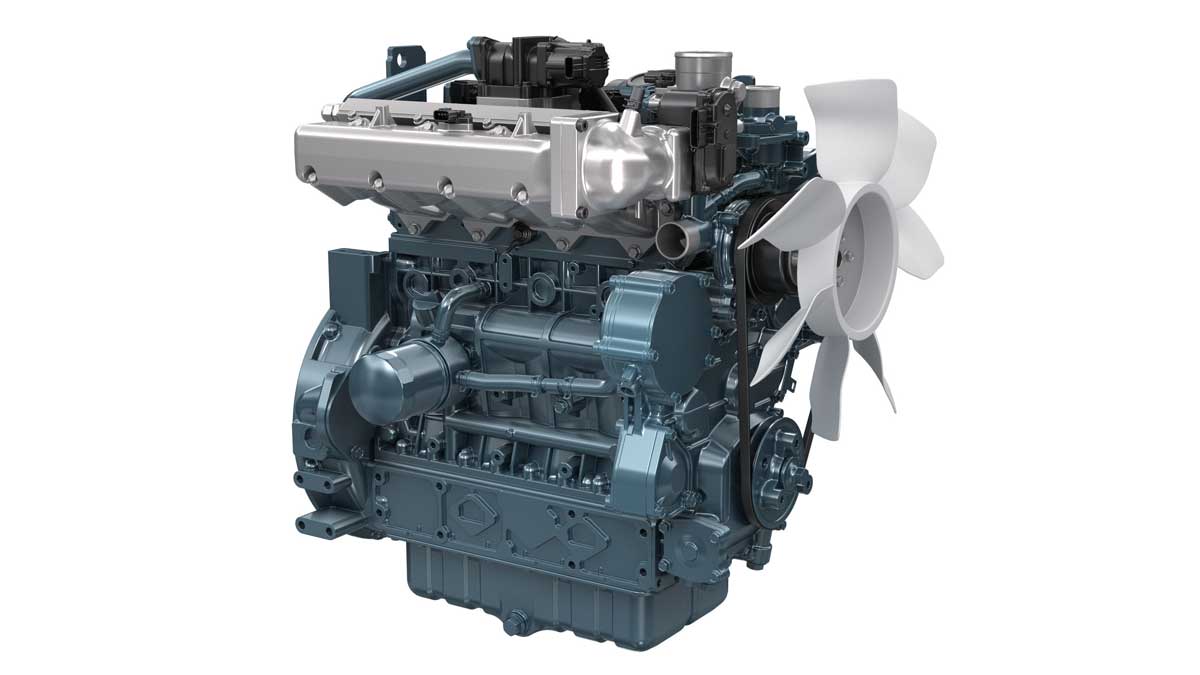 Wait, didn't the Hindenburg use hydrogen? A number of hydrogen's properties make it safer to handle and use than the fuels commonly used today. For example, hydrogen is non-toxic, but some of hydrogen's properties require additional engineering controls to enable its safe use. Specifically, hydrogen has a wide range of flammable concentrations in the air, and (in certain situations) it can ignite more easily that other fuels like gas or diesel. Consequently, adequate ventilation and leak detection are important elements in the design of safe hydrogen systems. Also, some metals can become brittle when exposed to hydrogen — it's called hydrogen embrittlement — so selecting appropriate materials is important to the design of safe hydrogen systems.
Even with these caveats, hydrogen is definitely one of the most exciting technologies in the construction equipment market. It could be the cost-effective answer for bigger emissions-free construction machinery, but to complete the transition to hydrogen contractors must also understand how their hydrogen fuel is produced. See the sidebar above!
Keith Gribbins is publisher of Compact Equipment.
Hydrogen Refueler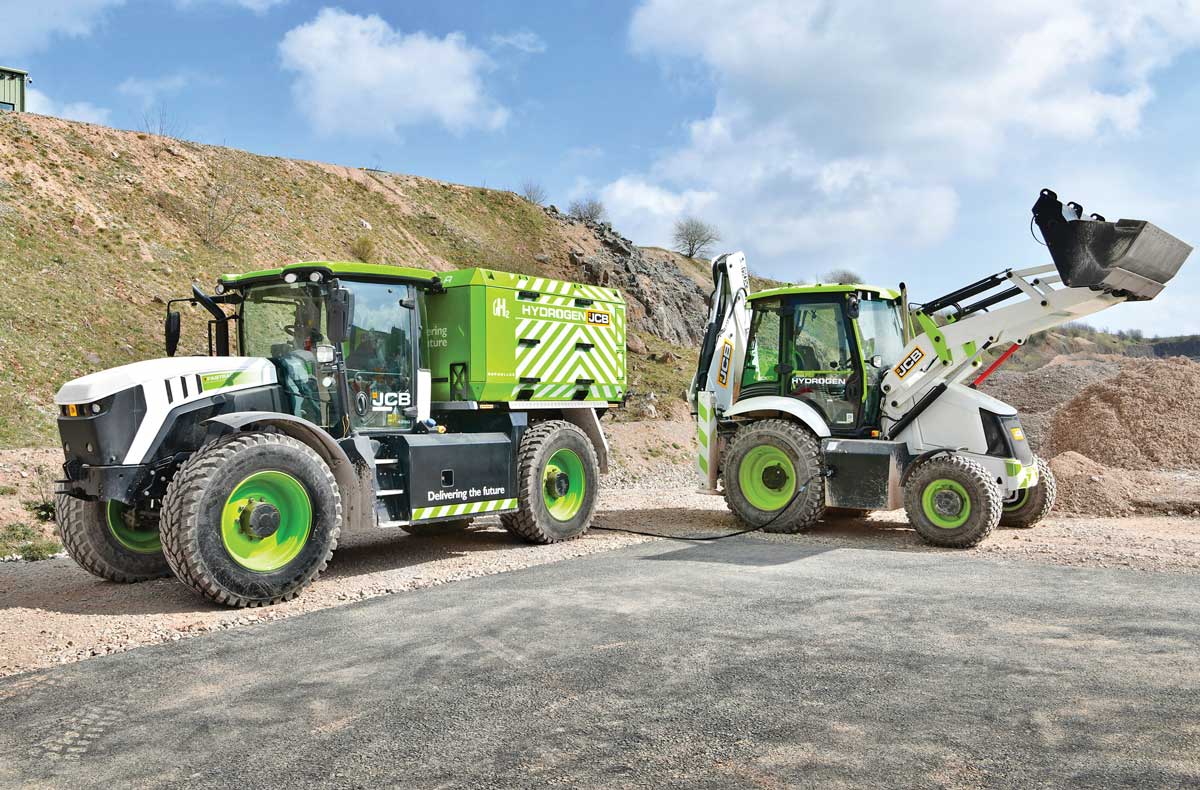 One of the most attractive things about hydrogen combustion engines is that they can be refueled with a truck just like their diesel counterparts. It's even better than refueling with diesel because there are no spills. Hydrogen simply floats away (remember it's a gas, not a liquid). When JCB recently unveiled its new H2 engine powering a telehandler and a backhoe loader, the company also showcased a hydrogen refueling truck. JCB's mobile hydrogen refueler was unveiled in October 2022 and is the first of its kind in the construction industry. This mobile hydrogen refueler provides a quick-and-easy way for customers to refuel their machines on site. Around 97 percent of construction machines have fuel delivered to them while working on site. This means customers are already used to transportable fuel, allowing refueling to take place in a matter of minutes. JCB invested £100 into developing a hydrogen combustion engine, and now it looks prepared to be a leader in the market. For more info, visit jcb.com/en-us/campaigns/hydrogen.