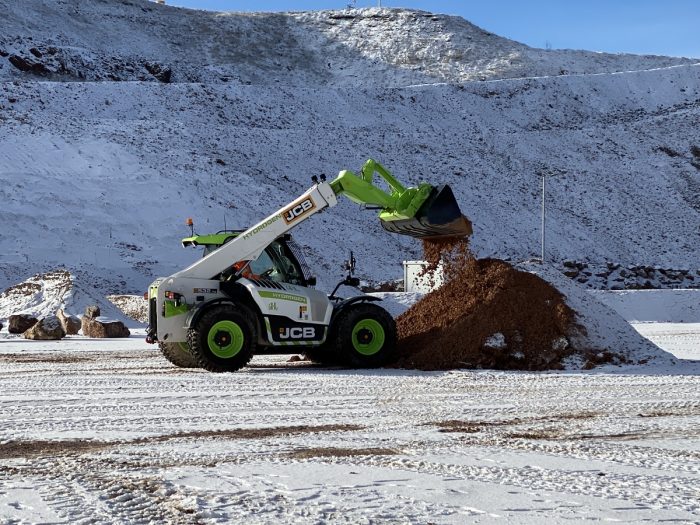 Snow was in the air on my recent travels to the United Kingdom last month, and I only bring this up because the cold air helped emphasize the steam (not exhaust) puffing from the stacks of working construction equipment. In mid-January, I met up with global equipment maker JCB, which is headquartered in Rocester, U.K. JCB was hosting a North American trade press event where it (among other things) showcased prototype equipment that ran on hydrogen combustion engines, engineered by its power systems division. I got to see these machines operate, backdropped by a thin white layer of snow covering the quarry where the outdoor presentation took place.
JCB highlighted a 4.8-liter, four-cylinder hydrogen combustion engine that uses H2 gas (not fluid) that is ignited with sparkplugs (vs. a diesel that uses compression) and emits zero emissions (only water vapor). This H2 engine is geared toward midsized construction equipment, stuff we would cover, which makes it a first. JCB showcased a prototype backhoe, telehandler and H2 fuel truck. The company also highlighted a prototype 20-metric-ton excavator powered by a hydrogen fuel cell, but only as an example of technology it wasn't embracing.
"In the early days of the hydrogen story, we believed the only technology available to us was a fuel cell," explained Tim Burnhope, chief innovation and growth officer at JCB. "So, we got on with a fuel cell prototype — this 20-ton excavator. We started to understand the complex challenge of putting a fuel cell into a piece of construction equipment. Construction equipment machines need energy quickly, whereas fuel cells were maybe better suited to a gentler environment. We started to realize that maybe fuel cells weren't good for response, were too complicated and too expensive for the market that they serve. We knew we at JCB could do better."
Better for JCB meant introducing the first midsized construction equipment (that I know of) utilizing hydrogen-combustion engines. JCB has noted this project was a £100 million investment and took a team of 100 engineers working for more than a year, but the path to creating zero emissions construction equipment takes many turns. JCB's Road to Zero campaign has been ongoing for over a decade now — starting with its Ecomax diesel back in 2011 — and its solutions have led to many different destinations. These new H2 machines are quite amazing, but the road to hydrogen combustion veers through many technologies, including JCB's electric lineup, so let's start there.
Right Sizing Battery Operated Construction Equipment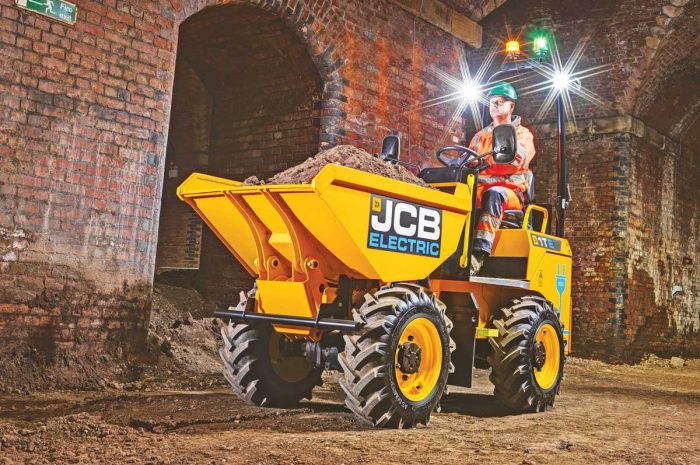 JCB has a long history of innovation. The company invented the backhoe, telehandler and one-armed telescoping skid steer, but its Road to Zero program might be its most ambitious.
The U.K. Government has committed to legally binding targets for net zero emissions from U.K. off-highway construction equipment makers by 2050, and JCB's Road to Zero campaign hopes to meet those goals and others. Read about JCB's impressive environmental global strategies right here. JCB sees big potential for electric machines in its most compact categories. In fact, the company currently has one of the largest electric lineups in the market — its E-Tech machines ­— which include battery powered mini excavators, dedicated dumpers, power buggies and small telehandlers.
"This 19C-1E model [mini excavator] is one of the first electric products that JCB introduced," said Rebecca Yates, senior product manager at JCB North America, giving a product walk-around. "We've actually been in the market since 2019. The highlight here is we've had success. It's continued for years now. JCB isn't just getting into electric. It's part of our journey — so let's talk about where we've started and where we're going — and what we're building on."
For starters, JCB is building on impressive sales. It just announced the production of its 1,000th 19C-1E machine (photo below). Like its diesel counterpart, the 19C-1E has a 9-ft, 2-in. max dig depth and max dump height of 9 ft, 2 in., but the battery-powered digger is five times quieter than its diesel counterpart, requires no engine maintenance and can be fully charged in under two hours, noting there are three charging options (110V, 230V and 415V). The model has been a big hit with companies working inside buildings and in emissions and noise-sensitive inner-city areas, but it's not just mini diggers. JCB launched a range of eight electric scissor lifts in 2017. 2020 saw the continuation of electric machines with the release of the 66-40E electric Teletruk. In 2021, the 505-20E electric telehandler debuted followed by the HTD-5E electric dumpster in 2022. JCB is also investing in off-board fast charge options for all of these units.
"This is a 480-volt, three-phase charging system," explained Lee Tice, product specialist-material handing products, with JCB, showcasing the company's off-board Universal Fast Charger. "It does take a facility that can hold 480-volt, three-phase power, but this does reduce charge times down to two and a half hours for these products. The products are already set up for the charger, so all the customer would have to do is purchase this box, wire it into their facility and they have rapid charging capabilities. For your rental fleets or customers that may own multiple machines on jobsites, it's a perfect option for them to quickly top up their machines."
These JCB electric options are exciting — I'm a big fan — but electric isn't the only solution for zero emissions equipment. In fact, JCB doesn't see electric as a cost feasible solution for larger machinery.
"When you've got 16 different product groups, like we have 350 different individual products, it's not necessarily the same technical solution for all," said Burnhope. "So, we have to look at all technologies. We're fairly technology neutral. We keep trying everything, and what we do is work out to see which works best for this product."
When it comes to electric on midsized and larger equipment, Burnhope cited a variety of challenges including charging infrastructure, charging times, battery durability and the heavy-duty cycles and high-power demands of bigger off-highway construction equipment, but the biggest hurdles for JCB were the size, cost and availability of battery packs — lots and lots of battery packs.
"This small machine [the 19C-1E] has four [battery] packs on board, and four packs cost around $10,000," said Burnhope. "So, it's a 70 percent [increase] on cost, and the machine only weights 2 kg more because we can offset it with a counterweight. So, we thought, let's have a go at a 20-ton excavator. It's pretty simple. We just do a bigger version of what we got with that little 2-ton machine. 10 times bigger, isn't it? Pretty straightforward … So we took a machine, and we put 200 [battery] packs on it and that was essentially $500,000 worth of batteries. That shocked us a little because it's 4.3 times the cost of the machine. To put that into context, if you are paying what, $150,000 or so for that product today, you're talking about a product that costs $600,000."
I'll note here that other manufacturers are experimenting with electric on midsized construction equipment. At the Consumer Electronics Show in January, John Deere showed off its mid-sized 145 X-Tier electric excavator powered by Kreisel battery tech (a company Deere acquired and is expanding). At bauma, Hitachi unveiled four new zero-emissions excavators at bauma, including the bigger ZX135-7EB, all of which can be powered by lithium-ion batteries or a cable connection.
We'd love to keep in touch! Check us out on Facebook, Twitter and LinkedIn!
A Variety of Hydrogen Engine Solutions Emerge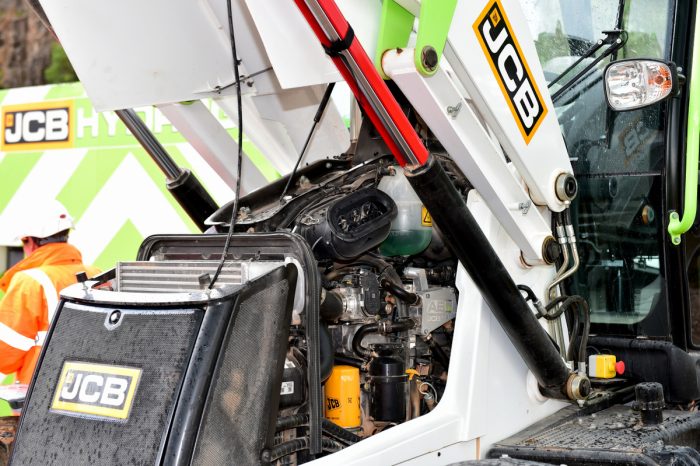 JCB doesn't see the practicality of bigger battery-powered construction equipment weighing over 6 metric tons. In various presentations, company thought-leaders noted that batteries for bigger equipment would cost too much, weigh too much and would likely result in loss of machine performance. JCB sees hydrogen as a viable zero emissions fuel option for midsize off-highway construction equipment and above, and it's not just JCB. News has been circulating about H2-powered machinery of late with designs that are similar yet different. There are different approaches to the possibilities of H2 propulsion. Here are some examples.
FPT Industrial, an Italian-based multinational designer and manufacturer of transmissions, axles and engines (owned by Fiat, which also owns Case and New Holland), showed off a hydrogen fuel cell powertrain for heavy-duty apps way back in 2018. At the IAA Transportation show in Hanover last year, FPT Industrial unveiled the new FPT XC13, calling it the first multi-fuel single-base engine, as it can be configured to run diesel, natural gas, biomethane and hydrogen. A hydrogen combustion version just debuted on Prinoth's Leitwolf h2Motion snow groomer, noting Prinoth also makes tracked carriers for construction applications. The FPT XC13 hydrogen version is 13-liter, six-cylinder engine, delivering 460 hp and 2,000 Nm of torque.
Last October, the giant German tradeshow bauma saw some cool hydrogen concepts like Hyundai's HW155H hydrogen-powered wheeled excavator, which uses fuel cells, and Liebherr's R 9XX H2 hydrogen-powered excavator, which is powered by a Liebherr H966 hydrogen combustion engine (six cylinders). Liebherr's components product segment plans to start producing that series of hydrogen motors by 2025, and a four-cylinder hydrogen prototype was also teased in its booth.
Similarly, JCB has been working on the idea of hydrogen propulsion for a while now. In 2019, JCB first showcased its 20-metric-ton hydrogen fuel cell excavator. Hydrogen fuel cells work like batteries, producing electricity and heat as long as a fuel (in this case hydrogen) is supplied. A fuel cell uses the chemical energy of hydrogen to cleanly and efficiently produce electricity, and they only emit water as a byproduct, noting burning hydrogen at high temperatures can create nitrogen oxides or NOx, which is a pollutant. These fuel cells are cool, but the concept just didn't work for JCB's needs.
"We took the 20-ton excavator, and we tore the body work off. We pretty much got rid of everything," said Burnhope. "The engine goes. All the traditional power elements, gone. Then what we do is we start to rebuild this product, and we start to focus on what we call a new bill of material. The key elements of the new bill of material — the fuel cell. Forgive me and let me use pounds, and it'll put it into context. We would sell this excavator in the U.K. for £120,000. This fuel cell alone was £97,500."
Burnhope went on to cite a variety of challenges when using fuel cells in construction equipment: fuel cell availability; complex and difficult cooling parameters — "The batteries get so hot, we put water pipes straight through the middle of them," said Burnhope; difficult maintenance and gradual fuel cell contamination from dust and debris — "A fuel cell is basically a stack of membranes;" uncertainty about resale value, especially overseas; and the use of deionized water, which is so expensive that engineering team termed it "whiskey" because, "it's about the same price per liter as a good bottle," said Burnhope.
Cleaning Up Diesels
JCB's commitment to reducing emissions goes back almost 25 years, and the latest diesel engines designed that comply with European Stage V regulations have already delivered a 97 percent reduction in NOx emissions since 1999 and a 98 percent reduction in particulates. In addition, JCB's drive to reduce fuel consumption means today's JCB machines use 50 percent less fuel on average than those manufactured more than a decade ago, delivering significant carbon dioxide reductions and saving customers money on fuel.
Is Hydrogen Combustion the Future of Off-Highway Equipment?
JCB sees big potential for its hydrogen combustion engines in midsized and larger equipment for a number of reasons. These H2 engines emit zero emissions with water vapor coming out of the stack, not smoke, and NOx creation is controlled in the cylinder. Hydrogen in its gaseous form is easy to move in a refueling truck, just like traditional diesel. There are no spills when refueling an H2 unit. Unlike with traditional diesel, hydrogen just floats into the air. The engine envelop is pretty much the same as diesel, and the cost formula is still within reason for rental houses and contractors, noting I haven't heard anything about pricing yet. Maybe the biggest attraction is the lack of re-engineering needed on machines.
"With a fuel cell excavator, we had to start from scratch. We ripped out everything we've developed and matured over the last 75 years of building construction equipment," explained Lee Harper, chief engineer at JCB. "With a hydrogen combustion engine, everything pretty much is the same — same cooling pack, same cab, same chassis, same as everything is as it was. The changes really only come in the cylinder head area. The crank case and below is the well proven JCB bottom end. We introduced a new revised geometry and the hydrogen fuel system and spark plugs. That really is it."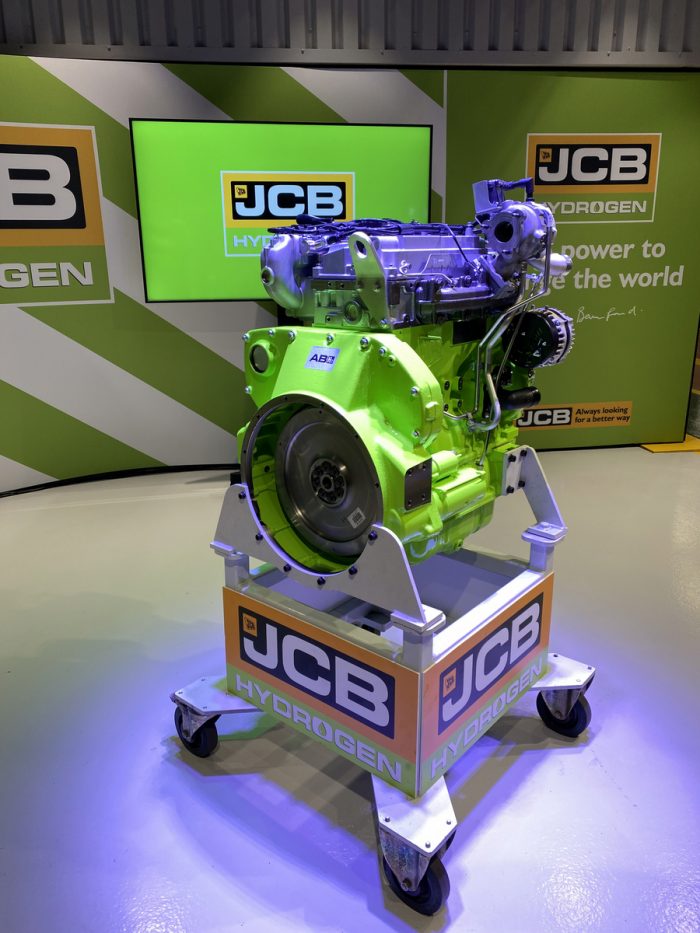 At the event, JCB showcased a prototype H2 backhoe and telehandler, using its new hydrogen combustion engine. The hydrogen gas is stored in automotive grade carbon composite wrapped tanks that carry the fuel at a low pressure (350 bar). JCB has also designed a H2 fuel truck, which can hold enough hydrogen to fill 16 hydrogen backhoe loaders and can be transported either on the back of a modified JCB Fastrac tractor or on a trailer. "A key attribute that hydrogen has over electricity or any other fuel source really is the speed of replenishment," noted Harper.
Maybe the biggest convincing factor here is that hydrogen combustion delivers the same power, torque and efficiency as diesel counterparts. Contractors understand combustion technology, and it's already proven on construction equipment. Plus, these engines don't require rare earth elements like batteries or fuel cells, which have uncertain supply chains and volatile pricing. By leveraging diesel engine technology and components, JCB is creating hydrogen fuel motors and machines that create zero emissions and are still familiar and approachable for equipment owners and operators. It's definitely one of the most exciting technologies on the construction equipment market right now, and JCB sees the potential to sell these engines to other folks.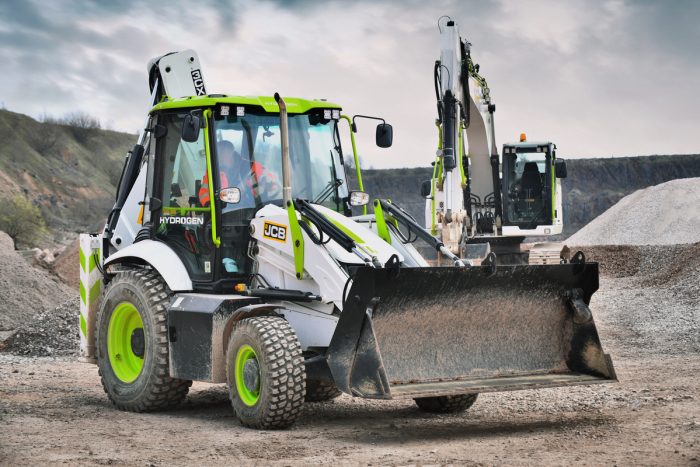 Readers can actually see these hydrogen combustion engines this March at CONEXPO-CON/AGG in Las Vegas as part of the International Fluid Power Exposition (IFPE) at booth S83751 in South Hall 3. If JCB is showcasing these units in the OEM hall, then that means the company probably has plans to sell these engines to other folks, which also means we might see commercial JCB units running on hydrogen combustion engines sooner than later. We'll keep you updated, as JCB also noted its 50th hydrogen combustion engine has now come off the production line.
Keith Gribbins is publisher of Compact Equipment.
The Different Types of Hydrogen Fuel
Hydrogen fuel can be produced in a variety of different ways. The way the hydrogen fuel is produced will be indicated by its color code. Here a few of the most popular types today.
Green Hydrogen is made by using clean electricity from surplus renewable energy sources such as solar or wind power and the use of an electrolyzer. An electrolyzer is a system that uses electricity to break water into hydrogen and oxygen in a process called electrolysis. Through electrolysis, the electrolyzer system creates hydrogen gas.
Pink hydrogen is generated through the nuclear energy and an electrolysis system. Nuclear-produced hydrogen can also be referred to as purple hydrogen or red hydrogen.
Blue hydrogen is produced mainly from natural gas, using a process called steam reforming, which brings together natural gas and heated water in the form of steam. The output is hydrogen but also carbon dioxide, which must be captured to get its blue designation.
Grey hydrogen is the most common form of hydrogen production today. It is created from natural gas or methane, using steam reformation but without capturing the greenhouse gases made in the process.
Black and brown hydrogen uses black coal or lignite (brown coal) in the hydrogen-making process. This is the most environmentally damaging product process to make hydrogen fuel.