When the U.S. Environmental Protection Agency (EPA) mandated that all over-the-road diesel engines meet stringent air quality guidelines by 2010, manufacturers rose to the challenge with materials and designs to meet or exceed them. EPA 2010 compatible on-road diesel engines now exhaust less than 0.01 grams per brake horsepower-hour of particulate matter (PM) and less than to 0.2 g/bhp-hr of NOx (nitrogen oxides, both NO and NO2).
Diesel engines for non-road use have also been following a stepped compliance schedule. The schedule varies by horsepower class and how the engines are intended to be used. Generators, for instance, are divided by whether they will be used as prime power or as emergency standby generators. Emergency standby generators were given a bye, since they contributed very little to air quality concerns. Such use is designated "emergency standby power" (ESP) and is classed as "operating only on the loss of normal utility power." There is also an allowance given for normal maintenance and testing.
Diesel-powered generators used for storm avoidance, peak shaving and utility programs that give financial incentives to companies with gen sets to go off of utility during peak power demand times do not qualify for ESP operation. ESP generators are allowed to go one tier range below what mobile equipment and prime power equipment have to be. For example, if the current tier rating for a horsepower range is Tier 4 Interim, an emergency standby gen set can still be at Tier 3. All current Tier 2 and Tier 3 diesel generator sets in their applicable horsepower categories will be in EPA compliance through 2015 and beyond when used strictly for emergency standby. The deadline to comply with EPA Tier 4 Final (T4f) regulations is Jan. 1, 2014, for engines 175 to 750 hp. For smaller engines from 75 to 174 hp and engines above 750 hp, the deadline is 2015.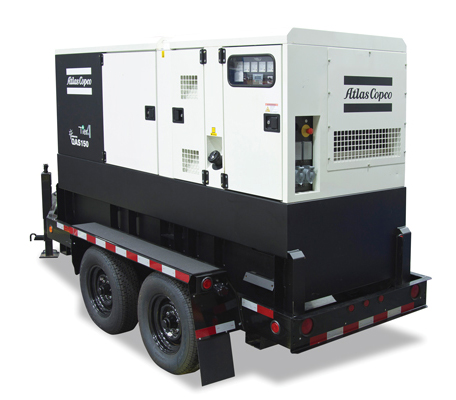 And once again, manufacturers have risen to the challenge. Most are expected to have released their compliant non-road use engine models by the end of 2013 or in early 2014. Jim Siffring, product manager for Atlas Copco generators (with more than 14 years of experience working with generators and industrial engines), says he believes all major manufacturers of portable energy products are currently preparing to launch their lines of Tier 4 Final generator sets. The upgraded models build upon successful Tier 4 Interim designs and incorporate specialized versions of proven technology already developed for on-road diesel engines.
Building Upon Existing Solutions
Manufacturers will rely on many types of technology for achieving compliance. They include selective catalytic reduction (SCR), exhaust gas recirculation (EGR) and diesel particulate filters (DPF) to trap particulate matter (PM). Siffring says manufacturers aren't revealing all of their adaptations, but shared that Atlas Copco's T4f generator designs will include SCR technology and use of diesel emission fluid (DEF) on some of its models.
Many manufacturers of on-road diesel engines designed for heavy-duty use in the United States and Canada have incorporated SCR technology. SCR, however, requires the addition of a synthetic urea-based chemical to post-combustion gases. This "reduction" process, as it is called, turns NOx into water and CO2. PM can be treated by a DPF prior to the exhaust's return to the atmosphere.
By comparison, EGR systems slightly redesign the combustion process itself. The primary goal of EGR modifications is to reduce combustion temperatures, since NOx is produced when nitrogen and oxygen are subjected to higher temperatures. The system returns part of the cooled exhaust gases to the combustion chamber for reburning. While SCR technology will be used on many T4f off-highway engines for the foreseeable future, they may or may not need to incorporate EGR or DPF technology.
Increased Efficiency, Reliability
Siffring says no manufacturer has a way around the extra cost of state-of-the-art technology to accomplish the EPA's emission goals. But their next goal is to reduce unit cost for the customer. "Atlas Copco is already looking at several pieces of technology that will mitigate this cost increase for its customers as much as possible." Siffring reminds prospective buyers to include in their cost analysis the fuel savings that have incidentally come about as a result of the re-engineering process.
"Generator consumers should see an increase in fuel efficiency, since the increased engine technologies are more closely monitoring and controlling fuel injection to meet the emission levels," Siffring says. "This is what we've seen in the automotive and truck industries from this technology for some time now. The results make us confident it will prove just as reliable and efficient in non-road applications."
Minimal Maintenance Changes
Some operators have concerns about whether the new systems will require added steps and expense for routine maintenance or operation.
"The DEF reservoir is probably the most obvious change in the user interface that operators will see," Siffring says. "Other than that, there's very little change in most of the operation. Most other changes were already introduced. For instance, most operators are probably already familiar with use of low-ash engine oils, the nationwide conversion to ultra-low sulfur diesel and some of the maintenance items of the new technology."
To allay any fear that the new technology might make the units more vulnerable to the rigors of construction and mining sites than their pre-2014 counterparts, Siffring says he believes generator customers might be in for a surprise.
"I believe they'll find this upcoming generation of engines and generator sets to be very robust. And then, too," Siffring adds, "the new technology will tend to make users more attentive to unit parameters and preventive maintenance schedules. The extra attention will certainly have a positive effect on equipment longevity."
Siffring said, "The industry has reached emission levels that are excellent. Moving to a level beyond where T4f has taken us would be incredibly challenging, both technically and financially."
In what ranks among the most successful environmental campaigns, by 2015 the EPA will have reached its goal of reducing NOx and PM emissions from diesel engines 99 percent from what they were at the passage of the Clean Air Act in the mid-1990s.
Joe Bradfield is a senior writer for Ellenbecker Communications, based in Round Lake, Minn.