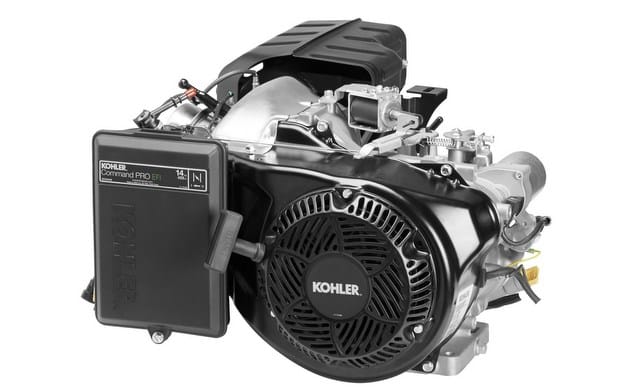 With demand for more fuel efficient, low-emission engines on the rise, Kohler has rolled out its ECH440LE Command PRO EFI. The new engine reduces carbon monoxide (CO) emissions by 75 percent* when compared to comparable Kohler carbureted engines under similar loads and duty cycles. The ECH440LE, ideal for portable generator applications, significantly lowers potentially-harmful emissions without impacting overall generator performance.
"Our engineering team is always looking for ways to reduce emissions while maintaining overall engine performance and the ECH440LE is a great example of Kohler's leadership in this area," said Ben Marotz, Marketing Manager for Kohler Engines. "Plus, the timing for this technology is ideal with the recent approval of UL 2201 — the first U.S. consensus standard for addressing carbon monoxide emissions from portable generators."
On January 3, 2018, consensus was achieved on the 2nd edition of UL 2201 by a multi-disciplinary task force comprised of generator and engine manufacturers, trade associations, academia, government, first responders, and other key category stakeholders. The goal of the group was to write performance requirements to help reduce the risk of death or injury due to CO poisoning.
The first safeguard identified by UL 2201 calls for a reduction in CO emissions from portable generators. However, the method by which a manufacturer achieves this reduction is not prescriptive to allow the use of currently available and proven technologies already in the marketplace.
The Kohler ECH440LE Command PRO engine features the company's closed-loop EFI system as well as an integrated catalytic exhaust system. These systems combine to help significantly lower Carbon Monoxide emissions. Users also gain the other benefits of Kohler's EFI technology, including improved power and enhanced reliability.
Kohler's EFI technology utilizes an oxygen sensor in the engine's muffler, which continuously monitors the amount of fuel injected and adjusts fuel levels, as necessary, to optimize performance. EFI engines offer automotive-like turnkey starting and the elimination of carburetors and their associated maintenance.
The Kohler ECH440LE will be available in the first quarter of 2018 on select generator models, including a new PowerStroke 7000 watt portable generator from TTi, a global leader in power tools and outdoor power equipment. Additional portable generator models incorporating Kohler's low-emission engine are anticipated soon.
Kohler has manufactured engines for more than 90 years and has continually enhanced its product lineup in an effort to help make life easier and more profitable for end users around the globe. Today, the company offers a full array of gasoline, diesel and gaseous-fueled engines — up to 134 hp — which are supplied to equipment manufacturers worldwide in the lawn and garden, commercial and industrial, agricultural and construction markets.
* The Kohler ECH440LE reduces Carbon Monoxide (CO) emissions by 75 percent when compared to comparable Kohler carbureted engines under comparable loads and duty cycles.
For more Kohler info, click this link. We promise the power of knowledge.
Tags:
EFI
,
Kohler
,
Kohler Engines