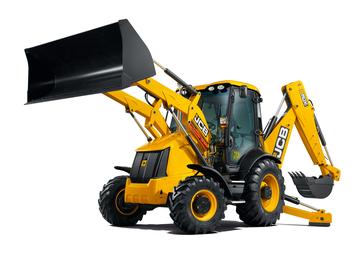 Talk about a debut! JCB machines featuring the company's award-winning Ecomax engines — an innovative solution to Tier 4 Interim (Tier 4i) emissions legislation — were on display for the first time in North America at the American Rental Association's Rental Show in Las Vegas, Feb. 10-13.
JCB Ecomax engines meet "Tier 4i" legislation through the use of patent-pending, in-cylinder technologies that offer a cleaner, more efficient combustion process. As a result of this technology, JCB says that it is the only leading equipment manufacturer in the world to have met Tier 4i emissions legislation without the use of diesel particulate filters (DPF) or after-treatments such as Ad-Blue.
The JCB Ecomax engine builds on the success of the company's original Dieselmax engine. Ecomax retains the same key characteristics such as high torque at low engine revs, robustness and reliability as well as low noise and vibration. The engine was developed following a $126 million investment program, and it has undergone more than 110,000 hours of testing across a range of diverse applications, machines and environments.
The introduction of the Tier 4i solution has also resulted in an expansion of JCB's backhoe loader range. The company has introduced a new entry-level specification 3CX model designed for rental customer needs. This new entry-level 3CX is powered by a 74-hp JCB Ecomax engine and comes standard with the JCB SynchroShuttle transmission. From there, the deluxe end of the range starts with the family of 3CX Supers, powered with the larger 91-hp JCB Ecomax and coming standard with the JCB Powershift transmission. Rounding out the top of the range is the four-wheel-drive 4CX Super, coming in at 109 hp and also featuring the JCB Powershift transmission. All engines offer increased, usable torque over their Tier 3 predecessors and offer fuel savings of up to 5 percent.  
The launch of the JCB Ecomax engine coincides with the introduction of a host of other backhoe loader improvements. While the 3CX has a triple-gear pump to power the working ends of the machine, the 3CX Supers and 4CX Supers will now get, as standard, a 44-gpm variable-flow hydraulic pump. For more information, visit www.jcb.com.