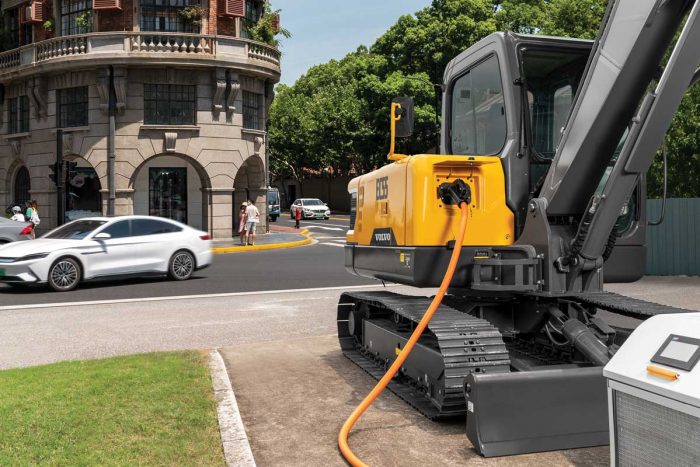 One of our big editorial focuses for the summer of 2023 is technology, and the centerpiece of our online coverage comes with our Top Tech series of feature stories and e-news articles. From electric and hydrogen to AI and VR, the Compact Equipment team tackles the top technologies evolving the off-highway equipment industry in this five-part Top Tech guide. Click here to see the other four articles.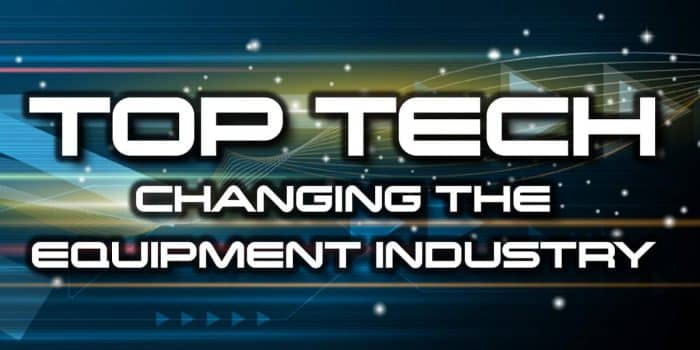 There's a lot of buzz about electric construction equipment. Just flip through the last few print issues of Compact Equipment or search this very site. This is an exciting time in the small machine biz, and it's just getting started. While electrification is new to compact earthmoving equipment, electric-powered machines have been around for a while — particularly in the mining and demolition markets. Even certain machine sectors like industrial forklifts and mobile elevating work platforms (MEWPs) have used batteries for years. Now it's time for operators to reap the benefits of going electric with their mini excavators, compact wheel loaders and more. Here's a look at some of the companies, machines and technologies helping to advance electrification.
Volvo and JCB Lead the Charge into Electric Compact Equipment
Experiments with electric-powered construction equipment have been going on for more than a 100 years. The first electrically powered excavators (coming from the likes of Vulcan Iron Works out of Toledo, Ohio) were aimed at replacing steam diggers way back in the late 1890s, but the recent battery-powered revolution specifically for compact earthmoving equipment in America got its first traction in Europe over the last decade.
Now, there have been electric compact equipment innovators here in the States. For instance, Florida-based Cratos Equipment is celebrating 10 years in business in 2023, manufacturing awesome battery-powered stand-on tool carriers, mini excavators and dumpers. But battery-powered compact equipment really began to make waves in America when two European giants began to target our sector: Volvo Construction Equipment and JCB. Europe has more stringent emissions, noise and energy regulations, so it makes sense, but now it's beyond Europe.
"The world is moving toward a more environmentally conscious, sustainable future — and simply put, Volvo CE is leading the construction industry into this future," says Nick Tullo, head of new business development, Volvo Construction Equipment. "We see demand from our customers to meet their own self-set lower emissions goals as well as clean air regulations, and we're giving them options to help reach these targets with our six commercially available compact electric machines."
Those six electric machines include three mini excavators (the EC18, ECR18 and ECR25), two compact wheel loaders (the L20 and L25) and an asphalt compactor (the DD25). Thanks to the success of its compact electric line, Volvo is in the process of adding larger machines to its offerings. For example, the company recently announced that the 23-ton Volvo EC230 Electric excavator is in pilot testing and will be commercially available in North America in 2024. Tullo adds that Volvo has prototypes of a hybrid electric wheel loader, an electric mid-sized wheeled excavator and a hydrogen fuel cell articulated hauler.
On top of the machines, the Volvo Group is heavily invested and involved in the entire life cycle of the batteries and materials used in their production.
"Not only is it essential that we extract and process the materials in an environmentally responsible manner, but we also need to ensure an excellent second and end-of-life process for these batteries or materials," says Tullo. "Volvo Energy is a new division of Volvo Group, and one of their focuses is to do just that. When batteries reach their second-life stage, the Volvo Energy team will work to refurbish, remanufacture, repurpose or recycle them. The batteries themselves have become the most valuable part of this cycle, so we want to ensure that we retain supply."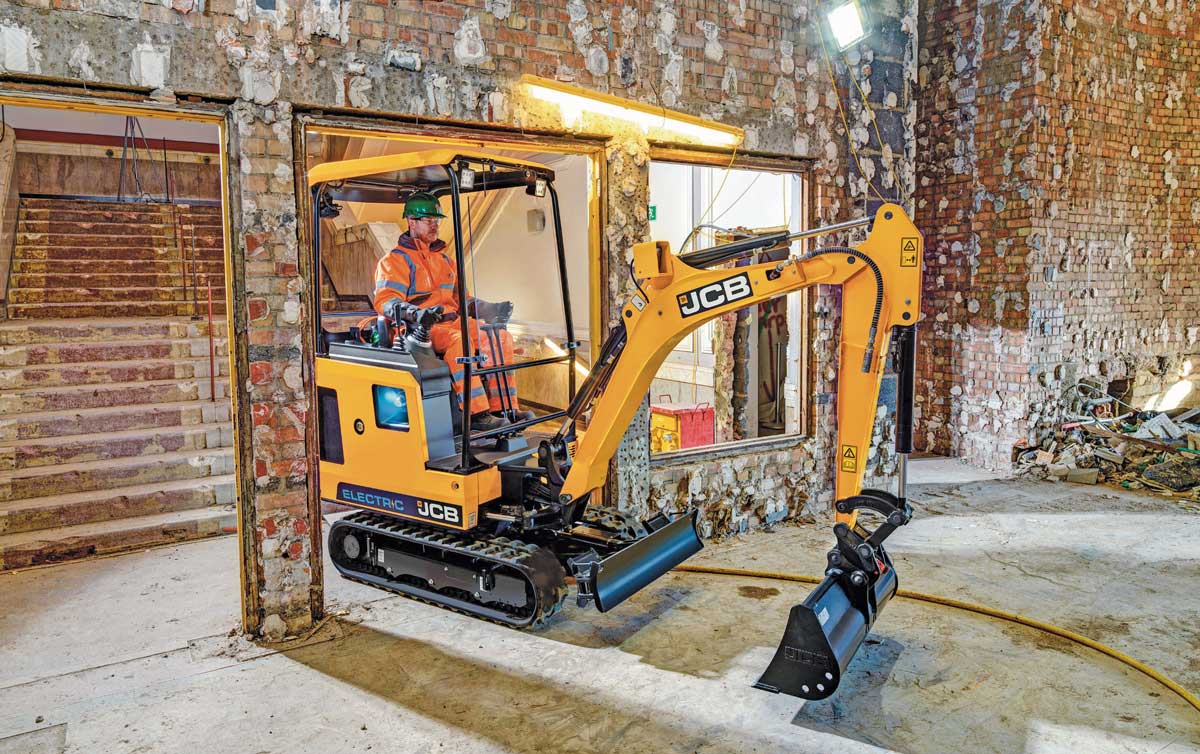 Over at JCB, the company's electric portfolio includes the 19C-E mini excavator, HTD-5E dumpster, 1TE dumper, 66-40E Teletruk, 505-20E compact telehandler and the S1930E and S1932E compact scissor lifts. At the end of 2022, JCB celebrated the production of its 1,000th 19C-E electric mini excavator. According to JCB's press release from the event, the 19C-1E is five times quieter than its diesel counterpart and can be fully charged in under two hours. The company adds that the machine can complete a typical full shift on a single charge and is perfect for working indoors or outdoors, in factories, tunnels or basements or for digging foundations or utility projects.
"The JCB 19C-1E mini excavator has proven very popular since its introduction to North America, with customers from major contractors, large rental companies and individual owners all praising its performance for such a small machine," says Keith Hoskins, VP of compact products, JCB North America. "This machine not only supports our customers in the increasing demand for zero-emission machines, but has the benefit of also being quiet, both factors enabling internal operations and overnight operations in urban areas."
Like Volvo, JCB is also exploring alternative methods of powering other equipment. At a press event in January, the company unveiled prototype equipment that runs on hydrogen combustion engines, engineered in its power systems division.
Charge! Stay Working with Plenty of Charging Options
With the adoption of electric equipment into your fleet comes the need for a charging game plan on your jobsite. Fortunately, there are a variety of charging options, and they might not all require the grid. Depending on the equipment and available infrastructure, there may be onboard or offboard charging, traditional or fast-charging and off-grid power cubes or solar powered charging stations. Almost all battery-powered earthmoving equipment will have an onboard charging option, which is an AC charging system that uses an onboard charger mounted inside the machine. An onboard charging system might plug into a standard single-phase, 110v wall outlet or a 240v, level 2 AC outlet system, which will determine how fast the battery will charge.
Most homes in North America are wired for 120/240V single-phase power and most commercial and industrial buildings in North America use 277/480V three-phase power. Off-grid solutions are also being introduced and include large external battery packs that transfer power to the machine's internal battery packs and even solar-powered battery recharging stations. Also, worst case scenario, a generator can be used, but that can offset the emissions and noise benefits of electric machinery. Overall, charging requires a thinking reset for machine pros. Setting up this charging infrastructure on the jobsite and creating a charging schedule and philosophy will be imperative to the success of an electric machine or fleet.
From Excavators to Skid Steers, Nearly Every Category of Compact Equipment Is Getting Electrified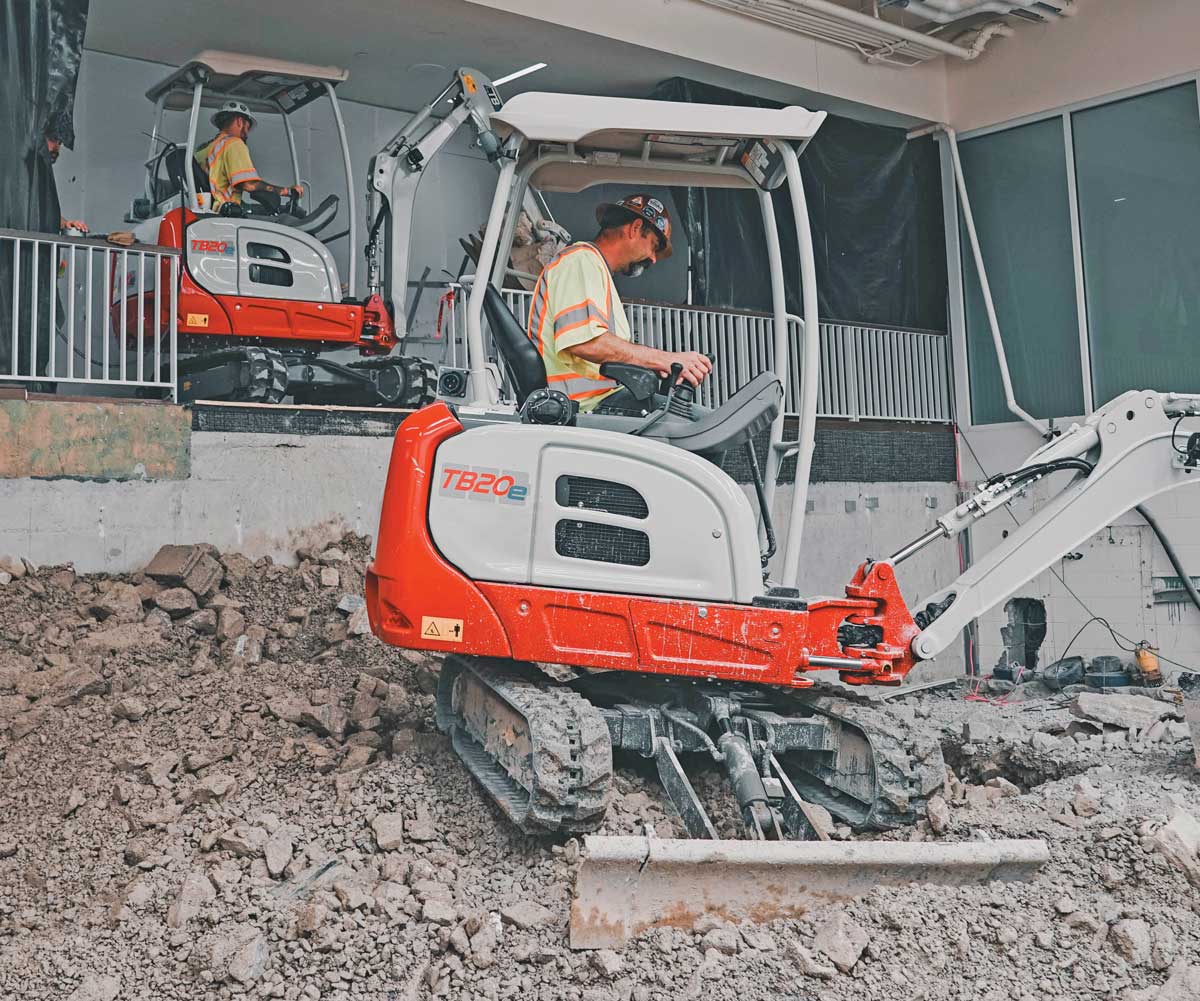 Back in March, CONEXPO-CON/AGG was the place to be for all things construction equipment. The mammoth tradeshow attracted over 139,000 attendees to explore the offerings from more than 2,400 exhibitors. One big theme was, surprise, electrification. At the show many companies showcased their plans for electric, whether it was through new models or prototypes. Let's take a look. Hint: it's a lot of mini excavators, and we have a lot to look forward to.
Takeuchi-US first debuted its TB20e electric mini excavator back in February 2022 when the company announced 100 units would be shipped to select United Rentals locations in North America. Luckily, Takeuchi had the model on display at CONEXPO where attendees got a chance to see the zero-emissions machine up close and learn about its reduced noise (it's seriously so quiet) and vibration levels, as well as its four- to eight-hour runtime.
It's no surprise that Bobcat — the inventor of the skid steer loader — has created the first electric model and showed it off at CONEXPO. The all-electric S7X skid steer loader is powered by 60.5kWh, lithium-ion battery and is built with no hydraulics. Bobcat says the S7X is built to be more productive from the ground up with electric actuation and propulsion, quieter with high-performance torque and more powerful than its diesel-hydraulic equivalent — all while eliminating carbon emissions. While the S7X is a prototype, Bobcat's TX7 all-electric compact track loader is currently available. In October 2022, Sunbelt Rentals announced it had received its first delivery of TX7 CTLs.
Equipment titan Caterpillar first displayed four electric machine prototypes at bauma last year in Munich, Germany. These four battery-electric machine prototypes — the Cat 301.9 mini excavator, 320 medium excavator, 950 GC medium wheel loader and 906 compact wheel loader — were also highlighted in Vegas at CONEXPO, in addition to the company's AC and DC charging solutions. The company says these machines are powered by Caterpillar battery prototypes and include an onboard AC charger. In addition, Caterpillar plans to offer an offboard DC fast charging option. Potential customers should expect the 301.9 mini excavator and 906 compact wheel loader to be the first commercially available models.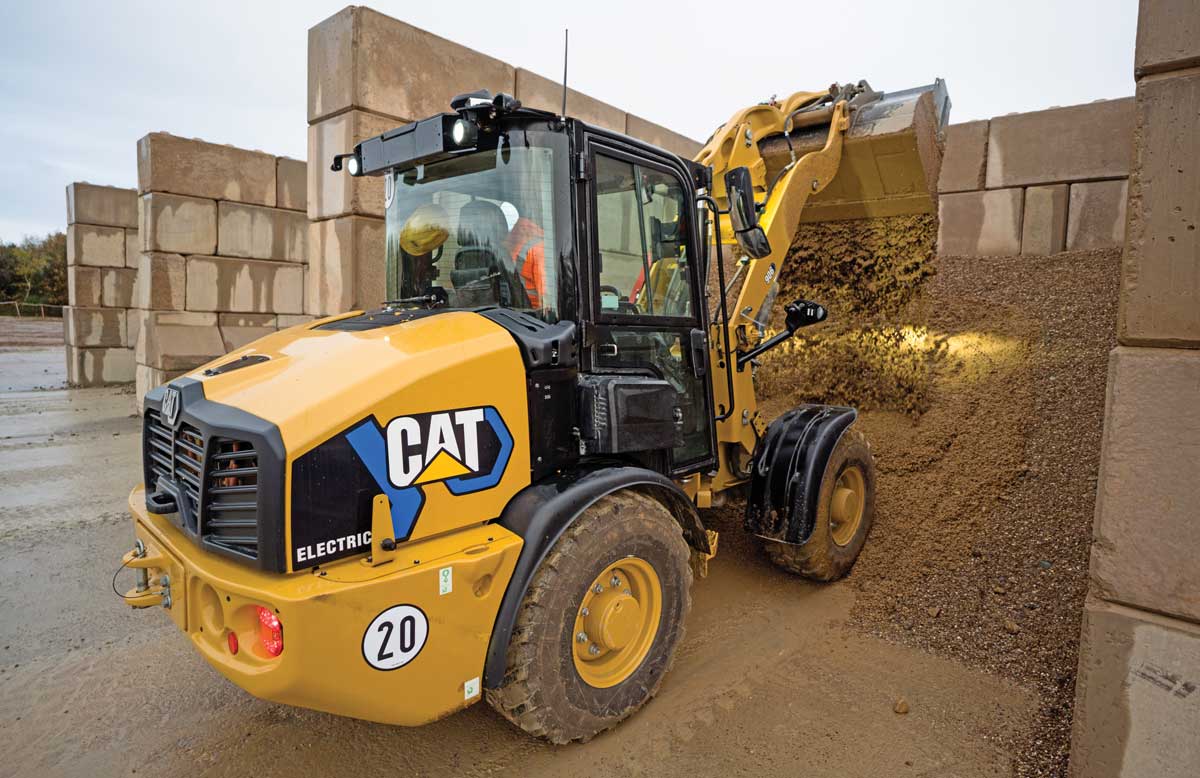 Case Construction Equipment announced a pair of electric mini excavators at CONEXPO: the CX15EV and the CX25EV. The 3,186-lb CX15EV is available now and is powered by a 21-hp/16kW electric motor. Case's CX25EV — which will be available later this year — is a 4,828-lb machine featuring a 27-hp/20kW electric motor. The company says that the lithium-ion battery featured in both machines is charged either by the 110V/220V onboard charger or via an external rapid charger that can have the machine charged typically within 90 minutes.
Aside from unveiling its new name, Develon (formerly known as Doosan), shared news of its DX20ZE-7 electric-powered mini excavator at CONEXPO. Develon says the 2-metric-ton DX20ZE-7 excavator will combine low-noise and zero emissions with the features and performance enhancements that are found on its next-generation -7 Series family of mini excavators. An in-house-developed 20.4kWh lithium-ion battery pack powers the new electric mini excavator. All of the electrical system and components on the machine are optimized for work in harsh environments. The model also features retractable tracks, which when paired with its compact size and zero-emissions operation, make the DX20ZE-7 perfect for indoor or noise-sensitive work.
Sister company New Holland Construction also announced its first commercially available EV machine (the E15X mini ex). The E15X runs on a 29-hp cobalt-free lithium-ion battery that powers a 21.5-hp motor, making it as powerful as the E14D diesel equivalent. New Holland points out that the excavator can operate up to eight hours on a fully charged battery. The E15X uses power management software to monitor the machine's oil flow and engine speed by detecting joystick movement and setting engine speed to reduce pressure on the hydraulics and battery.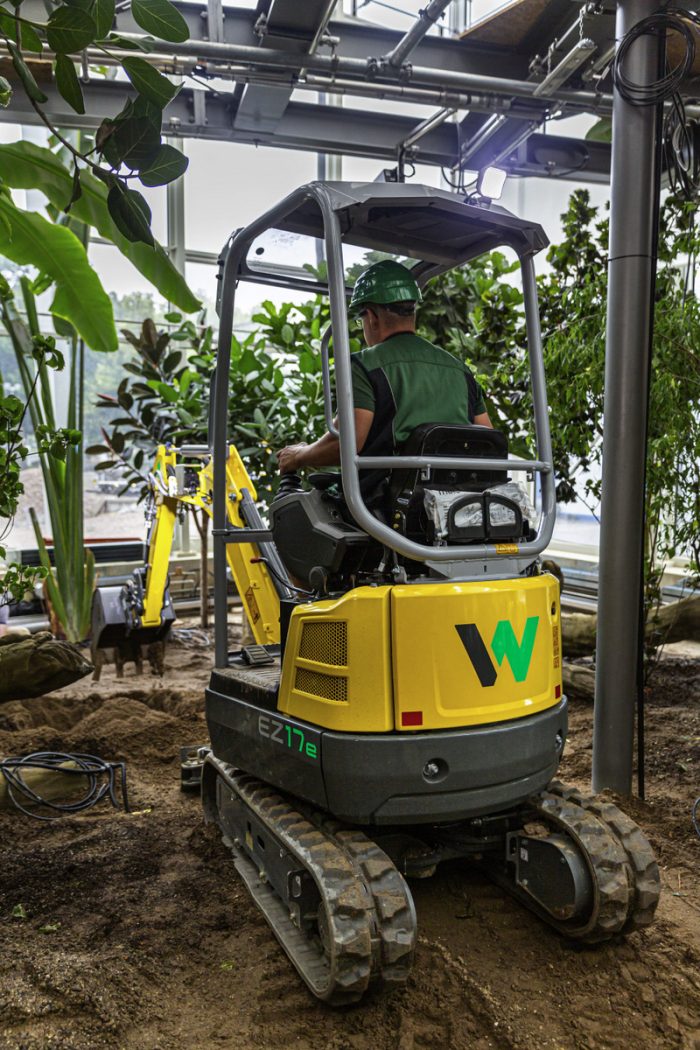 Also at CONEXPO, Wacker Neuson showcased its new EZ17e battery-powered mini excavator (pictured above). Already a success in the European market, the EZ17e will launch in North America in late 2023 or early 2024. The 1.7-metric-ton machine has a maximum digging depth of 97.7 in., a breakout force of 4,608 lbs and the ability to run auxiliary attachments such as hydraulic breakers. The EZ17e features a powerful lithium-ion battery that offers all-day runtime and can be recharged using a common 240V, single-phase outlet. Wacker Neuson mentions that the machine's charge time is between five to six hours, and it can be operated in a stationary position while connected to a power source.
There's a whole bunch of other electric machines available or on their way. Stay up to date at compactequip.com.
Pam Kleineke is managing editor of Compact Equipment.
Portable Electric Partners with Volvo CE to Provide Mobile Charging Solutions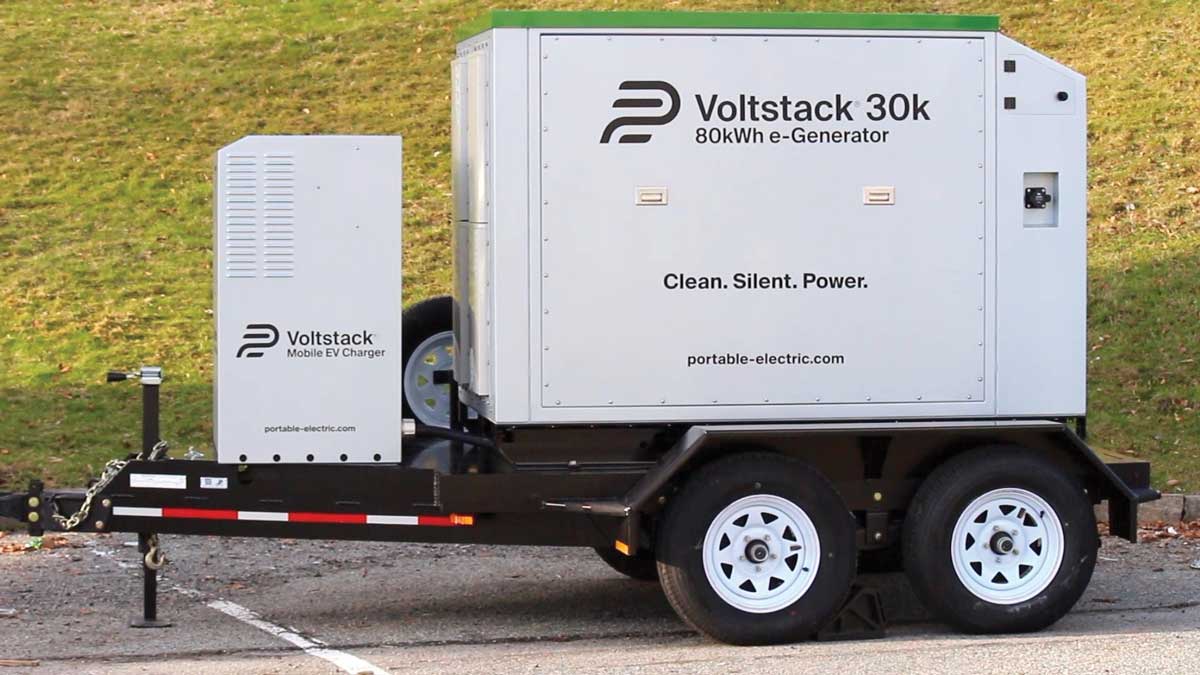 Need to charge up out on the jobsite? That's no problem thanks to a partnership between Portable Electric and Volvo CE. Portable Electric, a leading manufacturer of silent, emissions-free portable and mobile e-Charging power stations, recently announced a partnership with Volvo CE to provide sustainable and efficient mobile charging solutions for construction sites. As part of this partnership, Volvo CE's 245 North American dealer locations will offer customers the opportunity to bundle the Voltstack 30k Level 2 e-Charger with the purchase of Volvo electric equipment. The Voltstack 30k Level 2 Mobile EV Charger is a versatile and robust mobile charging solution that caters to a wide range of electric equipment requirements such as boost charging, setting up temporary charging stations or providing recharging services whenever needed. The Voltstack 30k Level 2 e-Charger, equipped with a 30kW power output and an 80kWh battery capacity, will play a pivotal role in the recharging of Volvo's ECR25 excavator, the L20 and L25 wheel loaders as well as any other electric construction equipment. The Voltstack 30k can also be hybridized with a generator to provide off-grid power through its "Smart Hybrid" feature. This feature allows the Voltstack 30k to automatically engage a diesel generator when it reaches a state of low charge. For more info, visit portable-electric.com.