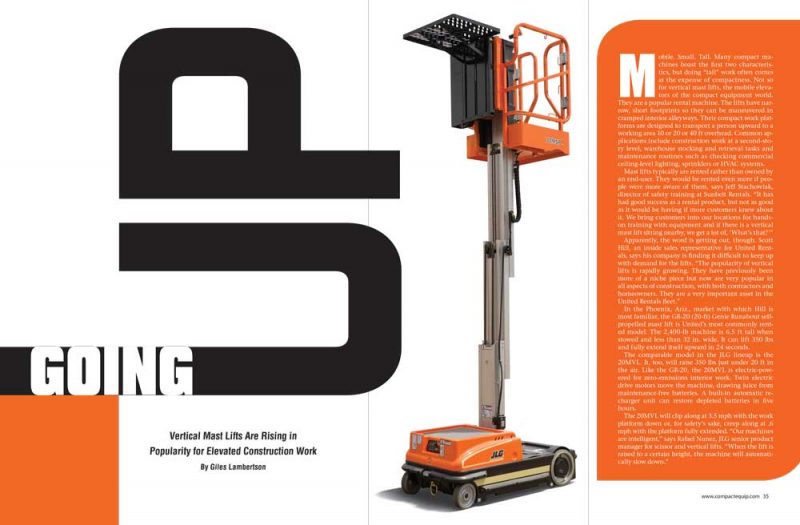 The first half of 2020 has been dominated by momentous news stories from COVID-19 to CONEXPO-CON/AGG. The always resourceful staff at Compact Equipment has been there to cover it all. We braved travel in March right before the world shutdown to visit CONEXPO to explore all the awesome new machines and technologies coming out in the off-highway equipment sector. Working from home ever since, CE has produced two print magazines and continued to post five times a day online at compactequip.com. We are in the process of creating a COVID-19 safety microsite (hopefully launching this week or next), and we've created cool new projects like Compact Equipment Conversations (a new video series where I interview machine experts from their remote offices).
Our May/June print issue is another noteworthy project. Check it our right here. We have a great COVID-19 safety preparedness article right up front in the News section, before we jump into a variety of rabbit holes on scissor lift safety, backhoe attachment selection for tractors, generator rental and finding the perfect utility vehicle for both work and play. I have read all of these articles multiple times in the writing, editing and production process, and they are in my opinion another excellent nod to the great tech journalism and beautiful design that has come to define Compact Equipment.
In fact, the CE team at Benjamin Media Inc. (our mothership company) has already earned three awards this year for similarly excellent coverage in 2019. The first two awards came via the American Society of Business Publication Editors (ASBPE) in March. Myself and managing editor Pam Kleineke won an ASBPE Azbee award for Best Tradeshow Coverage for both our online and print efforts covering the biggest tradeshow in the world by physical size — bauma. Designer Sarah Haughawout won an Azbee for Best Spread Design for our June 2019 cover story "Going Up" on the rise of vertical mast lifts (pictured above). On top of those two, I was very much honored to win Best Column for my Editor at Large series from the Construction Media Alliance, a very big recognition especially with its presentation in front of my peers at CONEXPO.
These three new awards come on top of three awards last year for Best Column and Best Special Section (the latter won two). With all the big news of 2020, I wanted to make sure these big accolades got the attention they deserve too. I'd also like to say thanks and congrats to the whole CE team and reiterate a promise to our readership that we will continue to produce award-winning-caliber work with our great staff and our excellent partners in the industry.
Keith Gribbins is publisher of Compact Equipment. He can be reached at kgribbins@benjaminmedia.com.