Compact track loaders continue to find extra work in niche applications like grade control and vegetation management. The latter is the focus of our latest episode of Compact Equipment Conversations. CE publisher Keith Gribbins has a digital sit-down with Justin Perkins, senior product manager for STANLEY Infrastructure, discussing vegetation management attachments on compact track loaders.
STANLEY certainly knows attachments. A division of Stanley Black & Decker, STANLEY Infrastructure is the world's largest handheld hydraulic tool manufacturer, and it's also home to one of the biggest varieties of attachments for tool carriers on the market (from excavators to skid steers). This past March, STANLEY Infrastructure celebrated one year of successfully integrating its acquisitions of Paladin Attachments and Pengo Attachments in 2019. The Paladin acquisition also included all of the company's excellent sub-brands like Bradco, JRB, Harley, FFC and Sweepster. That's on top of other STANLEY attachment brands like STANLEY breakers and LaBounty demo and sheer tools.
So, as we'll reiterate, STANLEY know its attachments, so we reached out to discuss one of the hotter markets for compact track loaders — vegetation management — and the variety of implements available for contractors. Enjoy the conversation above. It's our best yet and our most educational.
Paladin Offers Solutions for Most Every Vegetation Management Project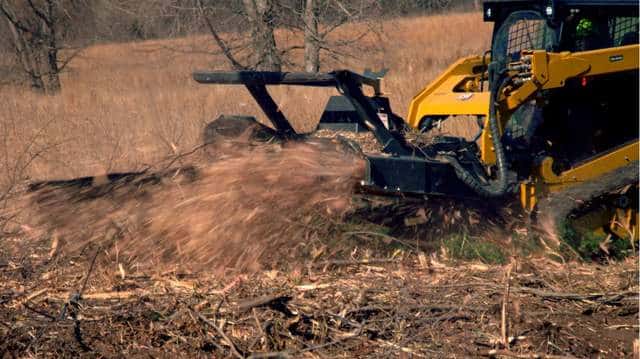 STANLEY Infrastructure, the premier partner for industrial tools and attachments, offers a full line of professional-grade vegetation management tools for applications ranging from urban landscaping, to forestry and right-of-way maintenance through its Paladin brand.
Vegetation management covers a variety of projects, including commercial and municipal maintenance, land improvement and pre-construction, residential maintenance, and nursery and other special applications. When taking on one of these projects, it's important for operators to use an attachment designed to efficiently manage the materials they are working with.
Grass, Brush and Small Trees
MX Series Brush Cutter: For mini excavators, this new attachment facilitates a variety of applications, including over-fence-brush management, embankment and ditch management, and rail right-of-way management. Efficiently processes brush and trees up to 6 in. in diameter.
Flail Mower: Leaves a more manicured finish and excels in settings requiring extended reach and unique positioning, such as hillsides, roadways, ditches, utility rights-of-way, riverbanks and lakes.
GroundShark: Perfect tool for routine land maintenance and seasonal field preparation. Clears light- to medium-density brush and hardwoods up to 4 in. in diameter.
GroundShark Extreme: Versatile cutter with broad range. Excellent for users with wide variety of applications and designed to clear medium- to heavy-density brush and hardwoods up to 7 in. in diameter.
Large Trees and Stumps
MM-Series Forestry Mulcher: Leaves a very fine finish that decomposes quickly and a site that is ready for use. Designed for land clearing, pipeline and gas pipeline maintenance, and DOT right-of-way clearing and maintenance, MM-Series mulchers cut and mulch up to 8-in.-wide standing trees.
FD-Series Disk Mulcher: This brand-new attachment leaves a course finish but is extremely fast. Fells trees up to 8 in. and mulches up to 14 in.
Stumps, Root Systems and Special Tools
Stump Grinder: Grinds extremely large stumps up to 12 in. below grade, with single passes 45 in. in width.
Brush Grapples: Perfectly suited for landscaping, especially in light spaces and when avoiding turf damage is critical.
Root Rake: Powerful, aggressive rake for extracting well-developed root systems, stumps, and rocks.
Jawz: Powerful, robust tools for pulling root systems and entire trees.
Tree Shear: Quickly fells trees up to 10 in. in diameter at or near grade without producing debris/chip discharge.
Tree Spades: Extracts whole root and tap system, preserving tree health for transplantation and easy handling.
With so much to choose from, operators can find the right attachment to give them the results they want for each project. STANLEY Infrastructure's authorized dealer network spreads over 2,800 locations in North America.
For more CE Conversations, click this link. You won't be sorry.
Tags:
Compact Equipment Conversations
,
home
,
Paladin
,
Paladin Attachments
,
STANLEY Infrastructure