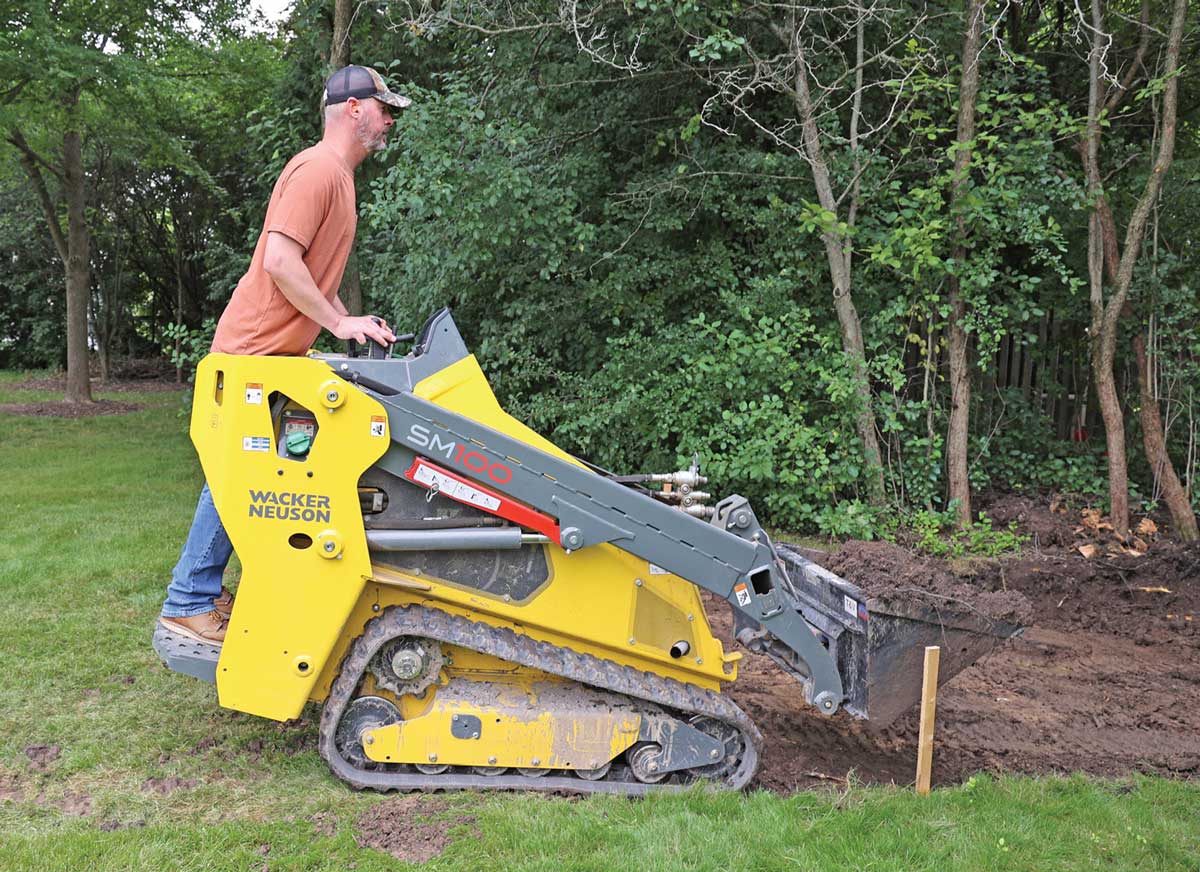 Versatility Is the Driver of the New SM100 Utility Track Loader
This post is a part of Compact Equipment's annual Spec Guide. View other brands' product and spec info by clicking this link. View the magazine version of these summaries by clicking right here. Sign up for the print edition right here. Now enjoy!
Wacker Neuson introduced its first utility track loader (compact tool carrier) to the market in 2021. This new class of machine for the equipment manufacturer was a natural extension of their skid steer and compact track loader line. The SM100 was designed, engineered and is manufactured by Wacker Neuson's team at its Menomonee Falls, Wis., facility. Like the company's skid steer and compact track loaders, the SM100 was designed for the North American market with features and benefits users will appreciate.
The versatile, stand-on SM100 is the perfect fit for landscaping projects, light site work, grading, auguring, general material handling and much more. The standard 9-in. wide tracks provide low ground pressure, reducing turf disturbance and repair work, and the overall machine width of 35.5 in. fits through doorways, gates and other tight spaces. The SM100 incorporates a variety of operator comfort features and offers a durable, low maintenance design to reduce maintenance costs and total cost of ownership.
The step-up-and-go concept makes operating the SM100 easy and comfortable. The large, spring-suspended operator platform with ergonomic padding offers comfort and stability for the driver. An operator presence system prevents accidental movement of the lift arm and travel functions when the operator steps off the platform.
The overall design with sloped hood offers superior visibility. The fine-tuned, forward angled joysticks position the operator's hands in a neutral position, reducing fatigue. Front-mounted coolers mean no hot or dirty air is blown across the operator's legs.
Wacker Neuson's SM100 is powered by a 24.7-hp Yanmar turbocharged diesel engine. It offers a 1,000-lb rated operating capacity at 35 percent with a tipping load of 2,857 lbs. The optimized radial-lift path provides vertical-lift performance with a hinge pin height of 85.7 in. for dumping into high-sided trucks and has the reach for loading into truck beds. The durable undercarriage with triple flanged rollers reduces wear and de-tracking, maintenance and total cost of ownership.
Versatility is the real driver of this machine. The overall narrow width allows the machine to access urban areas and smaller yards while the light weight (3,000 lbs) makes it easy to transport. The common industry attachment interface expands the use of compatible attachments, expanding the applications.The Wacker Neuson Group is a leading manufacturer of compact and construction machines. The company offers worldwide customers a broad product range and extensive services, including utility track loaders. Walk-behind and stand-on tool carriers are becoming more and more popular for get-on/get-off applications in congested and urban settings (often in landscaping and residential contractor environment). This is another cool edition.

Advice to Buyers
"We may be a new player in this class of machine, but we did our homework during development and understand what contractors need," says Adam Devins, product manager for skid steers at Wacker Neuson. "When looking to buy a utility track loader, it's important to understand jobsite access. If you need to fit through a standard yard gate, a narrow model is the perfect solution. With tracks, you don't have to sacrifice on ground pressure."