Gravely, the brand known for its quality, made-in-America craftsmanship of professional zero-turn lawn mowers, has officially joined the compact utility loader market by introducing the Gravely AXIS.
The AXIS will be available in diesel and gas configurations with tracks or wheels in early 2023 at independently owned and operated Gravely dealerships in the United States and Canada. A full line of attachments will be offered such as a standard bucket, heavy-duty bucket, 4-in-1 bucket, an auger, pallet forks and trencher, along with many more.
"The Gravely name, which is synonymous with durability and dependability, should signal a great entrance into the compact utility loader market. In addition to more rugged landscaping duties, the AXIS is perfect for hardscaping as well as agricultural settings such as ranches, homesteads and hobby farms and even light construction work," said Grant Wilson, director of product management.
Compact utility loaders are built to work and come standard with self-leveling booms which make them useful in any setting. In addition, the diesel models feature a unique "Combiner Flow Hydraulic System," where the operator can adjust or customize hydro flow between drives and auxiliary implements as well as tune drive system pressure for running ground-engaging implements such as a trencher. This allows the operator to focus power where it's needed the most. The Gravely AXIS models will also offer:
3 mph forward speed/2 mph reverse speed
Dual auxiliary hydraulic hookups​
Universal mini-skid quick attachments
Work lights​
Dual lift cylinders​
In early May, the company announced the purchase of Thomas Equipment from A-L Parts Inc. Thomas Equipment had been a high-quality manufacturer of outdoor equipment for 79 years based in Beechwood, New Brunswick, Canada. Started in 1943 by the Thomas Brothers as an agricultural repair business, Thomas Equipment quickly expanded into manufacturing equipment for agricultural purposes. In 1969, the company introduced the world's first hydrostatic drive skid-loader. Thomas Equipment was purchased by A-L Parts Inc. in 2013.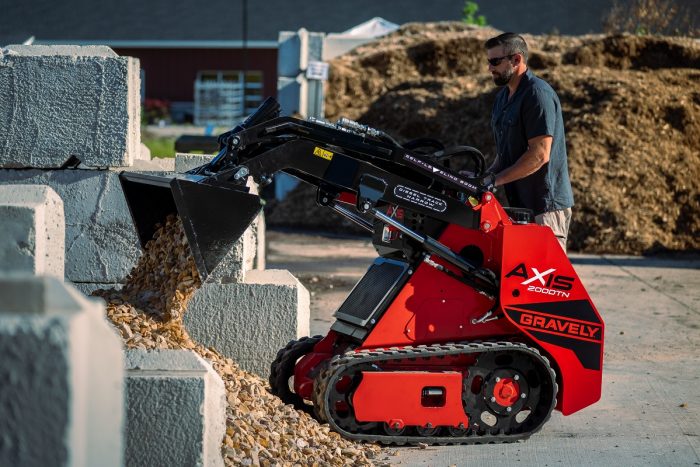 AriensCo partnered with Al Downey and Leon Butterfield, owners of A-L Parts Inc., to launch the initial production of the Gravely branded mini skid steer line in their Canadian facility. However, as AriensCo announced back in June, production of the new mini skid steer will be included in the new manufacturing and warehouse facility in Fayetteville, Tenn.
Compact tool carriers, compact utility loaders, mini skid steers. Whatever you call them, we can all agree these machines pack a lot of productivity in a small package. Learn more about them here! Tags: Equip Exposition, Gravely