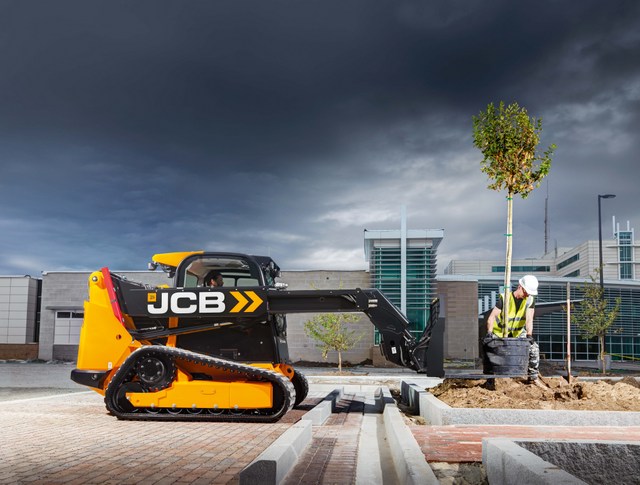 Buck & Knobby Equipment, headquartered in Ottawa Lake, Michigan, is excited to unveil its new JCB dealership location in Holland, Ohio. To celebrate the grand opening of the new building, the company is hosting an open house at the new dealership, 9127 Airport Highway, on Saturday, May 6 from 10 a.m. to 3 p.m., featuring special sales and finance promotions, information about new JCB equipment, live demonstrations, lunch and prizes.
The new location offers JCB's industry-leading backhoe loaders, wheel loaders, excavators, rough terrain forklifts, the world's safest and most innovative skid steer and compact track loaders with a unique side-entry door and the new Hydradig and Teleskid. The Hydradig is a revolutionary new wheeled tool carrier, designed to both dig and lift; and the Teleskid is the first skid steer with a telescopic boom for increased versatility, accessibility and the capability to reach further and dig deeper than any other skid steer available.
In addition, the new location includes a parts and service department, offering equipment repair and service both at the dealership and in the field for maximum customer convenience and minimal downtime.
"JCB is always at the cutting edge of new technology and equipment, so we are thrilled to work together to offer the best equipment available to our customers," said Gerry Maibach, Business Manager at Buck & Knobby Equipment. "We are also so excited to be back in the Toledo area, offering high-quality customer service and JCB's award-winning machines."
Founded in 1948 by Melvin R. (Buck) Cole and Lloyd R. (Knobby) Nolfo, Buck & Knobby Equipment began as a small equipment company in Toledo, Ohio. As the business grew, Buck and Knobby moved the company to a new location in Ottawa Lake, Michigan. Today, the company remains headquartered in the same Ottawa Lake location but has expanded to include multiple facilities.
"Buck & Knobby has proven itself a dependable, hardworking company over the past 70 years, and its dedication to customer service is outstanding," said Christian Baillie, JCB North America's Vice President of Construction Equipment Dealer Sales. "We look forward to working with them in the years to come and are excited to celebrate the grand opening of the new JCB-dedicated dealership."
To RSVP for the event and access more information about Buck & Knobby Equipment, visit http://www.buckandknobbyjcb.com/.