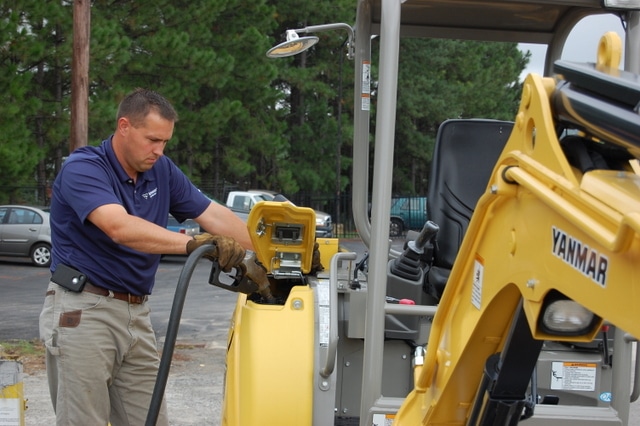 Construction input prices rebounded in December after experiencing a steep decline in November, according to analysis of U.S. Bureau of Labor Statistics data released by Associated Builders and Contractors (ABC). Input prices rose 0.4 percent for the month and are up 2.1 percent year-over-year, the largest 12-month increase in 30 months.
Nonresidential input prices collectively experienced a slightly larger increase, due in part to surging iron and steel prices, rising 0.6 percent for the month and 2.2 percent on the year. Though a number of input categories have experienced significant increases in prices in recent months, the overall price gains are largely attributable to energy prices. Crude petroleum prices rose 18.9 percent for the month, natural gas prices rose 23.1 percent and unprocessed energy materials rose 14.6 percent. Concrete products and the category that includes prepared asphalt experienced minimal declines in prices in December.
"While there are a number of factors that have contributed to the recent firming in input prices, recent deals made by OPEC and non-OPEC members to suppress oil production is the most consequential," said ABC Chief Economist Anirban Basu. "While oil prices remain above where they were before production agreements were reached, the price of oil has generally failed to rise much beyond $50.
"Other factors have also led to a steady rise in materials prices including an improving global economy," said Basu. "While not accelerating dramatically, global economic growth in 2017 is expected to exceed 2016's performance, with nations like Brazil and Russia no longer mired in deep recessions. U.S. economic growth is also expected to be stronger in 2017, lifting the overall global economic outlook and supporting more bullish commodity markets.
"It is probably too early for contractors to become excessively preoccupied with rising materials prices," said Basu. "Despite recent signs of economic improvement, massive levels of debt and commercial vacancy in much of the world will constrain both worldwide economic growth and global construction. Moreover, commodity traders among others are well aware that the planet is physically able to supply plenty of oil, natural gas and many other commodities, particularly if prices rise further. That knowledge in and of itself tends to place a lid on input price increases absent a major geopolitical event."
December Construction Input Prices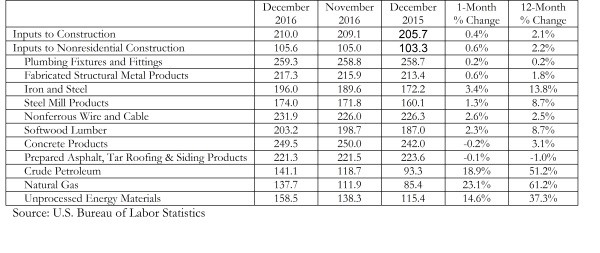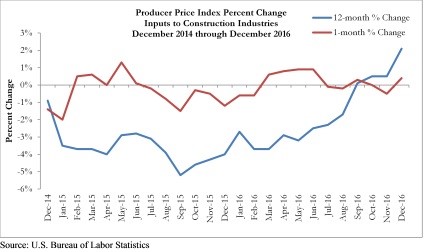 For more info on ABC, click this link. It's real easy clickin'.