Building purchase marks next stage in continued growth of the trade association
More than 100 members, partners, and friends were on hand as the Outdoor Power Equipment Institute officially opened its new headquarters building in Alexandria, marking a new stage in the growth of the association.
"This building represents a new chapter in OPEI's story. Thanks to record levels of membership and member engagement, we had a good problem – we outgrew our old space," says Kris Kiser, OPEI president and CEO. "As a trade group with members in Europe, Japan, China, and across the United States, we have global meetings, and we wanted to be able to host them in person and virtually. Now, we're better suited to host ISO, IEC, and other international gatherings."
"This is an exciting moment in the history of OPEI. As this year's chairman, I'm proud to officially open our new headquarters for business," says Dan Ariens, Chairman and CEO of Ariens Co., and OPEI Board Chairman. "Since it was founded more than 60 years ago, OPEI has grown in scope and stature, and it's well-positioned to continue its advocacy on behalf of the outdoor power equipment industry."
Thirty years ago the OPEI Board of Directors moved the association from Washington, D.C., to Alexandria, VA, to build and own its headquarters building. In 2017, OPEI's Board voted to sell its existing building and acquire 1605 King St., representing a multi-million-dollar investment.
The new building, in the heart of Old Town Alexandria, sits one block from the D.C. Metro, and just four miles from National Airport. It has a state-of-the-art conference center designed to accommodate OPEI's increasingly large committee meetings.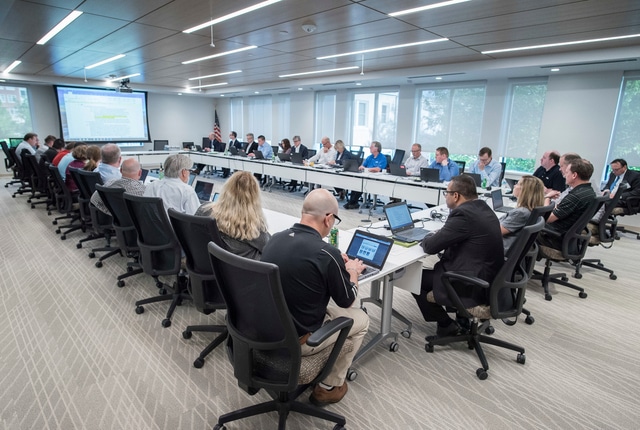 "Evidencing the shift away from out-of-house meeting spaces, our Engine and Fuels and Handheld Products committees met here this week, debuting our new conference center," Kiser says. "We're excited to begin the next phase of our growth in our continued service of the outdoor power equipment industry."
Photo 1: Members of the Outdoor Power Equipment Institute (OPEI)'s Board of Directors and more than 100 partners and friends get ready to cut the ceremonial ribbon on May 7, 2018 to open the association's new headquarters building in Old Town Alexandria, Va. OPEI is an international trade association representing more than 100 power equipment, engine and utility vehicle manufacturers and suppliers.
For more info on OPEI, click this link. Hurry! Before it's too late!
Tags:
OPEI
,
Outdoor Power Equipment Institute