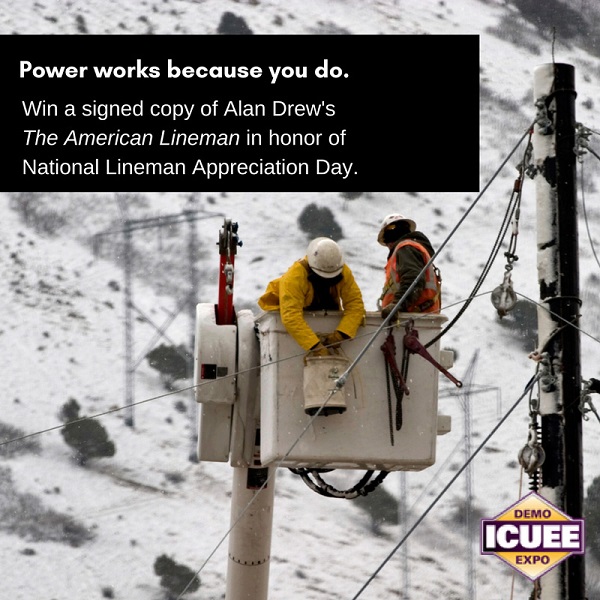 In celebration of National Lineman Appreciation Day, ICUEE-The Demo Expo is giving away three signed copies of Alan Drew's book The American Lineman in a new social media sweepstakes.
The ICUEE #ThankALineman sweepstakes runs April 11 – 18 and celebrates the hardworking men and women of the utility industry.
"It's an honor to celebrate National Lineman Appreciation Day April 18 and express our heartfelt appreciation for the skilled and dedicated workers who maintain the critical power systems for the communities across the United States," said Tina Hamberg, ICUEE 2019 marketing manager.
The ICUEE Thank a Lineman sweepstakes is open to all utility industry workers above 18 years of age at the time of entry who are U.S. citizens or permanent residents.
For full contest rules and how to enter the sweepstakes, visit http://icuee.com/lineman/. For questions, please contact Jordanne Waldschmidt, AEM communications manager (jwaldschmidt@aem.org; 414-298-4152).
The three winners will be announced on May 2, 2018.
Learn more about National Lineman Day here.
ICUEE 2019 takes place October 1-3 in Louisville, Kentucky, Learn more about ICUEE here.