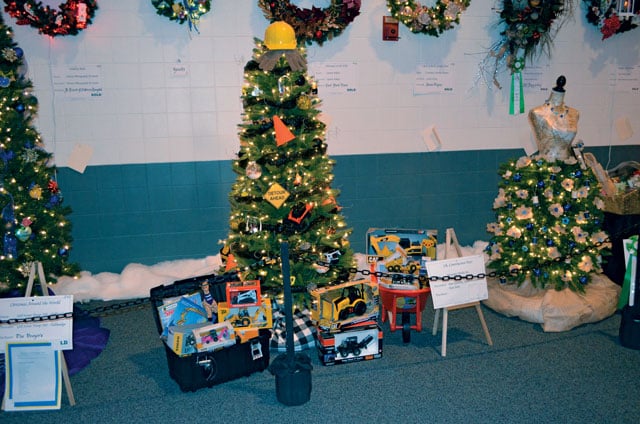 The Giving Tree
Every holiday season, Benjamin Media Inc. (BMI) — the publisher of Compact Equipment — looks for ways to give back to its surrounding communities. For the holidays, BMI was proud to be part of the Akron Children's Hospital's 34th annual Holiday Tree Festival with its "O' Construction Tree." The festival, which ran Nov. 21-29, featured more than 150 donated decorated trees, wreathes and other items available for purchase. The proceeds support patient care programs, education and research at the hospital.
"O' Construction Tree" was a construction enthusiast's dream with bright white lights, a mix of themed ornaments and a wheelbarrow and toolbox full of die-cast models, toys and other related goodies. The tree was made possible through the generosity of BMI employees, as well as industry supporters, including: John Deere, Volvo Construction Equipment, Caterpillar, Case Construction Equipment, JCB, Bobcat, Doosan, Genie, Ditch Witch and Takeuchi.
"We were extremely honored to participate in the annual Akron Children's Hospital's Tree Festival this year," said Rob Krzys, president of BMI. "Our staff and industry friends did a great job with the 'O' Construction Tree' theme, and we are grateful for the support. We look forward to being a part of this great event again."
Since 1982, the Holiday Tree Festival has raised $5 million for Akron Children's Hospital. In 2014, the festival brought in a record-breaking $300,000. Numbers for the 2015 event were not released as this issue went to print.
Everyone at BMI and Compact Equipment would like to thank the companies who helped support this great cause. For more information about Akron Children's Hospital or its Holiday Tree Festival, visit akronchildrens.org.