Sometimes attachments make the machine. Nowhere does that ring truer than with a compact tool carrier (often called a compact utility loader or mini skid steer). As one of the smallest motorized machines on the equipment market, compact tool carriers are specifically designed to run all types of different implements — hydraulic and non-hydraulic attachments like breakers, brooms, backhoes and box scrapers. The entire idea behind the compact tool carrier is offering versatility in a small package. With the right set of attachments, this mini constructor can replace a whole crew of manpower, working in confined residential areas with minimal footprint. For instance, a compact tool carrier can turn into a snow removal crew in the winter months with attachments like brooms, buckets and snowblowers (in residential areas or big public facilities applications).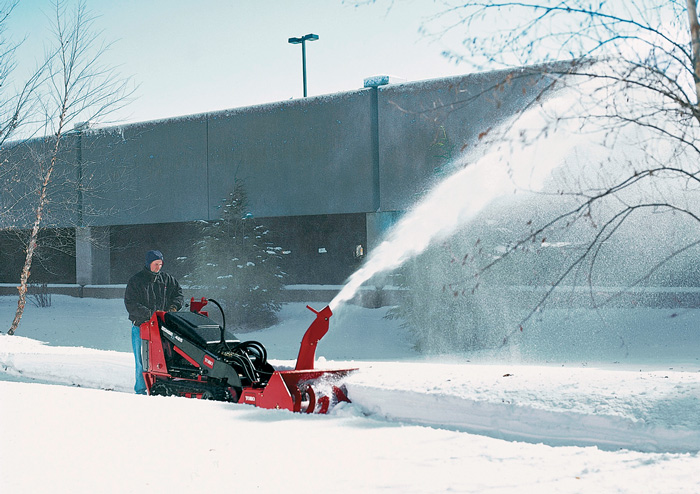 Brooms & Sweepers
Cleanup is made easy thanks to the addition of a broom attachment. There are two types of brooms available for most compact tool carriers — an angle broom and sweeper. A hydraulically-driven angle broom can clear away dirt, dried mud, light snow and other debris from driveways, sidewalks, parking lots, loading docks and warehouses easily and efficiently. Angle brooms have bristles that boast a waved design, delivering more surface-clearing ability which can clear a cleaner path and more snow or debris in one pass. Sweepers are both a broom and collection crew. Sweepers can sweep, collect and dump dirt and other debris. These attachments are ideal for construction, industrial and municipal jobs. Size options for angle brooms often fall within ranges of 48, 68 and 84 in. Sweeper attachments are often available in 36-, 44-, 48-, 54-, 60-, 72- and 84-in. widths. A sweeper operates between 145 and 215 rpm at 15 gpm, depending on the size of the attachment. The purchase prices for angle brooms range from $3,000 to $6,000, and sweeper brooms cost $3,000 to $5,000. The prices vary depending on the size of the attachment and machine it's being matched with.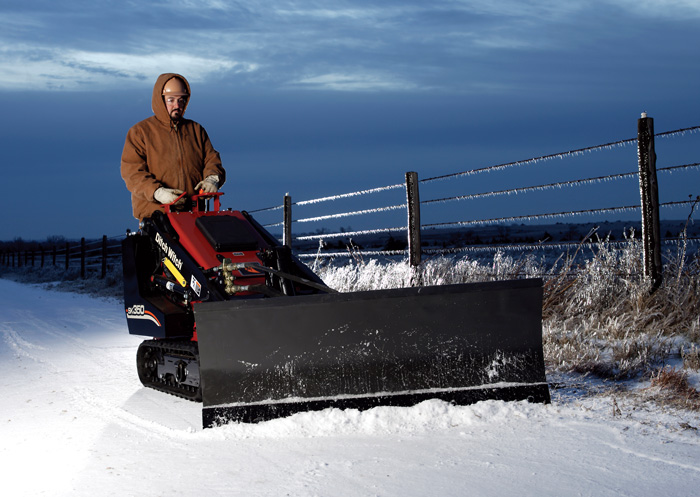 Snowblowers & Blades
Blow snow off driveways and parking lots, even tight spaces like sidewalks with a compact tool carrier snowblower. Most snowblowers feature a two-stage blower design with hydraulically rotating chute and deflector for quick and easy removal of heavy snow. Prices typically range from $3,000 to $5,000. The two-stage design provides power to break up chunks of hardened snow and throw out of the path, leaving the surface clean. Operators use the rotating chute and deflector to bank snow high or throw it far. By adjusting the deflector up or down, the chute points snow in almost any direction and throws snow wherever the operator wants it to be placed.
"As with any attachment that utilizes the tool carrier hydraulics, it's important to make sure the loader's hydraulic system matches the specifications of the snowblower attachment," explains Sean O'Halloran, marketing product manager at Toro. "If the snowblower isn't getting enough flow, it will not perform as desired. Conversely, too much hydraulic flow can damage the snowblower attachment. Toro offers one snowblower attachment that can be used with any of our six different Dingo compact utility loaders. When it comes to performance, it's a good idea to get to work as soon as possible after the snow falls. In addition, the snowblower tool carrier should be set at the full throttle position while maintaining a slow traction speed."
If conditions involve deep snow banks, hard, compacted snow and heavy snowfall in small areas, a compact tool carrier with a snowblower attachment can turn this construction-focused tool into a full-time snow thrower. Interesting options might include adjustable skid shoes or a truck loading chute (with the ability to place snow high into the truck), but overall there not a lot of snowblower options in the industry. Some manufacturers instead offer a snowblade, which are dozer-esque blades focused on snow removal, angling 30 degrees to either side to help move snow where you want it. The blade angle is usually adjusted from the fingertip controls, and optional features include rubber or polyurethane cutting edges, trip edges and maybe even wing kits.
Buckets & Beyond
The most used attachment on a CTC (and other tool carriers) is a bucket. This go-to implement is perfect for moving dirt, rock, mulch and more than a few snow removal applications (from actually moving snow to transporting salt or sand). There are a number of traditional buckets and specialty buckets on the market. A standard bucket is an all-purpose bucket for general loads, such as dirt, rock and snow. A high-capacity bucket is designed to carry a greater capacity of lighter material, such as mulch or snow. Narrow buckets are less than 42 in. wide and are ideal for tight spaces around residential homes and yards.
There are lots of other types of buckets on the compact tool carrier market — a 4-in-1, rock buckets and excavator bucket (the last one has teeth in order to dig into tough ground or in some cases tough ice or packed snow). If a bucket fits the bill for your project needs, retail pricing ranges from $600 up to $2,500, depending on what style is preferred. With the right bucket, broom or snowblower, compact tool carriers can handle a variety of niche snow applications. We've even seen custom, plastic snow cabs for these compact tool carrier units that allow you to work outside longer in the cold weather.
Snow work is just another in a long line of applications for compact tool carriers. They auger for ornamental trees, carry buckets of gravel, trench for drainage, haul pallets of brick and cut down on extra hand labor. The ability to change and adapt in small environments is a compact tool carrier's greatest strength. That versatile reputation will definitely grow throughout the winter months.
Keith Gribbins is managing editor of Compact Equipment, based in Brecksville, Ohio.
Tags:
Attachments
,
Compact Tool Carriers
,
Ditch Witch
,
Snow
,
Snow Blade
,
Snowblower