Thanks to a universal attachment plate, a compact tool carrier (CTC) can couple with any number of attachments — from breakers and trenchers to backhoes and brooms — to offer operators the perfect solution for their project needs. Here's a look at a few of the most popular.
Diggin' It (Augers)
When a project calls for digging holes anywhere from 4 to 36 in., an auger attachment works wonders with a CTC. Eliminating the need for a shovel (and the labor it takes to dig), the auger simply attaches to the machine, spins its way into the ground and removes excess dirt.
When selecting an auger, there are different options depending on bit styles and sizes which range from 4 to 36 in. Flat bottom bits provide a square bottom hole, and tapered bits give a slight angle to the hole which is ideal for planting trees. Rock auger bits are designed to withstand more abuse, making them perfect for rocky conditions. An operator must match the auger driver flow and gallons per minute (gpm) to the specifications of the unit. Most CTCs require 10 to 14 gpm to properly operate the attachment. There are also two types of auger drives: high speed/low torque and low speed/high torque.
Cost: If you're looking to include an auger in your fleet, this attachment typically ranges from $2,000 to $3,500, depending on size and drive. Rental is also a great option and will set a customer back around $40 to $60 a day.
Expert Excavator (Backhoes)
Contractors can get big excavating power with a small package when adding a backhoe attachment to their CTC fleets. This versatile implement transforms the CTC into a digging machine for tasks such as water hookups, concrete footings and tile lines. These attachments require less transportation cost, both in expense and time and less investment than a conventional tractor loader backhoe or mini excavator. Backhoe attachments are available in a variety of sizes to accommodate project requirements. Typical dig depths range from 6 to 12 ft, and hydraulic requirements for a backhoe range from 7 to 14 gpm, depending on the size of the backhoe. Look for attachments that feature cushion cylinders, swing speed control, a 180-degree swing range and a 180-degree bucket rotation with assorted bucket sizes available.
Cost: A backhoe attachment can cost anywhere from $7,500 to $14,000, depending on its size and features. Rental options typically run $80 to $300 per day.
Site Seeing (Box Rakes)
Box rakes are an ideal attachment to clean, level and prep jobsites. Construction professionals can use them to tidy up by sorting rocks and other debris so they can level the land prior to starting a project. Landscapers find box rakes useful so they can smooth out the earth and loosen up soil for sod or seed. The hydraulic requirements for most CTCs to run a box rake are 10 to 14 gpm, but machines that boast higher hydraulic horsepower provide additional drum torque, which offers better performance in hardpack or clay soils and allow for deeper soil penetration. We also suggest looking at whether or not the unit has a manual or hydraulic angle and depth controls. Both of these allow the operator to make changes on the fly to direct spoil where it's wanted or lower the depth briefly in areas that need a little more conditioning. These features also make the attachment much more versatile when sculpting the landscape.
Cost: Most box rakes come in 48-in. widths and can cost about $5,000 to $7,500. Daily rental rates range from $60 to $100.
Break It Down (Hammers)
Sometimes a contractor's job doesn't involve building, but rather tearing something apart. In times when a project calls for demolition (such as breaking out driveways, sidewalks and patios), a breaker or hammer attachment (same thing, different name) is the right fit. These attachments are ideal for hardscaping applications and are convenient thanks to the small size of the CTC. Since a contractor can achieve great demo results from a compact machine, breaker attachments make work easier in tight areas and in or around homes. Like all breakers, CTC-mounted units are rated by impact energy in ft-lbs, ranging from 150 to 300 ft-lbs. The higher the class of the breaker, the more flow and pressure will be required from the hydraulic system. Concrete breakers are also measured in blows per minute (bpm). A typical CTC hammer will deliver 175 ft-lbs of force, using 1,200 bpm to break materials to a depth of 11 in. The breakers run off the unit's hydraulic system, usually with flow ranges from 4 to 16 gpm.
Cost: Hammer or breaker attachments range in cost from $6,000 to $11,000.
Swept Away (Brooms)
Cleanup is made easy thanks to the addition of a broom attachment. There are two types of brooms available for a CTC — an angle broom and sweeper. A hydraulically-driven angle broom can clear away dirt, dried mud, light snow and other debris from driveways, sidewalks, parking lots, loading docks and warehouses easily and efficiently.  Angle brooms have bristles that boast a waved design, delivering more surface clearing ability which can clear a cleaner path and more snow or debris in one pass. Sweepers can sweep, collect and dump dirt and other debris. These attachments are ideal for construction, industrial and municipal jobs. Sweepers are also easy to attach and simple to operate going either forward or reverse. Size options for angle brooms include 48, 68 and 84 in. Sweeper attachments are available in 36-, 44-, 48-, 54-, 60-, 72- and 84-in. widths. A sweeper operates between 145 and 215 rpm at 15 gpm, depending on the size of the attachment.

Cost: The purchase prices for angle brooms range from $3,000 to $6,000, and sweeper brooms cost $3,000 to $4,500. The prices vary depending on the size of the attachment and machine it's being matched with.
In the Trenches (Trenchers)
Versatile CTCs can become trenching machines with the quick addition of a trencher attachment. By adding one of these hard-working implements, an operator can carve out a slice of earth and make way for the installation of utilities and other underground tasks. Trencher attachments are capable of digging up to 5 ft in depth and up to 12 in. wide, allowing them to install almost any kind of underground utility. When pairing a trencher attachment to a CTC, the machine must have the hydraulic requirements of 10 gpm or higher. Most trencher attachments are available in 4-, 6-, 8- and 12-in. widths. Since soil conditions can vary, there are numerous types of digging chains available for the attachment. These specific chains can handle anything from light dirt or sand to very rocky soil or even coral.
Cost: Purchase prices for trenchers can range from about $2,500 to $10,000, depending on durability, performance and chain types needed. Rental is always an option and rates can range from around $100 to $200 a day.
Pam Kleineke is a contributing editor to Compact Equipment, based in Brecksville, Ohio.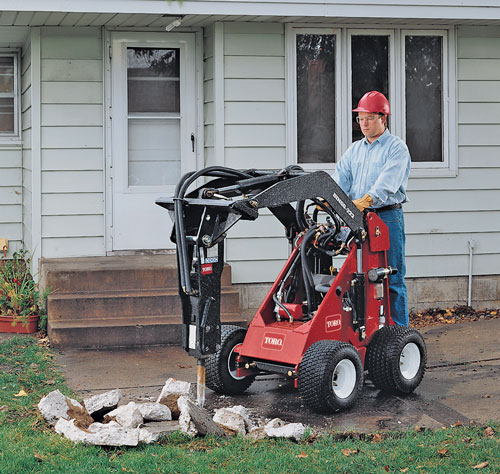 Tags:
augers
,
backhoes
,
Box Rakes
,
Brooms
,
Compact Tool Carriers
,
Compact Utility Loaders
,
Ditch Witch
,
Hammers
,
Trencher Attachments
,
Trenchers