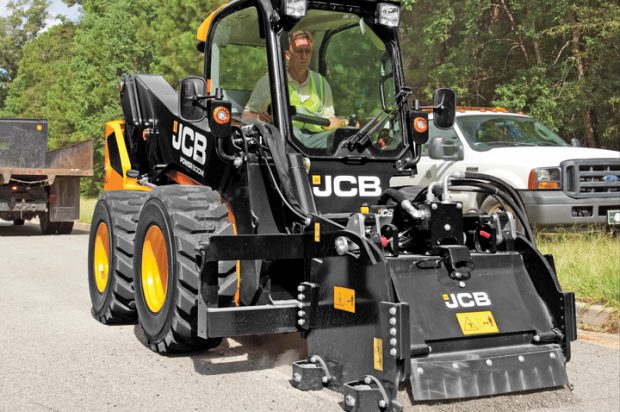 Demand is growing for the cold planing of asphalt and concrete surfaces in limited applications, such as trimming around manhole covers, smoothing a surface, feathering in joints and removing paint lines in metro traffic lanes and commercial parking lots. Contractors who are being drawn into this market are utilizing small dedicated machines that have a relatively low price point — that is, skid steers with cold planers attached. Contractors gearing up to enter this market might consider the following guidelines as equipment purchase decisions are weighed.
Skid Steers or Track Loaders?
Conventional industry wisdom is that skid steers are better carriers for a cold planer. However, some cracks have opened in that theory. The general concern is that when working on hard surfaces — that is, asphalt and concrete — tires and tracks wear out more quickly than when they are being maneuvered on soil, leading to additional costs. "And tires are cheaper to replace than a track," says Gregg Zupancic, product marketing manager for John Deere Construction and Forestry.
Zupancic believes the choice is obvious. "A lot of folks are wanting to buy compact track loaders, and we are eager to sell them. But if they want to maximize the dollar, a skid steer is better suited for production because it can work on hard surfaces."
George Chaney, JCB skid steer/compact track loader North American sales manager, says the choice isn't as clear as that. He acknowledges that fear of premature track wear and resulting higher costs has most contractors employing skid steers. "But people also are finding that track loaders actually work better than wheeled machines for planing because tracks eliminate the bouncing effect that comes with operating on tires."
Chaney cites the market in Italy where nearly half of skid steer and compact track loaders sold have high-flow hydraulics and are used for asphalt work, with a growing percentage being compact track loaders. "There still are a lot of apprehensions, but cold planing on tracks is a market that will continue to grow as people see the performance from compact track loaders."
Kevin Scotese, product manager for skid steer loaders at Volvo Construction Equipment adds, "I've seen a lot of customers who previously owned wheeled machines switching over to tracked machines because of the smooth operation during cold planing and the increased stability they offer on inclines."
An OEM or Aftermarket Planer Attachment?
Some loader manufacturers produce their own planing attachments and others partner with independent toolmakers. In each case, companies go to great lengths to properly mate a skid steer or track loader with a planer. JCB offers more than 30 attachments for its loader lineup, and Chaney says letting the toolmakers develop and produce the tools makes sense.
"We work with an industry leading attachment company who provides OEM attachments private labeled as JCB," he says. "We work very diligently to ensure the fit-up, sizing, hose routing, coupler sizes and hydraulic pressure and flows match the JCB product range. JCB provides complete support of these OEM provided attachments, which go through a comprehensive joint engineering approval and sign-off process."
Deere, on the other hand, promotes its own Worksite Pro cold planer line, though Zupancic acknowledges that "any planer will work" on the Deere skid steer and track loader lines. "We test the machines and make sure a customer has the optimized loader displacement for the cold planers and that a planer specifically matches a machine's hydraulic flow and pressure."
He sees problems when products are blended. "When you start mixing and matching OEM machinery and competing equipment, there can be, for example, electrical modifications necessary to make an attachment work on an individual machine. Manufacturers try to work with each other as much as they can, but when the designs are different, some electrical systems are not compatible."
Drum Size and Hydraulic Flow/Pressure?
The planer drum — inside of which cylindrical or bladed carbide teeth bite into concrete and asphalt pavements — come in widths ranging from 12 to 40 in. For patch jobs and other spot applications, narrower drums will suffice. For bulk production jobs, however, contractors commonly use drums in the 30- to 40-in. range.
But the wider the bite, the more hydraulic horsepower is required to smoothly chew up and spit out the material. Skid steers/track loaders with standard hydraulic speed and flow rates (10 to 30 gpm) can handle narrower cold planer attachments, but larger machines with high-flow hydraulics (31 to 41 gpm) are needed for the wider drums.
Scotese says, "It's important to match the cold planer with the machine and ensure the cutting depth required is within the capabilities of the machine's hydraulic performance."
All Deere skid steers and track loaders, for example, have the hydraulic capacity to handle a 12-in. planer drum. Larger Deere skid steers, such as the 330G and 332G models, are popular because they have the capacity to operate wider planers, the largest Deere planer drum being 30 in. wide. The 332 can be configured with enough hydraulic horsepower to push fluid through lines at the rate of 41 gpm.
At JCB, standard flow on its carriers is sufficient to operate planers up to 18 in. wide — and high-flow systems are an option on all models except its very smallest one. Chaney says the 225 skid steer is a popular JCB machine that "will handle up to a 30-in. cold planer quite well." The manufacturer's 36- and 40-in. planers are best used on larger JCB models.
Cooling Capacity While Planing?
Cold planing is hot work and puts a continuous strain on a loader's hydraulic system. When a unit overheats, it shuts down — and so does production. However, Chaney says that even though cold planing can heat up a system, JCB engineers have it handled.
"We design JCB machines to operate with high flow, and we test them as if a planing attachment is working at a peak maximum limit," he says. Still, he adds, "Planing is really not that demanding because the machine is moving so slow. A worse situation is in forestry where mulcher heads are spinning on a long boom with full hydraulic flow, and the machine is being driven up and down hills. By comparison, planing is not a big deal."
Zupancic says Deere skid steers and track loaders can handle a 30-in. cold planer running wide open all day in ambient temperatures of up to 110 degrees. The skid steers have side-by-side radiators so that one radiator isn't pulling hot air from the air, providing sufficient cooling. He adds that periodically clearing debris from radiators using the machine's reversible cooling fans helps radiators do their cooling work.
For units unable to keep cool and run under stress, the answer might be add-on units like the Loftness Cool Flow. Loftness introduced its cooling attachment in 2007 specifically for use on skid steers, but it works on any kind of machine. It can reduce the temperature of a hydraulic system by 15 critical degrees so the machine keeps operating, according to Bill Schafer, Loftness product development supervisor.
"As with any application — but especially in applications with a lot of hydraulic flow — it's important to keep an eye on the hydraulic temperature gauge," Scotese says. "All machines are designed with cooling capacity for the maximum flow at the maximum pressure, but a used machine may have debris blocking airflow through the radiator, which can have a serious impact on cooling capacity."
Fluid is routed through the Cool Flow unit at up to 45 gpm and a pair of 11-in. fans disperse the heat. While the cooling unit usually is mounted on the skid steer rooftop, engineers have discovered that it can be mounted vertically or horizontally and function equally well.
Operating Tips?
Cold planer attachments are not cheap. They range in price from around $10,000 for a 12-in. drum up to $28,000 for a 40-in.-wide model. To ensure that buyers get the most for their money, loader manufacturers offer a "creep mode" in which planers can be run at full rpm at exactly the right speed without overrunning the cut. In JCB skid steers and track loaders, creep speed can be increased in increments of one percent to ensure the attachment is maximizing its cutting. Then there are some basic operational guidelines: Select the proper cutting bits for the material being cut. On deep cuts, don't try to consume all the material in one pass. And if attaching the planer to a unit, consider riding on solid tires to minimize bounce.
Giles Lambertson is a contributing writer to Compact Equipment.