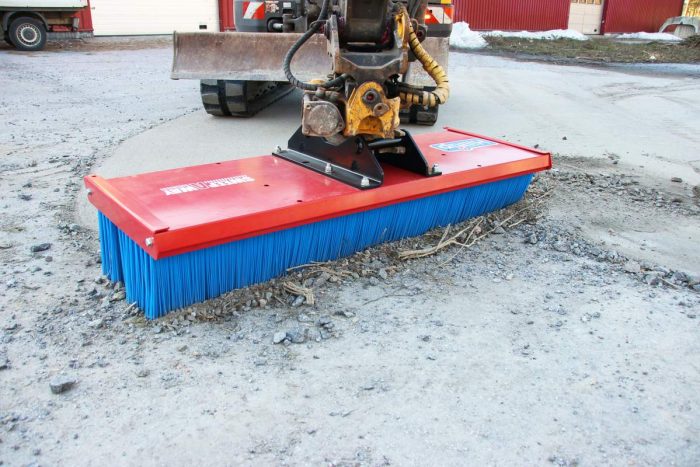 The new SweepAway push broom attachments from Hilltip are a versatile cleanup solution for use on forklifts, tractors, loaders, excavators and other vehicles. This simple, yet effective tools provide professional results when sweeping a variety of materials, such as leaves, sand, rocks, debris, snow and slush.
Offered in multiple sizes from 59 to 118 inches wide, the SweepAway push brooms are available in a light series with eight brush rows or a medium series with 12 brush rows. Featuring polypropylene bristles, the replaceable brush rows are easy to change and clean. Additionally, the brooms contain no moving parts, resulting in practically no maintenance requirements.
Optional accessories for the SweepAway push brooms include side brushes (leaf-stopper brushes), fastening straps and edge markers. Replacement brush rows are also readily available from Hilltip.
Headquartered in Pietarsaari, Finland, Hilltip is a leading manufacturer of road maintenance equipment in Europe. With equipment designed and built in an area that averages at least six months of snowfall every year, Hilltip is known for its extreme durability and advanced technologies. Opening its U.S.-based subsidiary, Hilltip Corp., in 2020, the company is now actively bringing these industry-leading advancements to the North American market. For more information, contact Hilltip Corp. at 859-760-7211 or visit the website at www.hilltipna.com.