Let's face it — sometimes you have to destroy something before you can build again. Images of wrecking balls and collapsing skyscrapers come to mind, but a small job on a cramped construction site often calls for a hydraulic breaker attachment to handle the demanding job of demolition. Mounted on your skid steer loader, mini excavator or compact tool carrier, a hydraulic breaker attachment allows a contractor to instantly add a demolition machine to his crew without buying another piece of equipment.
Powered by the unit's auxiliary hydraulic attachment system, your breaker attachment (also called a hydraulic impact hammer) can send your tool carrier into new markets of re-construction. Keep in mind that these are inhospitable demolition environments — home to flying debris, concrete dust and the pure heat and chaos of breaking everything to hell. Such hard-hitting attachments need to be engineered tough and powerful to run all day on these intensive jobsites. Here are four we recommend.
Epiroc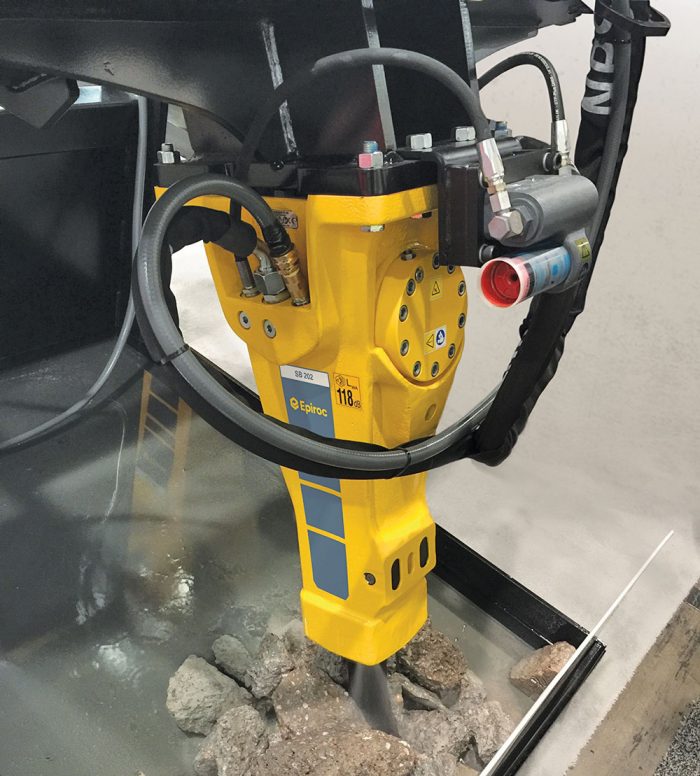 Epiroc premium SB/SBU Series hydraulic breaker attachments are the industry's only breakers to come standard with an integrated water port for dust suppression — a feature that assists in compliance with OSHA's final silica rule dust regulations. SB/SBU Series breakers combine efficiency, performance and durability in a compact design. Developed for use in demolition, construction, tunneling, dredging and pile driving, the breakers reduce noise and vibration. Epiroc SB/SBU Series breakers are designed for the 0.7- to 24-ton carrier class (1,550 to 53,000 lbs) with models to match any mini excavator, backhoe, skid steer loader or demolition robot. Service weights range from 120 lbs for the SB 52 to 2,350 lbs for the SB 1102. Oil requirements range from just 3.2 gpm at 1,450 to 2,175 psi to 35 gpm at 1,885 to 2,610 psi. For more info, visit eprioc.us.
Brokk
The Brokk Hydraulic Breaker (BHB) Series is perfectly matched with the company's full range of remote-controlled demolition robots. The BHB Series includes eight breaker models, starting with the 121-lb BHB 55 breaker for the compact Brokk 70 remote-controlled demolition machine. The range goes all the way up to the 1,510-lb BHB 705 for the Brokk 500 and Brokk 520D. Like Brokk's remote-controlled demolition machines, the BHB Series features a high power-to-weight ratio. The attachments are lightweight and compact, yet feature power similar to larger, heavier breakers from other manufacturers. The hammer bodies are machined from a solid casting, eliminating side and through bolts, along with the side plates found on many other hammer designs. An integrated, side-mounted accumulator holds a nitrogen gas charge for as long as a year. For more info, visit brokk.com.
Okada America
The small range TOP Series hammers from Okada America include six models: the 21LT, TOP 31, TOP 35B, TOP 45B, TOP 55B and TOP 60B. Okada America's small range TOP Series includes attachments in the 150- to 1,250-ft-lb energy class. Nitrogen gas cushions the piston on the upstroke (eliminating the need for shock absorbers) and increases the piston downstroke force. The breakers feature a long stroke design that increases impact power and reduces vibration. Cup seals are utilized on the TOP Series breakers to secure the oil and gas chambers. Customized mounting upper brackets (UMBs) and quick-coupler systems are also available. For more info, visit okadaamerica.com.
Montabert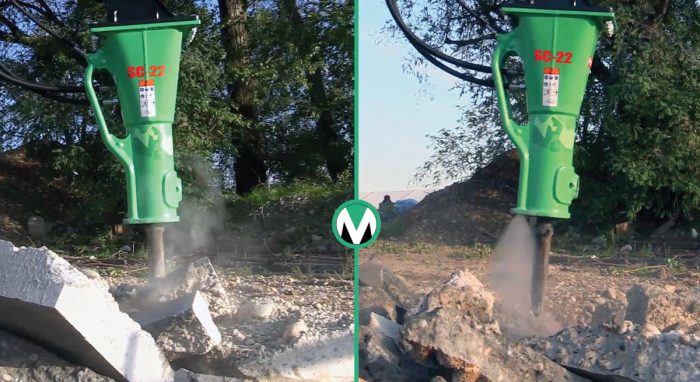 Montabert's new water mist system, which was introduced at CONEXPO 2020, was created to mitigate silica on jobsites following OSHA regulation changes. As contractors looked for a way to meet OSHA requirements pertaining to silica, the hydraulic rock breaker market demanded a solution. Montabert led the industry by offering a smart solution to meet industry guidelines. The spray feature includes an integrated hose protection design with a water inlet port. Breakers with this feature will have two lifting points and a water nozzle that provides a wide-angle spray. For more info, visit montabert.com.
Tags:
Breakers
,
Brokk
,
Epiroc
,
March 2021 Print Issue
,
Montabert
,
Okada America