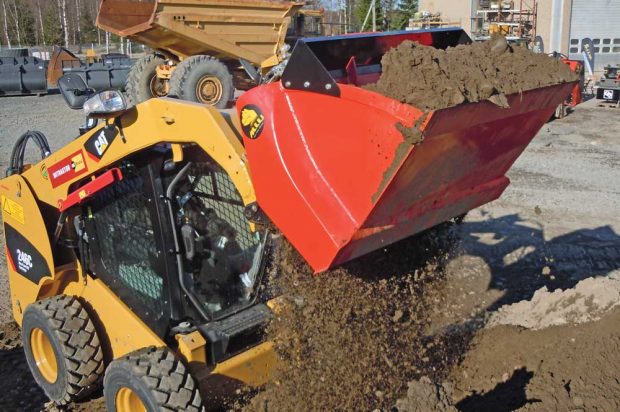 Processing lumpy soil, crushing brick debris, filtering rocks from compost material — such tasks are abrasive and difficult. Instead of dealing with the hassle, small contractors often shove aside clumped soil, fill landfills with broken debris and hand-toss the worst of the rocks. But here's an idea: Why not transform that difficult waste into something reusable? Using a crusher or screening attachment on a skid steer, track loader, wheel loader or mini excavator, even small contractors can repropose manufactured material that once was discarded.
The attachments range from simple to complex in operation. All rely on hydraulic pressure and gravity and some notable engineering features — including plastic separators. Plastic? Yes, at the heart of the Gyru-Star screening bucket are bright yellow polyurethane fins that, individually, are roughly star-shaped in profile. They have proven more durable than steel in certain applications.
The fins are flexible, a characteristic that lets material up to a half inch in diameter slip through without clogging. The material being screened rolls across and through the top of a fin with retained rocks and other oversized material tumbling in place till it is dumped. The fins also are lighter than if made of steel, which translates into a lighter bucket. A smaller model Gyru-Star screening bucket weighs just 350 lbs, which means compact excavators weighing about a ton and having standard auxiliary hydraulic flow can utilize the attachment.
"The polyurethane's flexibility resists forces that wear it down," says Eric Ransome of Ransome Attachments, a New Jersey regional distributor of the English-made Gyru-Star. "Demolition debris can affect its lifespan, but under normal screening of natural materials, it's pretty typical for the fins to last one to two years before needing replacement."
Rotation of the fins can be reversed, but they need to properly operate in one direction when screening. Customers also learn that periodically reversing the spin can self-clean the buckets of clinging clay. "This is where the bucket is really proving its worth, effectively screening wet soil and compost that clogs up traditional screens," says Ransome. "Its ability to screen wet product with a compact machine impresses everyone."
Ransome also offers the Cobra screener-crusher bucket, which has been made and marketed in Finland for 25 years. A smaller model, the K-120, is suitable for compact excavators and is called on to prepare topsoil, compost, process frozen sand and recycle screening
"What sets the Cobra apart is quality of manufacture," Ransome says. "It's new to the U.S. market but proven in Europe and has the quality you would expect in a top tier screening-crushing bucket. It comes in at a significant savings for a customer without a reduction in quality versus the other brands."
MB Crusher
MB Crusher offers two types of screening buckets. The MB-S10 S4 looks like a basket instead of the typical bucket. When a load of material is scooped up, it falls into a cylindrical container with holes in the side panels. The basket is spun and material of a certain size is thrown out as determined by the hole size in the insertable modular panels. Oversized residue is then dumped. The MB-S10 S4 bucket weighs 860 lbs and is suitable for 3.5-ton compact excavators. It's commonly employed in on-site processing of natural materials — ideal for landscapers and for sorting material in small contractor yards.
If more aggressive screening is needed, the company offers its HDS Shafts Screener. The smallest model is the MB-HDS214. It weighs 1,807 lbs and is recommended for 6- to 12-ton excavators and 5-ton skid steer loaders with at least 19 gpm of hydraulic flow. Instead of separating material through centrifugal force, the screener sifts material using rotating shafts that are available in four different types, and the rotating shafts can be easily changed on site in complete safety. Just one person can do this in a matter of minutes. MB Crusher's patented system keeps the rotating supports in place. The rotors can easily be removed and re-positioned, while the angular alignment is kept in place.
"The MB-S10 is strictly for separating materials based on sizes," noted MB Crusher in a statement. "The biggest stay in the basket and the smallest come out. The MB-HDS214 is definitely a more versatile attachment that alone is capable of overcoming the various challenges faced every day by those involved in earth removal, excavation, demolition, recycling, agricultural activities and landscaping. The MB-HDS Series selects and crushes excavation and demolition materials, asphalt, coal, organic materials, wood, bark and light plastics. It also enables products to be re-purposed immediately. Most of our shafts screener customers are landscapers doing topsoil compost work or sorting bark material."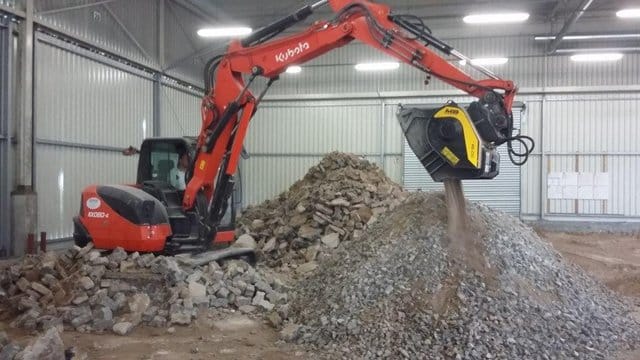 What guidelines are there for renting or buying one screener or the other? "The biggest thing to consider is the weight of the machine and its hydraulic flow and, of course, what the job is. We can help someone find the right one," noted the company
MB Crusher also manufactures crushers, of course. In fact, the Italian firm invented the bucket crusher, introducing the product in 2001. The lightest models of its jaw crusher are suitable for mini excavators (MB-C50 model) and skid steers (MB-L120 model). The MB-C50 mouth opening is 21 in. wide, great for narrow spaces and weighs 1,653 lbs. The skid steer model is 29 in. wide and weighs nearly a ton. These are the smallest units of the jaw crusher lines. It's perfect for contractors taking out driveways and sidewalks and wanting to process the waste material on site. The relatively low-decibel crushing operation makes them attractive for urban worksites.
Another sales point is the MB Crusher buckets' relatively low maintenance. The biggest wear piece is the jaw itself. Each crusher has two jaws, of course. What is handy is that the jaws are interchangeable, extending lifespan significantly.
ALLU
Finnish manufacturing firm ALLU offers a truly transformative bucket option aptly named the Transformer Screener Crusher. Smaller Transformer models can be attached to small excavators and wheel loaders for assorted applications. They can handle top soil, compost, asphalt and other natural and waste materials.
"It screens, crushes, pulverizes, aerates, blends, mixes and separates, transforming the materials," says sales director Jeroen Hinnen. "The Transformer will process just about anything sent its way."
Its versatility is by design. In the bucket is a patented configuration of blades that spin between combs, or slotted frames, which carry most of the weight of scooped up burden. What determines the fineness of transformed material is choosing between single, double or triple blade combinations. That is, a single blade can be joined with another, or two others, with the combs then moved to accommodate the blade thickness. Dimensions of screened material ranges from a third of an inch to 4 in.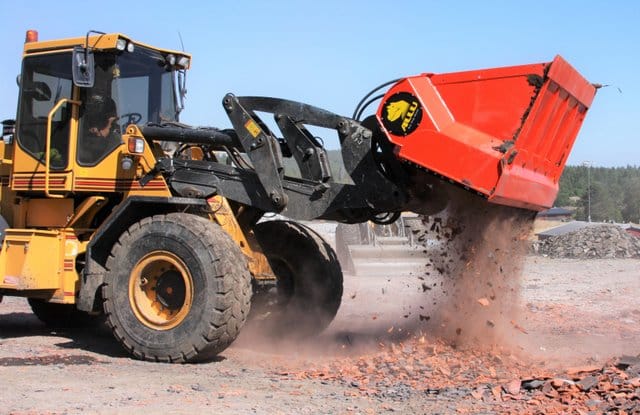 Switching the blades and screens only takes about half an hour. The most common setup is two-blade mode, Hinnen says. As for the blades, two types can be inserted — a standard blade for screening and an axe version for crushing or shredding.
"The Transformer has been designed to deal with soft rocks, bricks and so forth," Hinnen says. "Minerals commonly processed include iron ore and coal. It's not advised to crush harder minerals, such as granite, but … developments are underway that will enable this to be done."
Giles Lambertson is a freelance writer for Compact Equipment.
Loegering's ST Series Milling/Stabilizing Attachments
Loegering Power Attachments, an ASV Holdings Inc. brand, offers the ST Series stabilizing and milling attachments, new to the North American market. Made up of the ST1000 and ST600, the ST Series are versatile attachments that give contractors in the construction and roadwork industries the ability to complete milling and stabilizing applications with the same tool. This dual option is accomplished through a unique drum design and precise level control for accurate milling. The ST Series features superior level and depth control and has the ability to follow the contour of the pavement independent of the loader. Featuring twin hydraulic motor drives for improved productivity, the attachments are manufactured with heavy-duty construction, featuring a robust 1-in.-thick frame. For more info, visit loegeringpower.com.
Micro Processors: Screen Machine Industries Offers Four Compact Crusher Screeners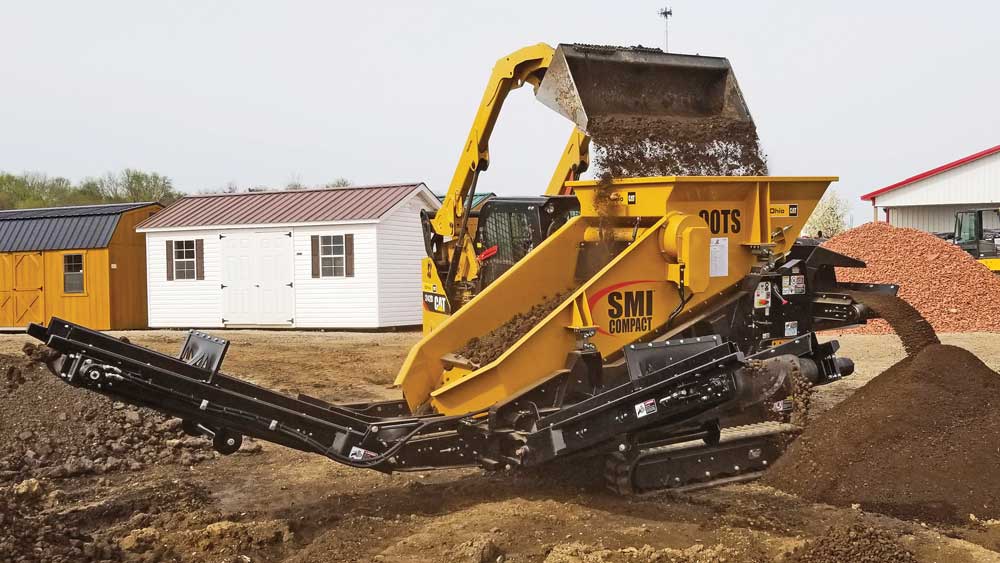 If bigger always were better, we wouldn't have compact equipment. Thanks to Screen Machine Industries, aggregate handlers now have a compact line of portable and stationary screening and crushing equipment. Under the flag of SMI Compact, the company offers four downsized crushers and screens on tracks and two stationary models.
"Our forte is the big stuff. We know how to build the big ones," says David Stewart, director of marketing for SMI Compact. "But we do a lot of tracking of what is trending in the industry, and we got excited about the possibility of offering a complementary line of equipment to a completely different audience."
Stewart said customers for the small crushers are contractors tearing up a concrete or asphalt driveway or patio, or municipalities recycling street paving material. "A municipality might have one of these in an equipment yard and feed waste material through it three or four times a year."
Three sizes of portable jaw crushers are offered, ranging from a capacity of 10 tons per hour to 20 tons and 50 tons. "We thought the 20-ton model would be the best-seller because it can be hauled behind a pickup and still offer reasonable production. But, so far, the 50-ton model is the most popular. I think as the market matures, once they see how they work, there will be a progression to the smaller machines."
Each of the crushers can reduce concrete debris to three quarters of an inch — "almost to the size of base for concrete." So small-scale concrete demolition projects can repurpose the material on site rather than pay to have it hauled away. Stationary models come without an engine. Says Stewart: "Not having a power unit is a nice feature of the stationary models. They run off the power and hydraulics of a host machine. That reduces the cost. They probably are one-third the price of a portable crusher or screener."