Don't Forget to Grease… and Reposition when Needed
Rich Elliott, Product and Application Specialist for Epiroc
When greasing a hydraulic breaker, use the manufacturer's recommended chisel paste and always put down pressure on the tool so the top is seated inside of the breaker against the impact ring. Grease every two hours or when the chisel paste no longer looks wet and running down the tool steel, which is approximately 2 in. Always put pressure down on the tool so the tool is completely seated inside the breaker prior to activating the breaker. Once the tool starts to break through the material, deactivate the breaker to reduce blank firing opportunities. Operate the breaker for 15 to 30 seconds, and if the breaker has not started to penetrate the material, reposition the breaker and try again. Always operate the breaker tool at 90 degrees to the material being broken.
Safety First
Greg Smith, Marketing Communications Manager at Okada America Inc.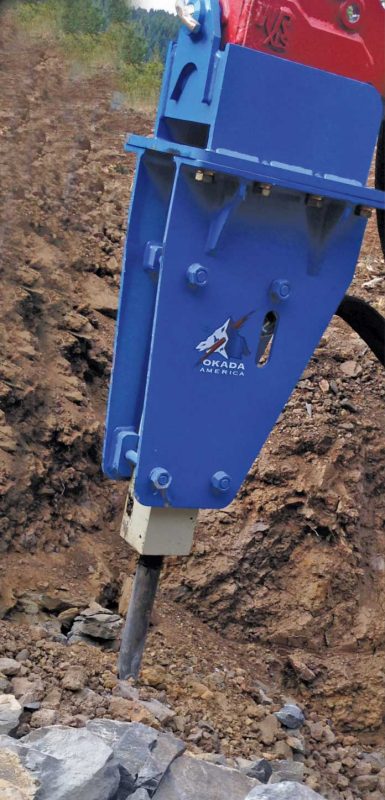 Safe operation of a breaker should be the No. 1 priority of the operator. If someone is injured or killed or the equipment is damaged, it does not matter if you break the concrete or rock. A few important safety tips for the operator to consider are:
Protect yourself and others from flying chips of concrete or rock.
Do not operate the breaker until you are sure that you and those around you are safe.
Hydraulic oil gets hot in a very short period of time when running a breaker. Do not detach the breaker from the carrier until the hydraulic oil in the carrier has cooled down.
The demolition tool in the breaker is too hot to touch and will burn you. Do not touch the demolition tool until it has cooled down.
Consider a Water Feature
Stephane Giroudon, Director of Sales – Americas for Montabert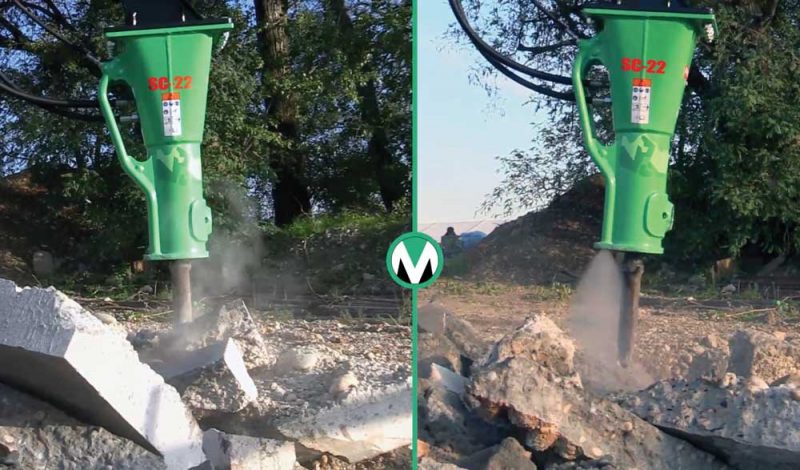 One of the biggest tips for mini excavator breaker operators is to understand the importance of following OSHA regulations and mitigating silica on jobsites. Adding a water feature to your breaker is an effective method to do so. For example, Montabert introduced its new water mist system at CONEXPO 2020. The feature was created to mitigate silica on jobsites following OSHA regulation changes. The spray feature includes an integrated hose protection design with a water inlet port. Breakers with this feature have two lifting points for improved safety and a water nozzle that provides a wide-angle spray.
Pam Kleineke is managing editor of Compact Equipment.
Tags:
Epiroc
,
home
,
January 2021 Print Issue
,
Montabert
,
Okada
,
Okada America