American Pneumatic Tools (APT) recently unveiled a full range of light compaction equipment, compressors, generators and hydraulic breaker attachments.
Forward Plate Compactors
The APT forward soil plates range in operating weight between 128 pounds and 208.4 pounds, and are specially designed for compacting granular soils. Ideal for small repair and maintenance work, applications include asphalt, gravel, sand and silt.
APT forward plate compactors are powered by Honda engines, and feature specially shaped bottom plates, stow-able vibration-reduced handles for reduced operator fatigue, and wheels for easy jobsite mobility. The forward plate compactors also feature a removable 3.4-gallon water tank and smart water distribution system for reliable performance.
Reversible Plate Compactors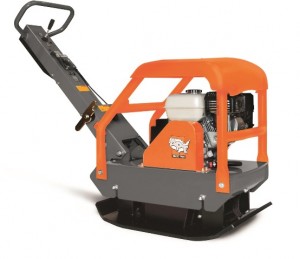 Ideal for compacting medium to deep layers of granular soils, APT reversible plate compactors range in operating weight between 355 pounds and 1,719.6 pounds, and offer a high-speed, balanced design with a hydraulic control system for easy, precision handling even in the toughest applications.
APT reversible plate compactors come standard with a hydraulic forward/reverse lever, a heavy-duty protection frame and impact-resistant steel covers. Models RP160 – RP400 feature gas-powered Honda engines, while Hatz Diesel engines power the RP500 and RP700 models.
Rammers
Ranging in operating weight between 145.5 pounds and 187.4 pounds, APT rammers are ideal for repair jobs, trenches and foundation work. Featuring a multi-functional fuel tank with a breather shut-off, electrical shut-off and throttle control with three fixed positions (Stop/idle/run), APT rammers are built with a robust steel frame and efficient shock absorbers to provide improved traction and easy operation.
Walk-behind Trench Roller
With its superior traction, the WR85-33 makes work on cohesive and granular soils easy. The APT trench compactor is suitable for back-fills, foundations, parking lots and similar applications.
With an operating weight of 3,695 pounds and an 18-inch drum width, this Bluetooth radio-controlled, walk-behind trench roller comes standard with a Hatz diesel engine and is equipped with an emergency manually controlled system, which includes an emergency push-stop bar and a safety push-stop button.
"The APT light compaction line is engineered for versatility and optimal performance in a variety of applications, including granular soils, crushed aggregate, paving, and asphalt patchwork," says Darrell Engle, product manager, light compaction, APT. "We offer a complete range of light compaction solutions for the rental market."
APT Portable Compressors
APT's portable compressors offer compact, efficient, and economical solutions on the jobsite. Powered by EPA-compliant Kubota or John Deere diesel engines, the compressor line offers a reliable source of compressed air to power pneumatic tools, as well as high free air delivery applications such as sandblasting, and many construction and mining applications. All models comply with current EPA safety, exhaust and noise regulations.
With robust undercarriages and heavy gauge corrosion-resistant Zincor steel bodies, APT portable compressors are built for high performance and durability in the toughest conditions.
Designed for optimal fuel efficiency, all APT compressor models feature a stepless, fully automated regulator, which continuously monitors air demand and varies engine speed according to the application.
"Depending on jobsite conditions and the location of equipment, refuelling a compressor can result in downtime that is often overlooked," says Rich Elliott, product manager, compressors, APT. "The fuel regulation system on these machines allow a crew to work an entire shift without the need to refuel. The durable design and superior fuel economy of APT portable compressors make them a great solution for the rental market."
All controls are located on a single panel for easy operation, and quick-access hoods, side panels and sound baffles allow for accelerated maintenance and reduced downtime. All models come trailer-mounted with road lights as standard, which a variety of options are available, including cold weather kits, aftercoolers and more.
Portable Generators
APT generators offer standard features that maximize safety and minimize environmental impact. Applying insights gained from industrial customers, rental companies, public utilities, and other end users, APT generators are designed to withstand the most demanding on-site conditions and environments.
All models feature sound-attenuated, rugged steel enclosures, easy access for superior serviceability, single point lifting eye, and digital controllers with multiple built-in features including low fuel warning and automated service interval notifications.
APT generators feature rugged Zincor steel, powder coated canopies, and come with either heavy-duty skid or trailer mounted options. Designed to handle extreme weather conditions, APT generators feature weather protected enclosures, and a frame with 110% containment of all fluids, including fuel. This prevents the possibility of environmental contamination.
Designed for efficient transport and handling, APT generators feature carefully selected components and design configurations to ensure increased up-time when powering critical applications. Designed for easy service and reduced cost-of-ownership, APT generators feature 500-hr service intervals.
"APT's stringent manufacturing standards follow ISO 9001 quality assurance regulations, and all components are produced and tested to exacting standards for optimum performance," says Jim Siffring, product manager, generators, APT. "These generators are often powering any number of critical applications, and we make sure that they are as reliable as possible for our customers and end users."
Hydraulic Breaker Attachments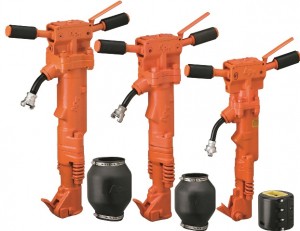 APT hydraulic breakers incorporate some of the most advanced technology in the breaker market. Designed with fewer components for increased life, as well as advanced noise and vibration damping, APT's AB-Series hydraulic breakers are built for high-performance and durability.
Designed for optimized durability and serviceability, the AB-Series hydraulic breakers feature a one-piece cylinder/tool holder construction, which eliminates strain and reduces the risk of seizure. This structural configuration eliminates the need for tension bolts, often seen on traditionally designed hydraulic breaker attachments. The AB-Series breakers also include a replaceable cylinder sleeve design, which reduces overall costs and repair time.
The larger breaker attachments also feature an active ventilation port, which protects the breaker from wear by reducing dust intake into the tool bushings. Double tool retainer bars ensure optimal working tool guidance, and an innovative Power Stop feature reduces strain on the breaker and carrier caused by dry firing.
"Our hydraulic breakers feature several technological innovations designed to improve performance and durability on the jobsite," says Kevin Loomis, vice president and business line manager, heavy equipment, APT. "We are confident that these innovations will challenge the marketplace, and help to define a new standard in hydraulic breaker design."
AB-Series hydraulic breakers are available in a variety of sizes to fit carrier weight classes from 2,900-lb to 61,800-lb.
Tags:
American Pneumatic Tools