Many contractors rely on compact excavators for powerful and precise demolition work. Whether you're working on sidewalks, curb work, parking lots or demolishing larger concrete structures, projects near roadways or in urban areas often require the small footprint and maneuverability of compact equipment. Other compact machine options often aren't as productive as compact excavators on demolition sites. For example, your skid steer has the power and versatility to tackle demolition work but has limited reach, and a larger loader with a wider tail swing can't maneuver as easily inside a structure or near roadways.
The use of compact excavators can also save on tedious manual labor. They get the job done faster and more efficiently than hand labor would, and excavators are compatible with a full range of attachments at varying price points. One of the most common attachments for compact excavators is the hydraulic breaker. This ubiquitous attachment can be found on any demo jobsite around the world, but that doesn't mean you have to use whatever breaker you have on hand or whatever your rental yard has available. Ninety percent of the hydraulic breaker market is based on the traditional hammer design, and many have grown to accept it. But the truth of the matter is that there have been many technological advancements in breaker technology, and there are several things you should consider when choosing the right hydraulic breaker attachment for a compact excavator.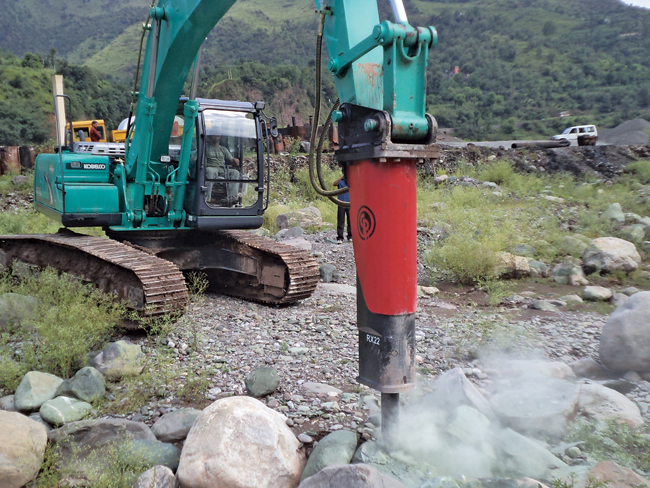 Considerations
Most lines of breaker attachments are available to accommodate carriers anywhere from 3,000 up to 160,000 lbs (compact excavators typically weigh between 2,000 and 30,000 lbs), so the first thing you'll need to know in order to choose the right breaker attachment is the weight class of the carrier.
"Additional considerations for the carrier itself are tipping load, the length of the stick, overall lift capacities and its hydraulic flow characteristics, such as the operating pressure, hydraulic flow rate and auxiliary flow rate," says Greg Petherbridge, product manager of CP hydraulic attachments, with Chicago Pneumatic Construction Equipment.
The next step is to select the right breaker attachment. As an example, say a contractor in New York City owns a Takeuchi TB228, which is around 6,100 lbs. This contractor decides to invest in a breaker attachment for demolition work, so he needs something that will not only fit his machine properly, but something that matches the hydraulic flow requirements and maximizes the capabilities of the carrier. So, our contractor has an excavator weighing in around 6,000 lbs with an auxiliary hydraulic flow pressure that is adjustable up to 3,000 psi. This is on the lighter end of the spectrum, even for compact excavators, but this is nevertheless a powerful machine, and its size is ideal for urban demolition work. He is going to need a light breaker attachment that will maximize his capabilities.
"No matter what attachment an operator wants to use on a demolition project," says Petherbridge, "the key to productivity is to make sure the machine's hydraulic flow and weight is matched to the attachment, and that it is easy for operators to change out and operate."
Modern Hydraulic Breaker Technology
When choosing the right breaker attachment, it is also important to consider some of the recent improvements in the technology. For instance, some manufacturers have integrated valuable features like noise damping technology, advanced control valves and automatic lubrication systems that drastically improve power and performance. Manufacturers have also made extensive improvements on the overall design of modern hydraulic breakers, reducing the amount of overall parts and making energy transfer more efficient.
"The traditional breaker design that has been around for decades, that we have all grown accustomed to, typically features tie-rods and cross studs that wear very quickly and require a lot of maintenance, as well as many other moving parts and stress points," says Petherbridge. "We have developed our line of breakers to eliminate the need for side bolts and cross studs, to reduce the amount of moving parts, and we have also integrated noise and vibration damping technology — this is valuable both from an ergonomic standpoint, reducing overall noise levels, and from an efficiency and performance perspective as well, reducing stress on the typical wear points on both the breaker attachment and the carrier itself."
Choosing the right modern hydraulic breaker can actually increase the life of your compact excavator. By reducing the amount of moving parts and incorporating noise and vibration damping, today's hydraulic breaker manufacturers are able to help reduce the stress on the bushings and pins that often wear out on an excavator during heavy use.
Maintenance
Of course, maintenance is a critical factor for both the excavator and the breaker attachment. Some new hydraulic breaker attachments on the market feature auto-lube functions that reduce the amount of overall maintenance, but it is still recommended that you inspect the internal components at least once a year.
"It is a good idea to regularly check the implements you are using," says Petherbridge. "And it is suggested that standard maintenance intervals are followed to make sure proper tolerances are kept up on normal wear items like tool bushings and tools, which are common wear items on all breakers. The most important key to productive operation is that operators must always follow the manufacturer's recommended guidelines for safe operation — it is especially important to follow all weight requirements for compact excavators and their attachments. Stability is critical for safe, productive operation on any jobsite."
Brandon Jaynes is a technical writer with Performance Marketing, based in West Des Moines, Iowa.
Hammer Operation   
Before You Start Breaking, Understand a Few Basic User Tips  
Before rolling onto a jobsite, it's important for an operator to understand his or her surroundings and work environment. Personal protection is also needed. Operators should always wear the proper safety gear and refer to OSHA guidelines prior to starting on a project. When operating a hydraulic hammer, it's important to keep the tool at a 90-degree angle to the material that it is breaking at all times. This position keeps the hammer working properly and prevents any damage to the attachment. Avoid small irregularities on the surface, which will break easily and cause either idle strokes or an incorrect working angle. Use the excavator's boom to press the hammer firmly against the object. Do not pry the hammer with the boom, as this will definitely break the tool.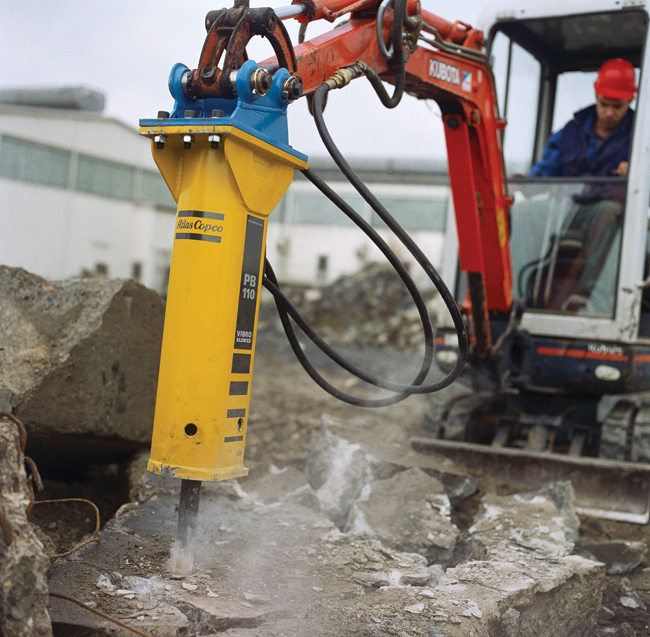 If the object moves or its surface breaks during use, the operator should immediately correct the tool's angle. Constant idle strokes can cause the hammer and side plates to wear out more quickly. Operators should also not use a hammer in one spot for more than 15 seconds. Working too long in one spot will produce stone dust under the tool and dampen its impact effect. This can cause the tool to overheat and reduce its overall life. If an object does not break in that time period, stop and change the position of the attachment.