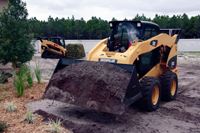 At our office, only the finest models are tagged for further study. The most curious and cutting-edge brands of small equipment are captured, researched and reviewed to inform our readers who work in the big asphalt jungle every day.
For the final installment of Compact Equipment in 2007, we open up the gates to an exclusive equipment zoo to share the most advanced species of machines that we discovered this year. In 2007, the manufacturers in North America released brand new schools of equipment, attachments and technologies into the wild, and even the most in-touch construction contractors, landscape crews and rental yards have a hard time prospecting the growing herd to pick the best new equipment for their business model.
That's why we suggest you ask the zookeepers at Compact Equipment. When we're not investigating these new machines in the office, we're sending our expert analysts out on safari, hunting for inventive concepts at trade shows, conferences and manufacturer product launches. The best of these new releases we've brought here to our 2007 Innovations Showcase. Pore through the next 10 pages, find the 11 most interesting pieces of equipment unleashed during the last year and pick the newest tool for your machine troop.
Keith Gribbins is managing editor of Compact Equipment.
---
Built for Comfort
Cat's New C-Series Compact Loaders – Redefine the Luxury of the Working Experience

Perhaps more than any other people in the world, Americans are creatures of comfort. From our posh, gas-guzzling vehicles to our fancy electronic gadgetry, we pride ourselves on having the coolest and most comfortable accoutrements within arm's reach. Yet, one of the most uncomfortable machines on the jobsite is an American-made invention — the skid steer loader — so it was only a matter of time before a local manufacturer like Caterpillar gave these popular tool carriers the luxury makeover they deserve.
Cat's new C-Series compact loaders redefine the opulence of a skid steer with class-leading features like sealed and pressurized cabs, independently adjustable seat mounted joystick controls, added visibility (the front, top, rear and side), air ride suspension seats, high performance A/C and heat options and even satellite radio-ready cabs. Four new Cat skid steers (the 246C, 256C, 262C and 272C) and three new Cat multi terrain loader models (the 277C, 287C and 297C) get overhauled.
The new C-Series multi terrain loaders are being introduced with all the same options as the skid loaders, but with added selections in single or dual level undercarriage suspensions and a two-speed feature available for fast movement around large sites. Also be sure to check out the company's unique High Flow XPS system on all the new models (a mighty auxiliary flow hydraulic system that supplies 33 gpm of hydraulic fluid to the attachment).
All of these new loaders have hopes of setting new standards in custom outfitting. The new Cat C-Series will make great gifts for landscapers, general construction crews, industrial clients, heavy construction groups, farmers and rental yards. Contact a local Cat dealer for pricing. RS#65
---
Guiding Light – Terex's Flexible Light Tower Extends, Rotates and Pivots to Adapt to Your Jobsite
Terex is taking portable lighting in new directions. With the introduction of its newest light tower, the Terex AL8000 HT, contractors will have the flexibility of 359 degrees of rotation to focus their phosphorescent glow.
Users can easily spotlight their application with up to eight 1,000-watt lights. Each light pivots in two perpendicular directions — front-to-back and 360 degrees side-to-side — to position the light fixtures in a precise direction. In addition, the mast can be hydraulically rotated 359 degrees with its powered boom rotation.
With 28 ft of vertical height, 20 ft of horizontal outreach and 359 degrees of rotation, the hydraulic-powered mast on the AL8000 HT offers operators a full range of motion to position light right where it is needed exactly. The Terex AL8000 HT comes standard with four 1,000-watt lights and a 13.6-hp Kubota engine, producing 10 kW of electrical power with a 30-gal fuel tank. Operators have the option to upgrade the AL8000 HT to have eight 1,000-watt lights and a 34.5-hp Isuzu engine producing 26 kW of electrical power with a 60-gal fuel tank with spill containment.
A convenient auto-start feature is optional, allowing users to set up the unit to start and stop at predetermined times or with an ambient light-sensing photo cell, so it lights up the worksite and is ready to go when workers arrive. The Terex AL8000 HT light tower (distributed by Genie Industries) is a great gift for rental customers who contract general construction projects, as well as for road and bridge construction, government and municipalities, special events coordinators (concerts, sporting events, etc.), railroad construction and maintenance and mining operations. MSRP: $17,700-$27,500 RS#66
---
Impregnable Shell
– Atlas Copco's XAS 185 JD7 HardHat Portable Air Compressor Is Tougher than Nails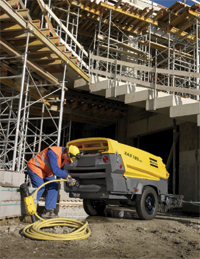 Some day, when force fields are the norm, perhaps Atlas Copco will no longer need to market its HardHat portable air compressor. Until then, features like the revolutionary polyethylene canopy of the XAS 185 JD7 HardHat will lead the way for innovative protection for construction equipment.
Ideal for the rental industry, the polyethylene shell is capable of withstanding the harshest environment, resisting dents, rust, corrosion and fading, but also minimizing damage brought on by the daily bumps and bangs received by small equipment. For the weekend renter, the HardHat can also be towed easily by any mid-sized SUV at a weight of just over 2,000 lbs.
The durability of the HardHat doesn't stop with the polyethylene canopy. A four-cylinder, 49-hp John Deere diesel engine and Atlas Copco's patented rotary screw air-end generates a guaranteed 185 cfm. Plus, the controls, lights and couplers are all tucked away and recessed to minimize the chance of damage and dual air couplers are at the rear for easy accessibility. The revolutionary design of the HardHat earned the compressor the coveted Red Dot award, an international design competition with over 6,000 entries from 52 countries, which is, along with the iF product design award, one of the most important international product design awards (next to CE's Innovations Showcase).
The XAS 185 JD7 HardHat from Atlas Copco is a great present for rental yards especially, but also construction and landscape contractors, utilities and municipalities, road crews, commercial building businesses and any other company looking at using air tools. MSRP: $18,353 RS#67
---
Working in the Zahn –
Ditch Witch Designs Three New Trenchers that Change the Tool Carrier Concept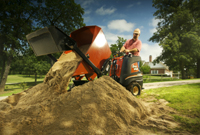 Remember the old adage ­— Jack of all trades, master of none? It's a saying you can apply directly to most tool carriers (from a mini ex to a tractor). A mini skid steer for instance can handle everything from a trencher to a backhoe attachment, but can it work more efficiently than a dedicated trencher or backhoe unit? No.
This perplexed Ditch Witch scientists, who have already created cool tool carrier concepts like its mini skid steers and excavator tool-carrier series. So, the equipment architects at Ditch Witch went back to the lab and designed the new Zahn — a tool carrier that works just as good as a dedicated piece of machinery.
Ditch Witch classifies the three new Zahn machines as trenchers and they all start off as dedicated diggers. Some of the new Zahn Series are also engineered to be mobile power units with the ability to attach to a set of compatible front ends — trencher, plow, dumper, tiller, backhoe, stump grinder and a tool carrier that can drive more than 40 quick-change attachments (from the company's mini skid steer line).
The biggest of the three is the Zahn R300 (in a two- and four-wheel drive version), which Ditch Witch says is the most powerful, productive and fastest trencher in its class. Using a 30-hp Kohler gas engine and nearly 12 gpm of hydraulic flow, the two-wheel drive R300 can power two types of front-end trenchers, while its four-wheel drive InterChange counterpart accepts up to seven types of front ends. Both offer a stand-on operator's console and an articulation joint that enables the unit to maneuver easily on jobsites and roll softly over sensitive lawns.
The Zahn Series makes a great gift for utility contractors, pool builders, construction contractors, homeowners, farmers, landscape professionals and especially the rental yard owner. MSRP: $11,500-$22,000 RS#68
---
The Total Package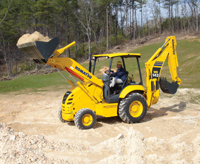 Sometimes one revolutionary feature makes a machine innovative — other times it's the sum of its parts. When considering the many backhoe loaders released in 2007, we admired the total package of Komatsu's WB142-5 the most. Great visibility, deluxe comfort, smart size to power ratio and excellent controllability topped the pros of this piece of dig-and-load equipment. The bucket breakout force is 11,351 lbs and the maximum dig depth is 14 ft, 2 in.
The production of the WB142-5 begins with the operator platform that provides 360 degrees of visibility and excellent front visibility because of the steep slope angle of the engine hood, corner mounted exhaust and front roof cut out. The WB142-5 is easy and intuitive to operate because all electrical control switches are located in one area on the side dash. Add tandem gear hydraulic pumps providing 37 gpm and fast cycle times will be the norm on every jobsite. MSRP: $73,840 RS#69
---
Easy Rider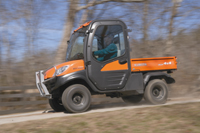 It was a year for operator amenities. For utility vehicles, Kubota's RTV1100 explored a new realm of quality off-road riding with its Premium Grand Cab. This is the first available utility vehicle engineered for all-weather protection and comfort with a factory-installed cab, standard air conditioning and heater and defroster.
The Premium Grand Cab is constructed around a unibody frame to ensure a smooth ride, enhanced stability and one of the quietest cabs in the industry (with ride quietness of 83 dBA at maximum rpm). Additional safety, comfort and convenience features include retractable seatbelts, a large and accessible under-seat storage area, padded headrests, premium cloth seating and pre-wiring for an optional AM/FM radio/CD player. Get it colored in Kubota orange or Realtree Hardwood Camouflage and tool around a jobsite or your extra acreage in comfort. MSRP: Starting at $16,999 RS#70
---
Think Small – John Deere's New 17D Compact Excavator Retracts into the Smallest Jobsites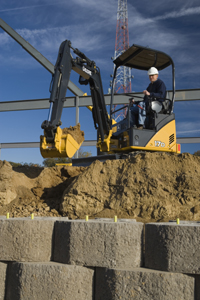 It's true that John Deere can be narrow-minded. When the company sat down to redesign its smallest line of mini excavators, engineers created a model with a retractable undercarriage that was all about thinking small. The 17D compact excavator can retract its rubber track from a 50-in. width to less than a 40-in. width, and its new backfill blade is fitted with foldable end sections — swinging inward to match the narrow-minded undercarriage of the 17D.
In addition to the adjustable width, this reduced tail swing 17D also provides improved performance specs, including 14.8 hp of engine power, 2,316 lbs of arm force strength and 3,597 lbs of bucket dig force. Hydraulic flow is 10 percent greater, bucket dig force is 19 percent higher and overall unit noise is quieter than its predecessor.
Maintenance is fast and simple, since all service checks can be done by opening just two covers. The new unit's monitor has been redesigned for better visibility, and repositioned pilot control levers are now located to the left and right sides of the operator (the same as all D excavators). The John Deere 17D compact excavator is a great gift for utility companies and rental lots, but every professional from a landscaper and a pool contractor to a retaining wall team and a golf course groundskeeper can find a use for this slim and powerful machine. MSRP: $29,280 RS#71
---
Small Wonder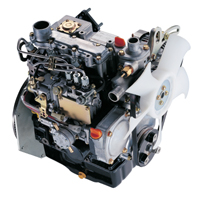 Yanmar was founded in 1912, developing the world's first commercially viable small diesel engine by 1933. This past October, at the GIE+EXPO landscape show in Louisville, the company announced its next revolution in diesel power — the new MiniMax Series. The MiniMax power solution is one of the smallest diesel engines on the market, engineered to work in lawn and garden equipment, small agricultural machines, utility vehicles and compact generators.
The 3TNM68 model is the first in this series released. The 784-cc, three-cylinder Tier IV compliant engine utilizes Yanmar's proprietary indirect injection technology to achieve low fuel consumption and low emissions levels. The engine block for this ultra compact and high performance power plant employs Yanmar's latest structural technology to achieve low vibration, noise and size. Due to the compact footprint, the MiniMax is a perfect fit for applications that have tight space requirements and demand high, reliable power output. Additionally, the universal base attachment design means the MiniMax is perfectly suited to replace competitive engines, so watch out diesel OEMs. RS#72
---
Operator, Long Distance
Sometimes machines work in dangerous environments — ship and barge docks, nuclear power plants, foundries, mining projects and chemical plants — but that doesn't mean the operator needs to work there as well. With Bobcat's loader radio remote control system, Bobcat skid steers and compact track loaders with selectable joystick controls have a simple solution for customers who want to operate their loader remotely.
Operators can start the loader engine and operate the drive, lift, tilt and auxiliary hydraulic functions from approximately 1,500 ft away with the radio remote control transmitter. The transmitter joystick controls activate the loader's joystick controls in the ISO control pattern. The system is useable for up to 15 hours on a rechargeable battery. Installation takes less than an hour and the transmitter weighs 8.5 lbs without the strap. Once installed, a machine can be switched between remote control and machine (direct) control with the turn of a key. MSRP: $10,000 RS#73
---
Mr. Manhole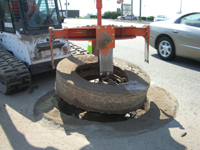 Engineers are aware that although the manhole chimney accounts for only 10 percent of the manhole structure, it is responsible for 50 percent of the leakage. Now there's an easy fix for these damaged sewer doorways using your trusty skid steer or track loader.
The Mr. Manhole system can quickly cut and remove a manhole frame and lid down to the cone level and rebuild it level with the height and slope of the road, guaranteed not to leak with a 20-year design life. The system works on a skid steer (or better yet track loader) and uses a plastic, stay-in-place form to prevent water and gas from deteriorating the cast-in-place, epoxy-coated, re-rod, reinforced concrete collar. The attachment works off an auger drive to spin and cut through asphalt and concrete, removing the manhole casting and road over-cut in just minutes. The tool works best on a unit with at least 20 gpm of flow and any auger drive will work (no special controls or hydraulic circuits are needed). MSRP: $16,500 RS#74
---
Ground Hog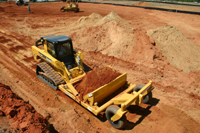 On large earthmoving projects, mammoth scrapers are in constant motion, cutting out king-sized lots of mud and rock quickly. But what if you need to move truck loads of dirt on a confined worksite? Then you call in the Ground Hog scraper attachment from Ashland Industries. Ashland's long history in earthmoving equipment has made this entry into the attachment market truly original.
Just as the tag line suggests the Ground Hog will dig, dump and deliver 2.5 to 3.0 yds in each scraper-load, tripling the normal carrying capability of a bucket-equipped skid steer or track loader (although tracks work better). Finally, the Ground Hog will dump, shape and do finish work as required. All of a sudden, you don't have to bring in all of the big equipment — excavator, hauler and dozer. Easily complete sidewalks, driveways, sports fields, trails, golf course work and any other small site development. MSRP: $15,450 RS#75
Tags:
backhoes
,
Caterpillar
,
Trenchers