Today's construction contractor needs a diverse portfolio to stay busy. A résumé of versatile services is key to finding new work opportunities in growing markets. You might have noticed that nonresidential construction is probably going to see a double-digit decline in 2010, but residential construction is expected to begin to recover this year, with a slight increase in residential improvement construction.
Residential improvements include a multitude of opportunities for diversified contractors. Building additions, reworking landscaping, making homes more energy efficient and repairing and installing utilities are just a handful of reconstruction applications that accompany cosmetic remodeling (like revamping the kitchen or replacing windows and shingling). To tackle residential improvement's many varied missions, crews will need a core piece of equipment that can fit into urban areas, do a little of everything and not break the bank in terms of purchase or rental.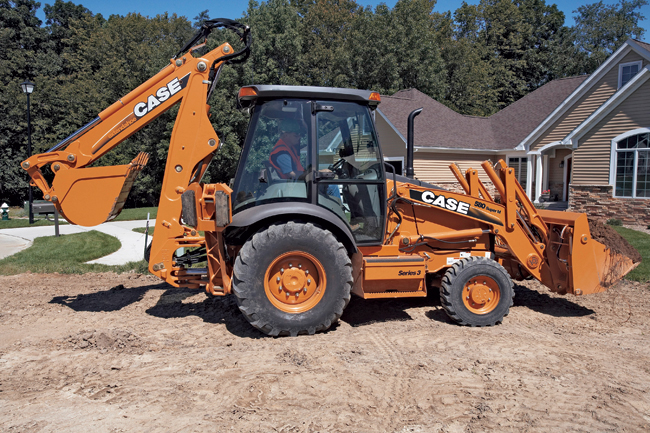 "The construction market is driven by the economy," explains Bud Martin, field sales manager for TerraQuip Construction Products Inc. (manufacturer of Terramite compact backhoes for 45 years). "Changes in the economy swing the focus to either new construction or renovation and repair. As the market cycles, machinery types follow accordingly. Tractor loader backhoes have done well over time when it comes to renovation and repair because of their versatility and their ability to fit many job and market requirements. By packaging the loader and backhoe together in a multi-functional unit, it eliminates the need for two machines, in a lot of cases, making it the least expensive method to complete jobs in down markets."
By simply spinning a seat from steering wheel to joysticks on a backhoe loader, an operator can have the two basic principles of construction at his or her fingertips — the dual capacities of excavation and load and carry. On almost any jobsite across the country (from landscape to utility work), dig-and-load operations are a must, and oftentimes, the combination of a skid steer and compact excavator fits the bill. However, as jobsites become less accessible for equipment and the costs of two machines just becomes too much, contractors are beginning to look for an all-in-one solution.
"The dual functionality of loader backhoes allows operators to combine the power of a wheel loader with the versatility of an excavator into one dynamic machine, thus cutting operation costs and increasing productivity," says Tom Reith, product manager with Terex Construction Americas (makers of four dedicated backhoes in its TX product line). "They are popular for site preparation, digging, trenching, installing or site cleanup. In addition, contractors can use a backhoe loader to load and unload trucks, to break up concrete and to dig postholes. Both public and private utilities put backhoe loaders to good use, particularly when it comes to installing or repairing gas, sewer, water, cable TV and fiber-optics lines. They're diverse machines, so it's important that you understand what you want your backhoe loader to do."
The Divisions of Backhoes
Before deciding on an exact model or size, consider that backhoe loaders are categorized by the dig depth of the backhoe — the most popular size being 14 ft. Most companies will break down their backhoe line into 2-ft dig depth increments — 8, 10, 12, 14 and 15 and 17 ft are the most popular depth ranges. Compact backhoes are usually considered 12 ft and under, the popular mid-range is 14 ft and full-size backhoes are usually 15 ft and above.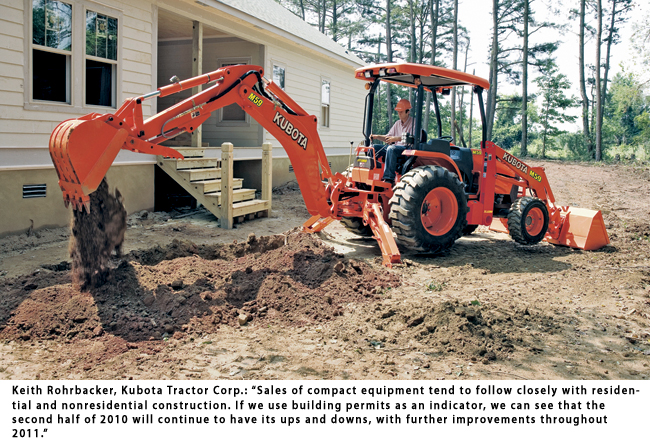 In all of those depth categories, backhoe loaders still cover a wide range of specifications — 20- to 130-hp
engines (usually diesel), operating weights from 3,000 to 27,000 lbs and bucket breakout capacities from 3,000 to 11,000 lbs. Pricing also ranges from $15,000 to $40,000 for compacts and $50,000 to $175,000 for the biggest and most luxurious models. Units today are manufactured by big brand names like Komatsu, Caterpillar, Yanmar, Kubota, John Deere, Case, New Holland, Volvo, JCB, Terramite and Terex. There are definitely a multitude of unique product offerings on the market, probably because at one time North America used to be the biggest market for backhoes around the world.   
"When you group it as a whole and look back 10 years ago, 50 percent of the market was in North America," says Jim Blower, senior product marketing manager for JCB (The inventor of the backhoe loader in the 1950s). "Now it's down to 25 percent. It has a lot to do with all those developing countries coming up. You're looking at Latin America, across into the Middle East, into Asia and India for example — those are booming markets for the backhoe. Backhoes really go off the housing market in North America and will go up or down depending on that business."
According to manufacturers that CE surveyed (seven for this story), around 9,000 to 10,000 backhoe loaders were sold in 2009. That's less than half the 2007 market, when the U.S. backhoe industry was hovering around 23,000 machines sold overall.
"The industry encountered one of its sharpest declines in history in 2009 due to the poor overall economic conditions," says Dave December, New Holland marketing manager, makers of four different backhoe options. "Due to the recent poor economic conditions, governmental business has accounted for a higher percentage of sales than in past years. As the housing market rebounds, contractors will once again account for a much larger share of the loader backhoe sales."
Backhoes of all sorts are still a staple in North American fleets today. The dualism of dig-and-load applications are needed on most jobsites — whether it's excavating a landscape to build a water feature or creating a trench to repair utilities. That's why the history of the backhoe loader goes back 50 plus years.
"The backhoe loader has been around a long time and its future is solid," says Martin. "They still remain a centerpiece of equipment for many owner/operators and larger contracting companies. Improvements in engine performance, serviceability, enhanced hydraulics and enabling them to utilize a broad range of attachments ensure its continued success."
Testing the Market for Yourself
Purchasing or renting a backhoe loader for your varying needs will entail a bit of research and a bit of test driving. Comparing visibility, mobility, versatility and overall machine strength and durability will be well worth your time. While those first backhoes long ago were built big and brawny — constructed using large tractor chassis, big buckets and long backhoes, engineered for big jobs in wide-open spaces — many of today's backhoes are concentrating on small and maneuverable units that are also great tool carriers (able to take attachments).
"Due to their versatility, performance and rubber tired mobility, backhoes can be found wherever construction work is going on," says Kevin Hershberger, senior market professional for Caterpillar backhoe loaders, which has a 25-year history building 14- to 17-ft dig depth classes. "Building construction, highway work, landscaping and utility installation work are among the most common applications. Our approach at Caterpillar is to keep in touch with our customer base to ensure we're providing the best solutions to those job challenges. For some, that may be compact machines, for others it will continue to be traditional backhoe loaders. With our broad product line at Caterpillar, we can offer multiple options."
Versatility allows for a diverse approach, especially when taking on a growing market like housing improvements. Plumbing and electrical contractors will use loader backhoes to repair and install utility lines and septic tanks, using the backhoe to trench a straight line and the loader to perform light backfilling applications. General contractors will dig foundations, tearing up driveways and transporting spoils. Homeowners even dabble in the market as renters, installing and repairing underground utilities themselves or installing construction-focused landscaping.
While quality is a relative concept, there are plenty of fair criteria on which to judge a piece of equipment — safety, design, power, fuel economy and price are just a few examples. A good start is to ask for a demo, running the backhoe loader through a few paces on a jobsite.
"Look at the type of transmission — a hydrostatic transmission will be easier to use than a manual gearbox," says Bob Tyler, product marketing manager for backhoes at John Deere Construction & Forestry Div., which started making units in 1966. "Ensure the loader has an easy-to-use boom lock that cannot be removed from the tractor — safety is the No. 1 consideration when working under a raised boom. When comparing machines, make sure you compare machines of equivalent dig depth and net horsepower."
While demoing a unit, be sure to keep an eye on the general construction of the model and its unique and standard features. A loader quick-coupler would be important if changing attachments occurs regularly (bucket, pallet forks or an auger). Four-wheel drive, all-wheel drive and differential lock improve mobility in mud, sand, snow and in tight quarters; two-wheel drive is typically available and always cheaper.
Be sure that the arm crowd force and bucket breakout force meet your requirements. The loader must have the lift capacity you need with bucket or pallet forks mounted and must have enough lift height to clear the sides of your loading bin or truck. Most compact backhoe loaders fall in the 8,000-lb weight class and are only about 6 ft wide, so they're easily transportable and turf friendly. Others may weigh more than 9,000 lbs and require commercial trailers and special driver's licenses, like a CDL. Also, some may consider heavy weight a detriment when on soft surfaces or for rental applications. Other great questions to ask yourself and your dealer:
Hydraulic attachment operation — proprietary, PTO or skid steer compatible?
How simple is the machine instrumentation?
What's the fuel economy and tank capacity?
Controls — levers, joysticks, servo — are they intuitive and easy to use?
Is there a smooth ride while traveling?
How easy is entry and exit?
Operator space — is it comfortable for larger operators?
Do you need to jump off the machine to switch from backhoe to loader functions?
What's the visibility like from both the loader and backhoe operating positions?
How much does this all cost?
Operator Stations, Telematics, Implements and Onward
Today's wide range of backhoe loader options have gotten technically progressive and fairly posh. Cabs have
evolved significantly, with ergonomic designs becoming standard. Using joystick controls to reduce stress on the operator, cabs are now equipped with air conditioning, heating, air suspension seats, mobile phone chargers, electronic control panels, satellite radio and some even have beverage warmers (JCB just released one). Scaled-back ROPS canopy versions are always available as well.
From inside the cab, take a good look at the backhoe boom construction (it's where you'll spend 70 percent of your time, say manufacturers). Most models offer a curved boom today, but straight ones are still available. The curved boom provides extra clearance, which is a benefit in truck loading operations, digging over foundation walls, working around other obstructions and transportation. When checking out the boom also take a look at the backhoe's stabilizers, ensuring the availability of both grouser shoes (which provide a firm grip on dirt) and rubber-padded shoes (for use on asphalt). Other options like ride control, parallel lift and travel speed (some up to 25 mph) are important considerations.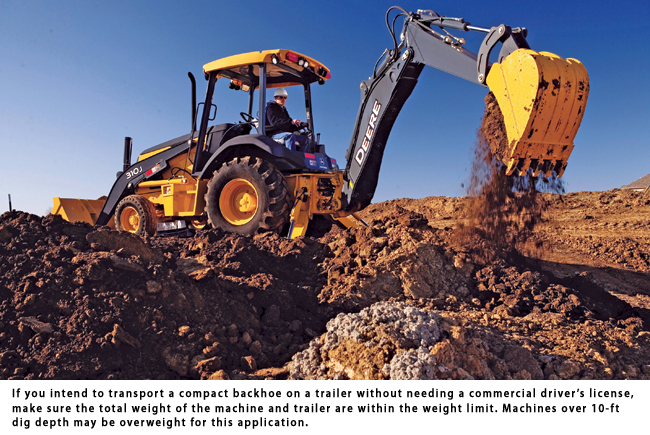 "The contractor needs to be aware of the machine configuration when buying or renting," says Reith. "Contractors should decide if four-wheel drive, an extendable dipperstick and additional buckets would help complete the task at hand, and perhaps a multi-purpose bucket on the front of the machine. Having the correct configuration can save both time and money. For example, if a contractor plans to use the machine in demolition, then a thumb attachment on the excavator-end would be very helpful."
Attachment systems can be equipped to both the loader and backhoe end of a unit, using standard and multi-purpose buckets, thumbs, hydraulic breakers, forks, angle dozers, augers and compactors. The John Deere 110TLB actually uses the same loader coupler attachment system as a Deere skid steer on its front and the same rear coupler attachment system as a Deere mini excavator on the back. Many others models are compatible with skid steer attachments and some smaller tractor chassis units have the ability to remove the backhoe for PTO implements.
"The beauty about the backhoe loader is that there's no one best use," explains Keith Rohrbacker, product manager of construction equipment for Kubota Tractor Corp., now on its third generation of backhoe loaders. "Instead, they are extremely versatile because it is essentially three machines in one:  a loader, a backhoe and a three-point implement tractor — with the maneuverability of a compact tractor for use in tight places. And whether changing from loader to backhoe or removing the quick-attach backhoe to expose the Category 1 three-point hitch, the operator can quickly and easily switch attachments to match the next task."
Many manufacturers from Komatsu to Caterpillar are also offering diagnostic and security options through what's called a telematics system. For example, Terramite offers the DPL TITAN system that automatically sends information about backhoe usage, location and health to a user's computer (even through cellular transmission to the owner's account for review). Yet a lot of people aren't sure how popular those technologies are on the smaller compact utility machines.
"When you're getting into higher dollar machines, like an excavator in pure production applications, those technologies are more popular," says Blower. "At the end of the day, the backhoe is still the odd job machine around the jobsite — they can do a bit of everything. If you try to trench with a backhoe and an excavator side by side, the excavator will be more productive. When you're putting more and more technology into a backhoe for it to be a production machine, the price goes up so high that you're competing with other equipment that ends up being cheaper and more productive in the end."
Overall, it seems that efficiencies are the key to a good backhoe loader today. When JCB released its new units to the market at Bauma this past April, the company launched its EcoDig hydraulic system, EcoRoad travel system and EcoLoad work group aimed at improving overall efficiencies within a unit (and lowering overall fuel consumption by 16 percent). Other companies like John Deere offer exclusive features like its Total Machine Control (TMC) system, which makes the ultimate electro-hydraulic backhoe, providing unique features like true parallel lift, boom height kick-out and return to carry for the loader, as well as three speed dig modes and a mini joystick for the backhoe. It's all aimed at making operators and operations more efficient.
"It's all about making our users more productive," says Tyler. "John Deere is the only manufacturer to offer PowerShift transmissions as standard equipment, eliminating a floor-mounted gear lever and providing smooth, no clutch shifting. For compact backhoes, features like hydrostatic transmissions and creep mode help with ease of use when moving the machine. The 110TLB even uses an electro-hydraulic control for the loader auxiliary hydraulics, which allows push button control of attachments like on a multi-purpose bucket. When you use these machines every day in commercial construction, these kinds of features are becoming essential."
Keith Gribbins is managing editor of Compact Equipment, based in Peninsula, Ohio.
Good Loader Backhoe Buys
Five Purchasing Tips from Bud Martin, Field Sales Manager for TerraQuip Construction Products
1. History is important. How long has the manufacturer been manufacturing its product?  Secondly, are there enough of the manufacturer's machines out there working to evaluate their performance, support and durability?
2. Initial cost is a concern, but more important is how well do other manufacturers' products hold their resale value over time?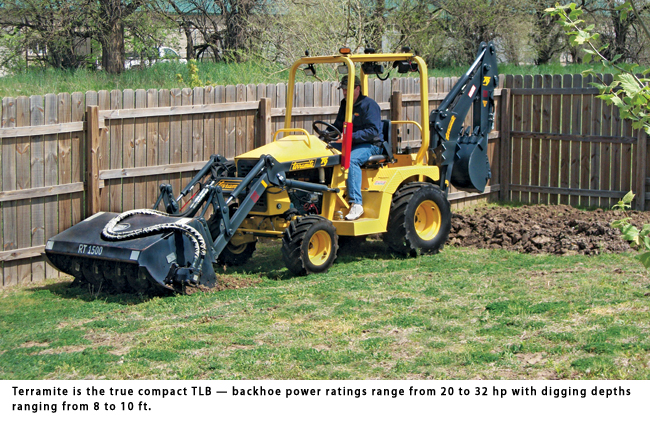 3. Is the machine built as a dedicated compact tractor loader backhoe (CTLB) or is it a machine with a loader and backhoe attachment? Will it last if used every day as a loader backhoe? Most machines built as CTLB's are generally more rugged and last better over time. They're built to handle the tough jobs of loading, excavating and backfilling. With these machines power is matched to the size and weight of the machine, as well as the loader and backhoe functions. These are the real issues when buying a loader backhoe.
4. You need to consider what types of work you will be doing with the machine. Things like how deep you'll be digging and how much weight you'll be lifting are important. Will the machine meet your requirements?
5. How will you be transporting the machine. Staying under the CDL requirements may be important. Is your truck heavy enough to transport the machine you will be buying or will you need to make an additional investment to transport the machine?
Side-Shift Booms?
By Bob Tyler, Product Marketing Manager for Backhoes at John Deere Construction & Forestry Division
Side-shift backhoes are a niche market in the Americas. However, throughout the rest of the world, the side-shift backhoe is the machine form of choice for backhoe customers. This is due in part to the environment in which they have to work.
In Europe, where the side-shift backhoe was developed, they needed a machine that could get into tight spaces and alongside older buildings that have been there for centuries in some cases. The stabilizers on a side-shift backhoe extend straight down and do not require extra room outside of the width of the tractor. Add to that the ability of the side-shift to slide up against the side of the building, and you can dig a straight trench right along the footings of the structure.
Center mount backhoes have stabilizers that extend past the width of the machine, and in so doing add stability when craning heavy loads out to 90 degrees from the machine. The reason they have been more popular in North America is that many of the buildings being constructed are new, and the backhoe is part of that process — in other words, there may not be a building there yet to cause an obstruction for the stabilizers. In addition, the sidewalks tend to be wider in North America, on which you can place a padded stabilizer. In Europe, the sidewalks tend to be narrower or nonexistent depending on the area.
All Things Considered
Dave December, New Holland Marketing Manager, Talks Buying Used Backhoes
When considering a used backhoe purchase, you should first look at the machine's age and number of hours of machine operation. The buyer should look at the typical wear points of the backhoe and loader, including hinge pin points and any wear pads. Check to see whether the backhoe or loader exhibits any looseness (slop) at the hinge points during machine operation. Ask the seller to provide a maintenance record for the machine.
Check the general cleanliness and condition of areas under the hood and behind side panels. Check the machine features and specifications vs. the general requirements for your operation. Is the loader bucket large enough for your loading requirements? If the customer uses the loader frequently to load trucks, does the loader include self-leveling? What is the hinge pin height and forward reach? How deep does the customer need to trench? Is an HED (hydraulic extendable dipper) required instead of a standard dipper? Look at the general specifications provided by the manufacturer. What is the backhoe dig depth? What are backhoe and loader lift capacities and breakout forces? What is the engine horsepower? What is the machine's overall operating weight? And hey, how are you going to pay for all this?   
Tags:
backhoes
,
Caterpillar
,
JCB
,
Volvo