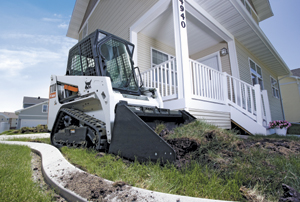 As the seasons turn from cold to warm, from ice to rain, from frozen turf to muddy earth, a particular machine is needed to navigate the spring metamorphosis. Professionals can't be bogged down by a swampy jobsite or a slow start to the work year. They need to be afloat, traveling above the mire, preserving delicate jobsites and continuing construction and landscaping. Over the last decade, in the small equipment spectrum, compact track loaders have become that season's first wave of machinery, sent in when job conditions are often treacherous.
"There has been an explosion in the track market over the last eight years where customers are looking for better traction, flotation, less ground disturbance and machine stability, which allows them to extend their working season and lift more than could be done with a rubber tire machine," says Kevin Coleman, senior marketing project engineer at Caterpillar. "Obviously the economic situation has had a negative impact on the industry sales for compact construction equipment, including compact track loaders, but we feel that with the right product line and the right dealer network to support the customers, this market will be primed when the recovery occurs."
Rolling on rubber or steel tracks, compact track loaders trudge through early operations like the specialty tanks in your fleet — able to tackle the icky change-of-season weather months. The machine's dedicated undercarriage gives added tractive power (great in dozing operations), yet dispenses the weight of the entire machine through multiple track contact points for a lighter footprint. Extra power, lower ground pressure and added flotation and traction — the advantages of compact track loaders can add ammo to any contractor's arsenal.
Large or small, vertical or radial lift, enclosed cab or just ROPs, basic or opulent, suspension or no suspension, cheap or expensive — today's market offers a wealth of choices for buyers. To help better understand this growing opportunity, we contacted a core group of industry heavyweights — Takeuchi, Terex ASV, Bobcat, Caterpillar, Mustang, Gehl, John Deere and Komatsu — to discover the newest and most interesting models, technologies, trends and tips in the industry.
What we found was slowing market growth (like most machine categories in 2008 and 2009, this is not surprising), but still a huge interest from manufacturers.
"The versatility of compact track loaders comes in numerous applications, including landscaping, commercial and industrial construction and utility work," explains Jodi Gulbraa, Terex ASV product marketing manager. "I think that's a big positive about the future of track loaders for 2009. Although there are certain market segments where sales are slower, other segments are healthy. By design, compact track loaders offer low ground pressure to minimize ground disturbance while maintaining excellent traction and flotation that keep contractors productive year-round."
Track 1— Transitions
The skid steer has been a principal equipment category for compact equipment for 50 years. But as maneuverable as zero-turn skid steers are, their vulcanized wheels still have trouble maintaining speed, grip and traction in wet, sandy and precarious project site conditions. Plus, skid steers have a tendency to tear up some lawns because of their ability to counter rotate tires and "skid."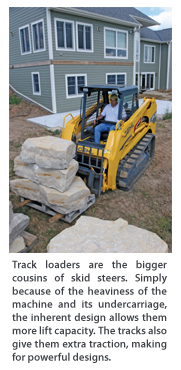 So in the late 1980s, ASV Inc. and Takeuchi began to design small loaders with a dedicated track system instead of tires. They called them compact track loaders, all-surface loaders or rubber-tracked loaders (people today also call them multi terrain loaders or just track loaders). Compact track loaders look and, for the most part, work like skid steers, except for their dedicated track undercarriage — a system of sprockets, tracks and idler wheels that distributes the weight of the loader.
"A compact track loader will operate in much of the same conditions as a skid steer loader or other machines, but can increase productivity and keep working when necessary," says Greg Rostberg, marketing manager at Bobcat. "These machines are great for landscape contractors since they can move across established lawns with less damage, saving the contractor time and money. This means other machines can be put to work at what they do best, and with less time spent on rework. As mentioned, the tracked undercarriage allows contractors to work in mud and soft soils when other machines can't, so any contractor that encounters these conditions often can take advantage of compact track loaders."
These armored tracked loaders are made to work where skid steers often have trouble. With a low ground pressure, most units have between 2 to 5 psi, compact track loaders can travel lightly over delicate surface areas — like pristine lawns — and not leave a mark. The permanent track undercarriages are perfect for working on or around shifting, granular materials (sand, gravel and dirt). Tracks also provide more surface area than wheels, increasing tractive effort, which means more power when it comes to pushing and digging. Compact track loaders are heavier as well. Combined with a better grip, these track loaders have enough stability to work on inclines and slick surfaces. Some manufacturers, such as Terex ASV, Bobcat and Caterpillar, have even engineered suspension systems into their dedicated undercarriages to make traveling smoother.
"The undercarriage suspension, on both Caterpillar's compact track loaders and multi terrain loaders, distributes the machine load to greatly reduce shock and vibration throughout the machine," says Coleman. "This suspension system provides a more comfortable ride along with greater load retention — especially when using the two-speed feature — when compared to many competitors. More comfort means higher speeds on the job, which translates into higher productivity. The suspension on the C-Series machines also helps keep the tracks on the ground during digging and grading and provides more traction at all times."
As opposed to a few years ago, there are now track and undercarriage options for these dedicated track tool carriers. Bobcat just introduced its all-steel track option at the World of Concrete in January. Available on three of the company's models, the steel track option is similar to the tracks used on bulldozers, ideal for customers who work exclusively in abrasive environments such as demolition or forestry. Ohio environmental equipment expert RAYCO has its C87L super crawler loader. Equipped with 16-in. steel tracks it's focused on traversing tough jobsites (especially forest and reclamation projects).
Terex ASV is the only compact track loader manufacturer to offer three different track options for the undercarriage. These include General Purpose Tracks, which provide excellent traction in most conditions, the Smooth Turf Tracks, providing ultimate care and protection on sensitive surfaces, and Extreme Terrain Tracks, with aggressive track treads and 10 percent more width. Although experts like David Steger, national product manager at Takeuchi Mfg., are quick to note that track options are useless if the product isn't engineered around its undercarriage.
"Takeuchi was the first compact track loader to use a purpose built, integrated track frame that was engineered from the ground up as a track loader," Steger says. "Since we do not manufacture skid steers, we are able to evaluate the application and design a machine that will hold up to the harsh applications track loaders can find themselves in. This can be seen just by operating any piece of equipment."
Bonus Track — Booms
(Feat. Vertical and Radial)
Today you'll find there are two main types of boom configurations for
skid steers and track loaders — radial and vertical lift. These
different booms are engineered to work in different types of
applications for different types of contractors. Radial is often
referred to as the conventional boom design, being the first pattern
developed. In a radial boom pattern, the boom pivots on one joint as it
moves up, naturally radiating — moving backward — as the load arm is
raised into its full position. Radial lift machines have traditionally
been used as digging machines or tool-carrier track loaders.
Vertical lift style track loaders are the other major boom style. These
machines specialize in load-and-carry operations, getting good lift
capacity by keeping the load close to the machine while the boom of the
track loader rises. Vertical lift machines have additional linkage that
allows the boom to pivot on more than one joint as it moves up, giving
it a true, perpendicular, to-the-ground movement. New Holland
Construction was the first to popularize true vertical lift with its
Super Boom skid steers. Since then, competitors have developed models
to the point where they all have at least a one-to-one ratio of radial
to vertical lift loaders on the market.
Since these units are often working through tough applications and even tougher jobsite scenarios, durability is a big focus.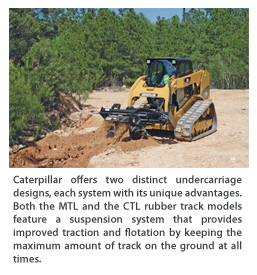 "Durability is key to getting the most out of your compact track loader, because contractors ask a lot of these versatile machines and need the uptime for them to perform," says Gregg Zupancic, John Deere product marketing manager. "John Deere compact track loaders make belt durability a priority with thick rubber, reinforced steel drive lugs and large bending radii. By using a single-flanged idler, there are fewer wear points on the inside portion of the rubber tracks."
A big focus for customers is deciding how each manufacture has engineered their individual undercarriage. Despite those differences, compact track loaders tend to work and act like their skid steer cousins. Often, they wear a bucket or set of pallet forks on the front and are used to dig, grade, backfill, load trucks and lift and place materials. They also run most of the same attachments as skid steers, using the same universal quick-attach system. Although, track loaders have some advantages — especially when using an attachment that requires extra traction.
"These machines really shine with any kind of landscape contracting," says Kelly Moore, product manager with Gehl and Mustang Mfg. "Any type of landscape attachment you can think of — from a land plane and a power rake to a landscape rake and the conventional auger — they're even more pronounced on a track loader, particularly anybody with pure, hard landscape construction applications."
Dozer blades and other grading attachments also see a big bump in productivity with compact track loaders. Attachments such as graders, box blades, landplanes and soil conditioners are great choices for track loader owners. Although it should be noted that compact track loaders are rated somewhat differently than skid steers. SAE defines the "rated operating load capacity" of crawler loaders and rubber-tired loaders to be 35 percent and 50 percent, respectively, of each type of machine's SAE "tipping capacity." As a consequence, many manufacturers have been using and listing both the 35 and 50 percent criteria to define the rated operating load capacity of these machines.
Track 2 — Mission Possible
Since their inception, compact track loaders have been expanding into new markets with a number of contractors because of their flexibility and versatility. First these machines were used just like skid steers, then users realized they could go into markets skid steers have never been able to enter.
"In addition to the construction and landscape installers who have understood the value and versatility of these loaders for years, we are also seeing an increase in use with other new markets," says Steger.
Asphalt contractors to operate planers and grade small areas.
Recycling and refuse locations using them to gather and separate debris and material. They are especially useful for use in storm cleanup.
Tree farms and tree services that require heavy lifting with minimal ground disturbance are finding they fit well into their business, especially considering the many types of attachments that are available.
Excavation contractors find it especially useful for digging and backfilling foundations or pools.
Farm and agriculture applications can benefit from the productivity in everything from routine cleaning chores to handling stockpiles or the final product.
Another popular emerging market is rental lots — not surprising into today's uncertain marketplace. Companies we surveyed estimated that 18 to 20 percent of the rubber track units are expected to be used in rental.
"Compact track loaders are great rental pieces. They tend to be better utilized and with the proper care and maintenance can be more profitable to most rental houses," explains Bob Beesley, product manager with Komatsu America Corp. "Extended work seasons due to lower ground pressure and less base disturbance along with higher tractive efforts allow more production."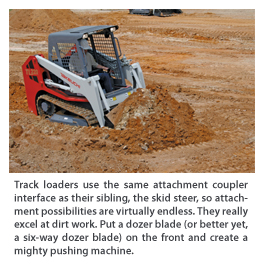 Considering the entire North American market in sales (including rental), the track loader industry has shrunk about 15 to 20 percent over the last year or more (peaking around 22,000 to 23,000 units a few years ago).
"There was no official reporting system for compact track loader industry sales until 2008. We believe sales in 2008 were down in North America at a total of approximately 17,500 units," says Coleman.
When considering skid steer sales have ranged from 50,000 to 70,000 units over the last decade, you can see track loaders have plenty of potential. Today certain contractors are still switching to or adding compact track loaders to their fleets as they discover the advantages of these machines. Whether it's the increased pushing power, the low ground disturbance or the ability to work longer seasons, some contractors are finding they can take advantage of a compact track loader to be more productive, save time and money and get them into the field when other machines — and other contractors — are unable to.
Overall, models range from 30 to 100 hp and operating capacities from 500 to 2,800 lbs (remember, that's rated at 35 percent tipping load). Mid-size loaders are generally the most popular machines, because they are generally big enough to handle most jobs, yet compact enough to get into small spaces.
"The most popular would have to be in the 2,000- to 2,500-lb range [at 35 percent tip], which is a little larger in size when considering a comparable skid loader," explains Moore. "Simply because of the heaviness of the machine, the inherent design allows them more lift capacity."
When it comes to finding the ideal unit, consider many of the same things you would on a skid steer — operating environment, creature comforts, spec checks, size constraints, speed, self-leveling, radial or vertical lift (see sidebar on pg. 23), brand, dealer and price, and of course, focus on the undercarriage. Each manufacturer creates a unique dedicated track system that has its merits and niche, so sample the market, talk to the dealer and demo a few units.
"Many people are turning to compact track loaders to allow them to accomplish a wider variety of jobs with one machine," Steger says. "While sales of all equipment today are off from their peak just a few years ago, compact track loader sales are still viable and will continue to improve as the market rebounds."
Keith Gribbins is managing editor of Compact Equipment, based in Peninsula, Ohio.
Laying Down More Tracks
What the Major Manufacturers Offer as the Top Track Loader Models
Bobcat — currently offers seven models of compact track loaders, from
the 47-in. wide 1,100-lb rated operating capacity (ROC) T110 to the
3,200-lb ROC T320. Bobcat offers its roller suspension system as an
option on the T180 through T320 models. The Bobcat-exclusive steel
track undercarriage is available on the T250, T300 and T320 models.
Caterpillar — currently has eight rubber track loader models in its
lineup. The rubber on rubber multi terrain line is comprised of the
247B2 (1,435-lb ROC) through 297C (3,005-lb ROC). The rubber on steel
compact track loader line is comprised of three units from the 279C
(2,240-lb ROC) through 299C (2,905-lb ROC).
Gehl — currently has four models of compact track loaders, from the
compact 3,358-lb tipping capacity CTL 55 to the giant 7,056-lb tip
capacity, 92-hp CTL 85. The CTL 75 and CTL 85 both feature high-flow
options. These products are made through an OEM agreement with
Takeuchi.
John Deere — currently has three compact track loaders, including its
newest, smallest model, the CT315 (1,500-lb ROC), the CT322 (3,200-lb
ROC) and the CT332 (4,600-lb ROC).
Komatsu — currently markets two compact track loaders in North America.
The CK30 is an 84-hp radial lift machine with a 2,680-lb ROC and the
CK35 is an 84-hp vertical lift machine with a 2,965-lb ROC.
Mustang — currently has four models of compact track loaders, from the
1,246-lb ROC MTL 312 to the 2,470-lb ROC MTL 85 with a 92-hp diesel
engine. The MTL 320 and MTL 325 feature high-flow options. These
products are made through an OEM agreement with Takeuchi.
Takeuchi — currently in its fourth generation of compact track loaders
known as the TL200 Series. It's made up of four models which include
the small and nimble TL220 with an ROC of 1,246 lbs to the rugged and
powerful TL250 with an ROC of 2,470 lbs.
Terex ASV — currently has seven distinct models, offering one of the
widest ranges of compact track loader models on the market with
horsepower from 30 to 100 hp and ROCs from 560 to 2,660 lbs.
Tags:
Caterpillar
,
Gehl