SPECS:
Platform Height: 43 ft, 6 in.
Platform Capacity: 500 lbs
Overall Width: 29 in.
Drive Speed: 0.87 mph
Battery Powered: 8 hours of life
Compact crawler booms just have a cool look — like some mechanized arachnid — its knuckling boom craning like a scorpion. Despite their awesome appearance, I was impressed by how safe, slow and evasive a compact crawler boom really is. It's a category of aerial lift machinery that's only recently been showing up on American jobsites, in warehouses, on tree trimming projects and in places where pros need to lift people and tools both up and over safely without moving the unit.
The JLG compact crawler boom I had the opportunity to operate also had a ton of impressive features that went way beyond its articulating boom and jib, including low-pressure, non-marking tracks that expand in and out, a sturdy set of auto-level outriggers that can work on uneven surfaces, green operation and power options, super easy drivability and the amazing ability to fold up and fit through a frickin' doorway. I've concluded that a compact crawler boom has a high cool factor for aerial lift machinery, and I'm not alone.
"I always like to call it the sports car of machines that we make here at JLG. It's different enough that is has an appeal all its own. Very specialized, very unique and sells at a premium compared to a lot of machines," said Randy Marzicola, director of business development at JLG. "But it's also very versatile. It can be used indoors or out on sensitive flooring and is easily transportable to and from various work locations."
I can definitely see the potential after visiting JLG in McConnellsburg, Pa., this past May to test operate its smallest compact crawler boom — the X430AJ — along with a ton of other cool equipment from UTVs to telehandlers (which I won't even discuss in this feature). JLG Industries Inc., an Oshkosh Corp. company and a global manufacturer of aerial work platforms and telehandlers, expanded its line of compact crawler booms with the X430AJ at CONEXPO-CON/AGG 2017. It's one of five units that will include the X1000AJ compact crawler boom this fall, offering machines with platform heights of 43, 49, 59, 77 and soon 100 ft.
"We tend to have more indoor applications in the U.S. than in Europe for compact crawler booms," said Marzicola. "Over in Europe, they tend to be used on narrow, cobblestone streets where bearing weights are very critical, but we've adapted these machines to U.S. applications. So, you go into say a college or university, they've got these beautiful atriums with high ceilings, how do you maintain and service those areas? How do you work while protecting the flooring at major airports and museums? The low bearing weight of a compact crawler boom provides you with a solution."
The Experience
First off, in order to operate a crawler boom lift, operators will require ANSI A92 compliant training. Manufacturers like JLG and even select rental houses and associations can help you to get certified. Some of the things you'll learn as part of the certification are regulations, safety hazards, proper operation, use of safety harnesses and lots more. Luckily, the X430AJ is easy and intuitive to operate. The unit can be operated from ground controls or the basket. Thanks to a handheld unit with a wire, you can step outside the basket to operate it while walking next to the machine.
"Non-marking tracks are standard on the unit," pointed out Marzicola as we inspected the X430AJ before operation. "They don't mark the floors which is important to a lot of customers. We offer an optional deep lug for outdoor use for customers who want it."
The track undercarriage is nimble. It can spin with a zero-turn radius just like a skid steer, and like a mini excavator it can expand and retract those tracks to help fit through tight situations. With a stowed width of 2 ft, 5 in., the X430AJ easily moves through doorways, gates and garages. The basket will need to be popped off the boom to do that, but with two people it easily comes off in seconds and has caster wheels for rolling separately. Additionally, new designs allow these units to be transported by forklift or crane, thanks to pockets and lifting eyes.
"This is the second generation of compact crawler machines," said Marzicola. "Along with the lift eyes, we added a 500-lb unrestricted basket capacity to this new generation, so we're market leading in that. We're the only company that offers that today. It allows two guys to go up and work in the basket or one with tools and materials."
Marzicola and I put that theory to the test. We used three points of contact to enter the basket. We hooked our safety harnesses. I gravitated toward the easy-to-read buttons and toggle paddles on the portable controls, which locked into a box on the basket. We found a nice indoor spot in JLG's Customer Training Center and Proving Grounds and deployed the auto-level outriggers with just the push of a button. I then worked the knuckling boom and jib. The articulated column design gives operators the ability to go up and over and swing in nearly any direction. There's also a final extending orange jib that can articulate 89 degrees for precise maneuverability of the basket. Both the unit's travel and boom function are extremely slow, so operators have plenty of time to observe and react while positioning the machine.
While we inspected the ceiling of the Customer Training Center, Marzicola discussed the environmental halo of these JLG units.
"This is like an electric sports car," he noted. "When we brought this to North America, competitive models offered gas and diesel, and while we do offer those options, JLG pioneered the lithium ion battery in its line of compact crawler booms. In this type of environment, with an engine, you'd have to hook up to those exhaust tubes over there. This unit is clean and quiet. The other thing we're very proud of is that we upgraded, on the second generation, to biodegradable synthetic oil."
The X430AJ uses a Lithium-ion 2.0 power system for eco-friendly operation indoors or outdoors. A Honda gas engine and a Kubota diesel power source are also available, offering customers the choice of exclusively diesel-electric or gas powered units.
The Company
Unfortunately, it rained nearly the entire day I was at JLG, so we spent most of our time indoors at the Customer Training Center and Proving Grounds in McConnellsburg. This is where the company brings together students and machines for classroom instruction, hands-on training and operation. It has big bay service areas for maintenance training with 30-ft-high ceilings and a four-acre outdoor testing area that is set up to reflect a construction jobsite with mixed terrain, simulated power lines and aerial work platform targets. The center sits in the middle of JLG's corporate headquarters which remains in the small, Pennsylvania town of McConnellsburg where JLG was founded by John Landis Grove in 1969; it was bought by Oshkosh Corp. for approximately $3.2 billion in 2006.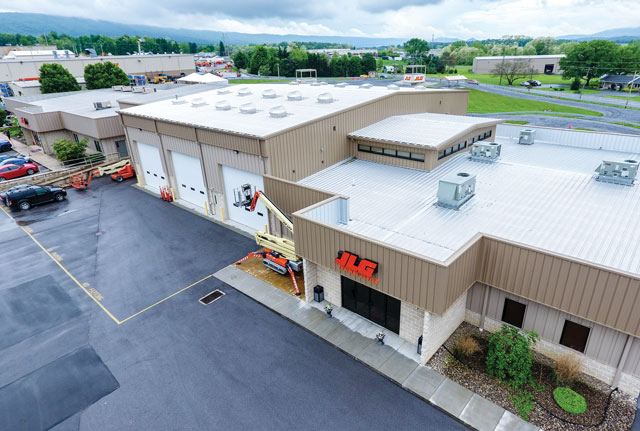 McConnellsburg is located in the Ridge and Valley section of the Appalachian Mountains. I basically crossed over a cloud-covered mountain to reach the town of about 1,200 residents, noting that 1,400 people actually work at JLG's McConnellsburg facility. The company's headquarters sit in a big beautiful valley surrounded by tree-covered bluffs. Over nearly five decades, JLG has kept expanding in this valley, so its facilities today are uniquely spread across 28 buildings, which combined to total 520,000 sq ft of space. Mike Lendacki, principal engineer — manufacturing, gave me a tour.
"Off to the far left of this particular building is all your SkyTrak products [a JLG telehandler brand] — anything from a 6,000-lb machine to a 10,000-lb machine," explained Lendacki. "Next to it is 80-ft straight boom aerial work platforms, the 80-ft articulating units are assembled at our Shippensburg, Pa., facility. This line right here is JLG and Caterpillar telehandlers [JLG OEMs Cat telehandlers]. And over on the far side of the building is what we refer to as our ultra series booms. Anything from 120-ft machines up to 185-ft straight booms. We also have a 150-ft articulating boom machine, but it's not assembled in this building because it's pretty unique. Currently, we are running three shifts, six days a week and some Sundays. We're busy without a doubt. Right now, we're probably making about 70 machines a day out of this facility."
Of course, the crown jewel for a visitor like myself is the aforementioned Customer Training Center and Proving Grounds. A good example: After operation of the X430AJ, I got the opportunity to play with JLGs lift and access virtual equipment simulator, which was definitely a highlight. These VR systems employ advanced gamification learning to familiarize students with the controls and operation of lift equipment.
"It's been a really cool project — in that it's pushing the envelope," said Rick Smith, senior director, product training at JLG. "We moved the industry in this direction, but there's applications beyond training. I'm working with our engineering group, and we're asking how do we use VR and AR to help our customers in bigger ways? I think you're going to see some amazing stuff. Applications that we're on the verge of it's really exciting stuff."
That's the overall sentiment with all the JLG employees I encounter on my expedition. A general excitement for the product and the company. Some workers drive an hour or more from Maryland, West Virginia, even Northern Virginia just to work at JLG. That committed workforce manufactures, assembles, markets and sells top tier products for the global marketplace — machines like the compact crawler boom line — another progressive product I suggest you explore from the aerial lift experts at JLG.
---
Company Culture
By Jennifer Stiansen, Director of Marketing at JLG
Though today we are a large, international manufacturer, JLG continues to cultivate a people-first culture where every employee, every customer and every supplier matters. At JLG people enjoy coming to work each day. It's not uncommon to speak with someone who's been with the company 40 plus years. Employees constantly share ideas and are encouraged to challenge one another to identify unmet customer needs for which we can develop products and services that make a real difference on jobsites. This healthy dialogue within and across departments, even around the globe, results in continuous improvement across the business that drives tangible benefits to both employees and customers. JLG is a partner in its customers' — and their customers' — success with more than 4,000 employees across five continents working daily to enable performance, boost productivity, ensure uptime and support progress.
---
Operational Advice
By Randy Marzicola, Director of Business Development at JLG
On a compact crawler boom, like any piece of aerial equipment, complete a daily walk-around before operating the machine. Make sure there are no obvious leaks and that there aren't any loose or detached cords or hoses. Always remember: A lot of aerial equipment is rented, so it's with new operators on an ongoing basis. You don't typically know how it got returned to the shop, so the required daily walkaround becomes even more important to maximize safe operation of the unit. When the machine gets delivered to the jobsite, make sure the rental company conducts machine familiarization with your operator. Then the obvious stuff — make sure you're tied off, that you're wearing safety gear and that you're certified to operate the machine. Always familiarize yourself with the operator's manual on the unit you'll be operating.