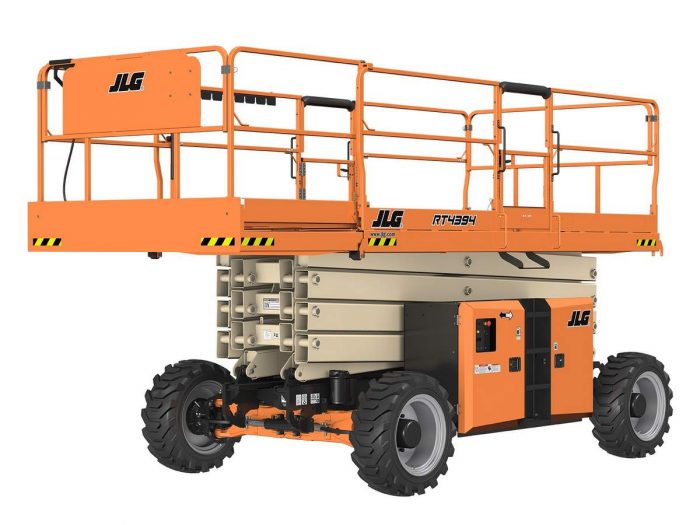 JLG Industries Inc., an Oshkosh Corporation company and leading global manufacturer of mobile elevating work platforms (MEWPs) and telehandlers, recently announced that the JLG LRT series of large rough terrain scissor lifts will transition to new model designations to align with the entire JLG scissor lift line. Moving forward, the models — 330LRT, 430LRT and 530LRT, respectively — will feature "RT" at the front of the model designation with the numerals to reflect maximum platform height and machine width. These JLG scissor lifts will now be known as RT3394, RT4394 and RT5394, respectively. Rental stores and operators can easily identify these updated models thanks to their refreshed decal design.
While these JLG scissor lifts now have a new name for family line consistency, their specifications, features and benefits remain the same. Designed to provide the power and stability needed to handle uneven surfaces and congestion on jobsites, JLG rough scissor lifts are equipped with standard oscillating axles so operators can expertly traverse rough terrain, gaining better traction and grade climbing ability.
Have questions about protecting your crew during the current pandemic? Check out our COVID-19 microsite for more resources from cleaning equipment to wearing the proper PPE.
These models boast a large platform workspace to enable operators to move around with ease when working at height, as well as the ability to bring the materials and tools they need to the work area. The platform is designed to shed debris to allow for smoother extension deployment, which enables operators to use these machines more efficiently. Other operator-friendly features include: Smooth joystick operation for precise machine repositioning, low noise and vibration levels during operation and user-friendly leveling jack performance with quick leveling speed and a high degree of accuracy.
For enhanced serviceability, the JLG RT scissor lifts allow technicians full access to the hydraulic and engine compartments, which makes these models easy to service. These models also are engineered for single-click calibrations using an analyzer and are equipped with a pin-based load-sensing system, which means that no weight is needed in the platform for calibration. Learn more about the entire line up of rough terrain scissors from JLG: https://www.jlg.com/en/equipment/scissor-lifts/engine-powered-roughterrain/rt-series