We have a nice feature on in our May print issue about what is required for new ANSI standards training on mobile elevating work platforms (MEWPs), but where can you specifically find resources for training? Well manufacturers and associations are ready to help. JLG Industries Inc., global manufacturer of aerial work platforms and telehandlers, announced the addition of the MEWP Supervisor Training to its training program resources, in response to the new ANSI standards. The new standards, set for implementation in early December 2019, require anyone with supervisory responsibilities over people operating MEWPs to complete this type of training.
The JLG program is designed to meet requirements and includes a series of five online modules that have been developed by JLG experts who have in-depth knowledge of both MEWP operation and the new ANSI standards. In addition to fulfilling a requirement of the new standards, successful trainees will be eligible to receive an official "MEWP Supervisor" training card to confirm completion of the course. Visit jlg.com/en/training/supervisor-training for more info.
"The feedback from rental owners and jobsite managers has been overwhelmingly supportive for this type of training program," said Rick Smith, JLG senior director of global product training, in a press release. "As the company that founded the access industry 50 years ago to provide people with a safer way to work at height, the program demonstrates our continued focus and commitment to safety."
To help jobsites stay in compliance when the new standards go into effect, the Genie Lift Pro Online MEWP Supervisor Training Course is now available. This course was developed specifically for supervisors and meets all of the requirements set forth in the new standards. The course includes a final exam and allows the individual to print out a certificate upon successful completion of the course. The certificate is then signed by the supervisor's employer as verification of course completion. For more info, check out liftpro.genielift.com/course/featuredcourse.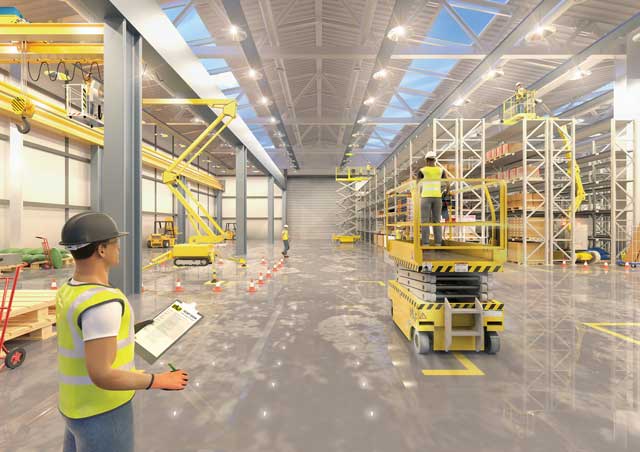 The International Powered Access Federation (IPAF) is launching an evolved version of its globally recognized MEWPs for managers training. IPAF is a trade organization that promotes the safe and effective use of powered access equipment worldwide. The course is aimed at those who plan, supervise or manage temporary work at height using powered access and can ensure compliance with requirements for supervisor training in the new ANSI A92 suite of standards in the United States. The course will also be available for the first time as a standalone eLearning version. The module now utilizes interactive 360-degree graphics and virtual scenarios that contextualize specific hazards and require candidates to put various pieces of risk assessment and technical and safety guidance together to identify and control identified risks. To find an IPAF-approved Training Center near you, visit ipaf.org/training.
"The updated course has been completely overhauled to make it easier to directly apply the learning in the real world," explained Paul Roddis, training manager at IPAF, in the press release. "The redesigned course considers the whole process of MEWP management, from selecting the right machine, properly training the appropriate operators and providing the right protections, through securing the MEWPs to organizing safe delivery and collection of the plant to and from worksites. It's very comprehensive."
While not exactly training, Linamar Corp.'s Skyjack division recently released a white paper highlighting the core changes to its DC scissor products in conjunction with the new ANSI standards. The white paper, which was distributed at The ARA Show in Anaheim, outlines what Skyjack did to go beyond compliance and treat these new designs as an opportunity. While the white paper itself primarily focuses on DC scissor lifts, it does mention that their booms will see an increase in capacity ratings. The full white paper can be found at skyjack.com/ANSI-White-Paper-2.
"Skyjack's primary objectives are to continue supplying our customers with simple reliable products that give them a great ROI," explained Brad Boehler, president at Skyjack, in the press release. "Many of the new standards now align North American machines with what's been in use in the rest of the world for decades. Some of these changes may be perceived as negative at first, but our team has done our best to make other improvements to mitigate that initial hesitation."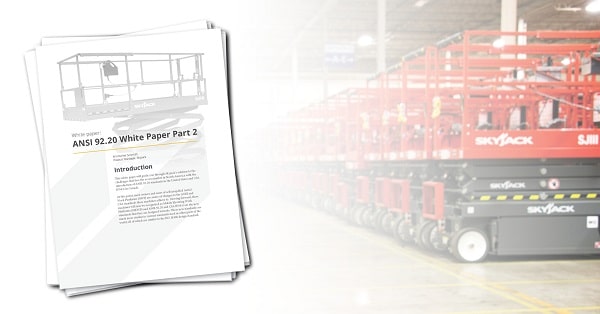 Tags:
ANSI
,
April 2019 Print Issue
,
Genie
,
home
,
International Powered Access Federation
,
IPAF
,
JLG
,
Skyjack