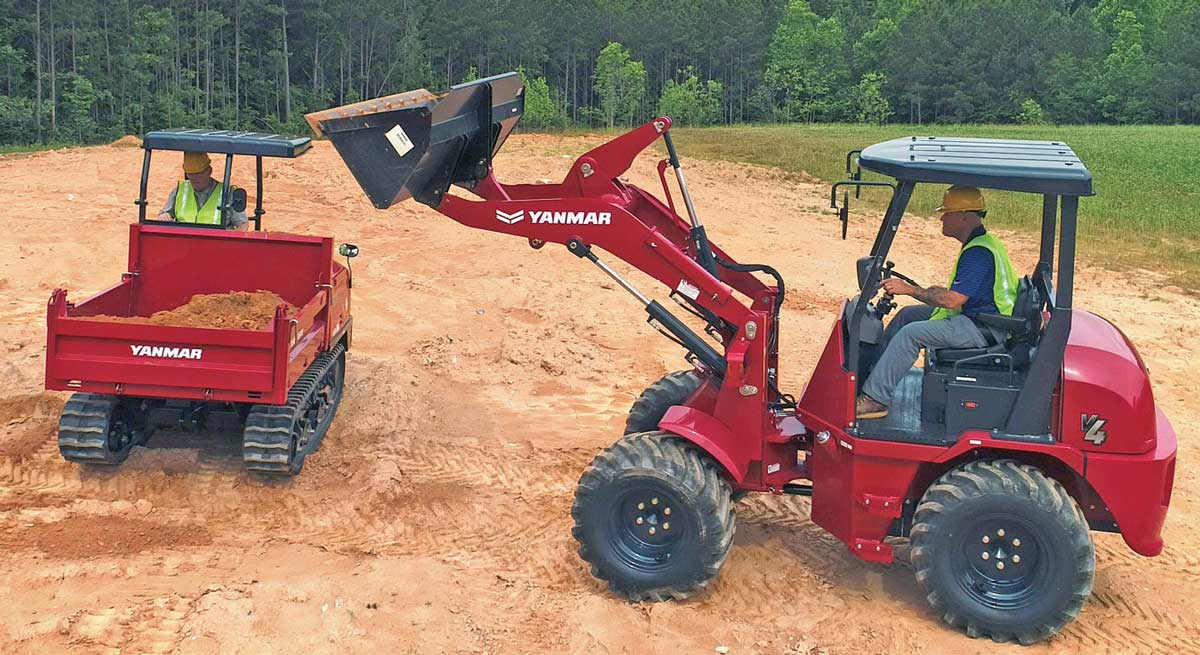 Four Purpose-Built Wheel Loaders to Overcome Challenging Conditions
This post is a part of Compact Equipment's annual Spec Guide. View other brands' product and spec info by clicking this link. View the magazine version of these summaries by clicking right here. Sign up for the print edition right here. Now enjoy!
Since its inception in 1912, Yanmar's core business has been the production of engines. Following the introduction of the walk-behind dozer in 1967, Yanmar understood the need for even more versatile compact construction machinery and introduced the first self-propelled mini excavator in 1968. Continued expansion of the product offering led to the introduction of wheel loaders. Yanmar has been manufacturing wheel loaders since 1975 and introduced the V-Series to the North American market in 1997.
The Yanmar compact wheel loader lineup is comprised of four models — the V4-7, V8, V10 and V12. All four Yanmar wheel loader models come standard with a three-year/3,000-hour warranty. The Yanmar V4-7 is powered by a 39-hp engine and has an operating weight of 8,422 lbs and a standard bucket capacity of 0.65 cu yds. The V4-7 is available with a direct pin-on bucket or a skid steer-style coupler (mechanical or hydraulic). For stability and improved productivity, the V4-7 offers a long wheelbase of 74 in. and an auto-leveler.
The operating weight of the Yanmar V8 is 10,802 lbs with a 62-hp engine. The standard bucket capacity is 1.05 cu yds, and the unit features parallel kinematics, so the operator can quickly and precisely lift loads. The V8 has permanent all-wheel drive and an automatic limited slip differential (35 percent self-locking differential) and offers precise fingertip control of the oil flow rate to the attachment for ease of operator use. The V8 is available with a skid steer-style coupler (mechanical or hydraulic) or hydraulic ISO-style coupler.
Weighing 12,786 lbs with a 72-hp engine, the Yanmar V10 has a standard bucket capacity of 1.31 cu yds and features parallel kinematics. The V10 boasts a strong breakout force of 12,375 lbs, says Yanmar. The unit is equipped with high speed as standard for North America, giving 22.4 mph to quickly travel between work areas. The V10 is available with a skid steer-style coupler (mechanical or hydraulic) or hydraulic ISO-style coupler.
The Yanmar V12 has an operating weight of 15,432 lbs, a 100-hp diesel engine and a 1.57-cu-yd bucket. The V12 features parallel kinematics and exhibits a bucket digging force of 13,264 lbs. The oscillating rear axle, as with all Yanmar wheel loaders, provides smooth and comfortable off-road operation. The V12 is available with a hydraulic ISO-style coupler. Also available as an option for the V8, V10 and V12 is a central lubrication system that reduces operator maintenance requirements and extends bearing life by providing constant lubrication while the machine is running, virtually eliminating any potential contamination.
Yanmar Compact Equipment compact wheel loaders bring operator comfort to the forefront with a second-to-none cab experience that includes high visibility, a suspension seat and full climate control. All models feature two doors for easy entry from either side and maximum ventilation. The machines offer smooth off-road operation thanks to an oscillating rear axle that securely transmits traction force to uneven ground. This keeps the bucket level in operation and reduces operator fatigue. The V8, V10 and V12 come standard with enclosed cabs designed to reduce operator fatigue, provide a smoother ride and feature a comfortable seat with lumbar support.

Advice to Buyers
"Look at your application to determine the size and features you'll require on your compact wheel loader," says Frank Gangi, CWL product manager for Yanmar Compact Equipment North America. "For example, if you are primarily moving bulk material, consider a larger bucket capacity. If you plan to move lots of pallets, consider a compact wheel loader with parallel kinematics or the option to keep the forks level during lifting. If you plan to do many different jobs with your compact wheel loader, consider a hydraulic skid steer style coupler for quick change over and auxiliary hydraulics to power attachments."
Tags:
July August 2022 Print Issue
,
Spec Guide
,
Spec Guide 2022
,
Yanmar