Compact wheel loaders are creeping onto more and more jobsites across North America, thanks to their comfort, maneuverability, efficiency and safety. Name any market, whether it's landscaping, agricultural, general construction or snow removal, and you can find a crew that could use a wheel loader.
"There are many benefits to compact wheel loaders, but I would say customers especially appreciate the visibility, speed and comfort they offer," says Grant Van Tine, product marketing manager of compact wheel loaders at John Deere Construction and Forestry. "Operators are seated center and up high, which gives them excellent sight lines. With transport speeds up to 25 miles per hour, they're great for getting from point A to point B. Plus, you can keep comfortable with features like ride control, an air ride seat and ergonomic controls."
With compact wheel loaders gaining popularity, manufacturers are adding some unique options to their lineups in hopes of standing out from the crowd. Let's take a look.
John Deere
John Deere started making its first compact wheel loader, the 344E, in 1988, and its second in 1991. Eventually, John Deere expanded its product line to the five models that are offered today: the 204L, 304L, 244L, 324L and 344L. Both the 204L and 304L are designed to have a low profile, which is ideal for jobsites with narrow openings or low entryways. However, it's these three models — the 244L, 324L and 344L — that feature the industry-exclusive Articulation Plus steering.
"What Articulation Plus does is when you steer the wheel loader, in addition to articulating, the rear wheels steer as well," says Van Tine. "That provides a tighter turning radius, improves stability and really allows customers to do more on the jobsite because they don't have to steer as much as they would with just an articulated wheel loader. The articulation joint doesn't move nearly as much with Articulation Plus. In addition to that, those three models have a two-speed hydrostatic transmission with automatic on-the-fly shifting that reaches a top speed of 23 to 25 miles per hour, depending on the model. We also have a high-lift option that is available on the 324L and 344L wheel loaders."
Volvo
In 1954, Volvo introduced the H-10, the world's first wheel loader with an attachment bracket. Since then, the company has grown into one of the world's leading producers of wheel loaders. Its current compact wheel loader lineup includes six models with a seventh unit, the electric L25, on the way. The new L25 electric front-end loader boasts a full-turn tipping load of 6,834 lbs, a dump height of 7 ft, 11 in. and a transport payload with a loading fork capacity of 5,291 lbs.
"In August, we opened pre-booking for our electric wheel loader, the L25H, which is expected to be available mid-2021," says John Comrie, product manager, compact wheel loaders, Volvo Construction Equipment. "With the increase in clean air regulations and growing pressure from project owners and the public to be more sustainable, our customers need solutions for working on tomorrow's jobsites. That's why Volvo CE has announced that it will launch a range of electric compact wheel loaders and compact excavators. The L25 is the first wheel loader model. It runs on lithium-ion batteries that can last up to eight hours and has zero exhaust emissions. It offers significantly lower noise levels, reduced energy costs, improved efficiency and fewer maintenance requirements compared with conventional loaders."
Kubota
Kubota rolled into the wheel loader market in 1986 with the launch of the R400 wheel loader. Today, Kubota offers three compact models — the R430, R530 and R630 — offering operators outstanding visibility, power and productivity. All three compact wheel loaders feature standard four-wheel drive and rear frame oscillation which provides excellent traction and stability. The newest machine, the R430, even has the ability to mount a backhoe to the rear for additional machine versatility.
"The R430 is unique with the ability to install a backhoe that provides up to 9 ft of digging depth for trenching projects," says Tim Boulds, Kubota CE product operations manager. "The R430 is the only model that has a backhoe option and will be a popular choice when working in extremely compact areas. The bend-in-the-middle articulation design for all Kubota compact wheel loaders allows for less scuffing and damage to tender surfaces compared to a compact track loader or wheeled skid loader. All Kubota wheel loaders have a two-year, 2,000-hour warranty that comes standard. Ground level service points and easy access to service points make daily maintenance convenient for all models."
Yanmar
Yanmar entered the compact wheel loader market 45 years ago with the Y15W. Its current lineup includes four models: the V47, V8, V10 and V12. According to the company, these articulated wheel loaders pack power and versatility in a compact, nimble package, allowing operators to easily navigate tighter spaces.
"Powered by robust and fuel-efficient Tier 4 Final diesel engines, they can dig, lift and move loads with ease and efficiency," says Erik Coyle, product specialist for Yanmar. "Switch from Fully Automatic Mode to Fixed Speed Mode for maximum torque in tough conditions. Save time with Yanmar's innovative Auto-Leveler that quickly returns the bucket to the digging position in a single motion. The comfortable, spacious cab and an oscillating rear axle provides the smoothest ride on the roughest terrain, minimizing fatigue and keeping you focused all day long."
Coyle highlights Yanmar's V8 wheel loader, citing its excellent parallel kinetics for synchronized parallel operation. He says, "It has all the features of a thoroughbred with a workhorse mentality." Some standard features on the V8 include wear-free braking, a thermostatically controlled hydraulic oil circuit and an adjustable height and tilt steering wheel, to name a few.
JCB
JCB's very first compact wheel loader was the 406, which was introduced in 1987. Not only was it JCB's first model, it was the first compact wheel loader to have a cab mounted on the rear section of the articulating chassis. About two years later, the company created the 408. In 2020, JCB still offers two models: the 407 and 409.
"The 409 is a tapered loader, so it's narrow at the top and widens out at the end, providing excellent visibility and strength," says Chris Trampush, product manager for wheel loaders. "It also comes with standard parallel lift, which makes it excellent for fork work."
Caterpillar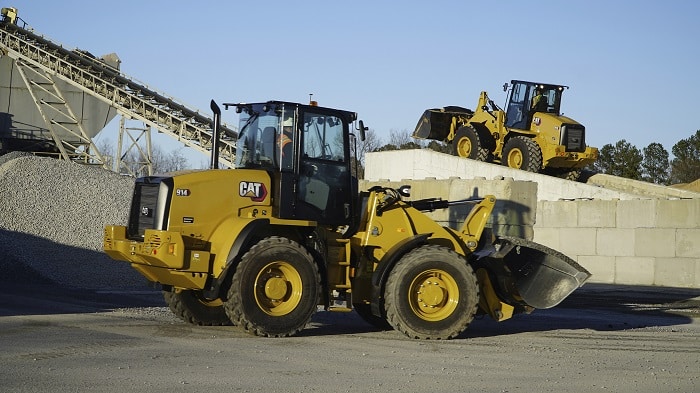 Equipment giant Caterpillar joined the compact wheel loader race in the late 1990s with the introduction of the 906 through 908 machines. These early models were much smaller units than those in Cat's traditional loader family and featured an oscillating hitch design to keep the cab height as low as possible. Caterpillar's present lineup features a baker's dozen of small, hardworking machines.
"While each Caterpillar wheel loader family is unique to itself, the stand-outs are the bookends for us," says Scott Britton, compact wheel loader product application specialist for Caterpillar. "The 920 is the latest and largest model in the compact wheel loader family, aligning many features from the small wheel loader family when you need production level capacity but on a smaller scale, being able to configure this for aggregate batch plants, general construction or fully guarded for the harsh environments of industrial and waste applications. On the other end of the spectrum in North America is the 903D, a very basic machine with a mechanical valve and skid steer coupler interface focused primarily on simple bucket and fork applications, though it can run some hydromechanical tools. Their small size allows them to enter backyards for landscaping, drive down sidewalks for snow removal and be easily transported with the lighter weight."
Hitachi Introduces the ZW30 TF4 Compact Wheel Loader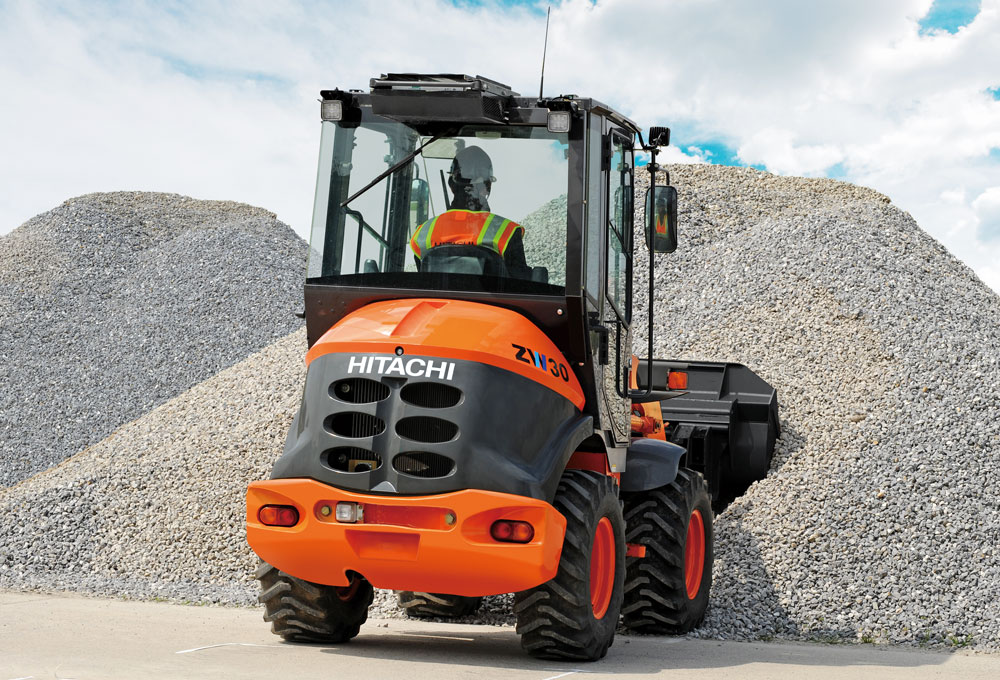 Hitachi Construction Machinery Loaders America Inc. recently announced the debut of the ZW30 T4F compact wheel loader. The ZW30 features an even .5-cu-yd bucket, making it ideal for landscape supply operations, nurseries and other applications calling for precise measurements. In conjunction with its responsive hydrostatic transmission, limited slip differentials and rear axle oscillation, the ZW30 handles and travels well, no matter how tough the terrain. In addition to the smooth operation, operators will appreciate the cab environment featuring excellent visibility, standard air conditioning, adjustable suspension seat and easy-read dashboard monitor panel. Additional standard equipment includes a universal quick-coupler, sliding windows on both doors, access on both sides of the cab with easy access steps and automatic parking brake system. Overall, the ZW30 provides durability, comfort and safety for both experienced and inexperienced operators. For more info, visit hitachiwheelloaders.us.
Tags:
Caterpillar
,
home
,
JCB
,
John Deere
,
Kubota
,
September 2020 Print Issue
,
Volvo Construction Equipment
,
Yanmar