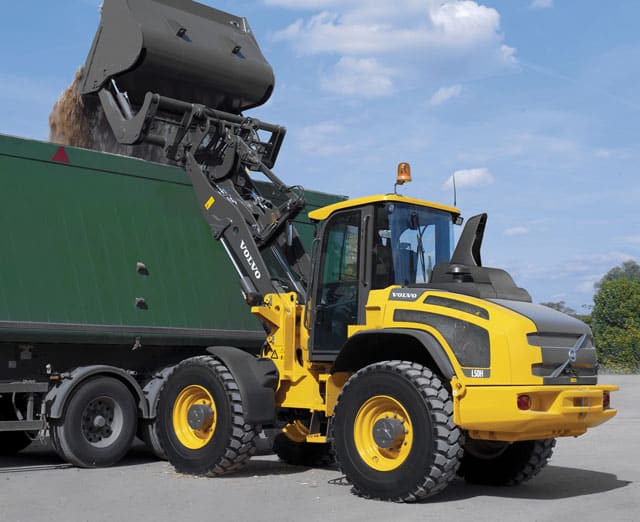 A Lineup of Comfort-, Safety- and Power-Focused Machines
Compact wheel loaders from Volvo Construction Equipment come packed with features to improve fuel efficiency, reduce cycle times and reduce operating cost while remaining well-balanced machines. The Volvo line of compact wheel loaders is comprised of four models — the L30G, L35G, L45H and L50H. The entire line of compact wheel loaders from Volvo is designed with the operator in mind, with ergonomic controls and a spacious cab for easy operation and reduced operator fatigue. Safety and visibility have been improved with a wide, curved windshield and compact engine cover. Maintenance is made hassle-free with easily accessible service points.
The Volvo L30G and L35G provide operators with the highest ground clearance in the industry at 24 in. — a huge advantage in applications such as recycling, brush clearing and agriculture. Volvo L30GS and L35GS possess the versatility and breakout and lifting forces expected from larger machines. And, both models feature new, fuel-efficient Volvo engines that meet the demanding emissions requirements of Tier 4 Final regulations, without any aftertreatment to the exhaust. The S signifier in the model name stands for High Speed (18.6 mph) and is standard on the two models.
The new L45H and L50H machines come equipped with the Volvo D4J Tier 4 Final engine (with regen carried out at the 500-hour service interval), as well as improved hydraulic flow and high breakout torque due to the unique Torque Parallel (TP) linkage. The L50H hydraulic pump capacity has been improved by 20 percent, leading to 26 percent faster hydraulic flow cycle times. The Volvo D4J Tier 4 Final engine improves fuel efficiency by 15 percent compared to previous models. The optional Boom Suspension System boosts productivity up to 20 percent by absorbing shock and reducing bouncing and bucket spillage. Its hydrostatic transmission matches power to the operator's requirements for control in delicate work and full power in more demanding jobs. High speed (18.6 mph) is available as an option on the L45H and L50H. The optional Comfort Drive Control function improves operator visibility, comfort, reduces fatigue and ensures better productivity over long working hours.
Advice to Buyers
"The compact wheel loader is a well-kept industry secret — many features, but many considerations to make, including: looking at application to determine reach and dump height, size restrictions and proper tire choice," says John Comrie, product manager at Volvo Construction Equipment. "Are there weight restrictions for towing? Look at horsepower and whether the Tier 4 Final engine requires exhaust treatment. Does it have a universal skid steer attachment carrier and additional hydraulic circuits to operate those attachments? Do you need a canopy or cab with HVAC? Do you need guarding for windows, engine hood, drive line? Lastly, how easy is it to maintain? These are all key considerations when comparing products."
Volvo Construction Equipment
312 Volvo Way | Shippensburg, PA 17257
717-532-9181 | volvoce.com/na
Click on table to enlarge