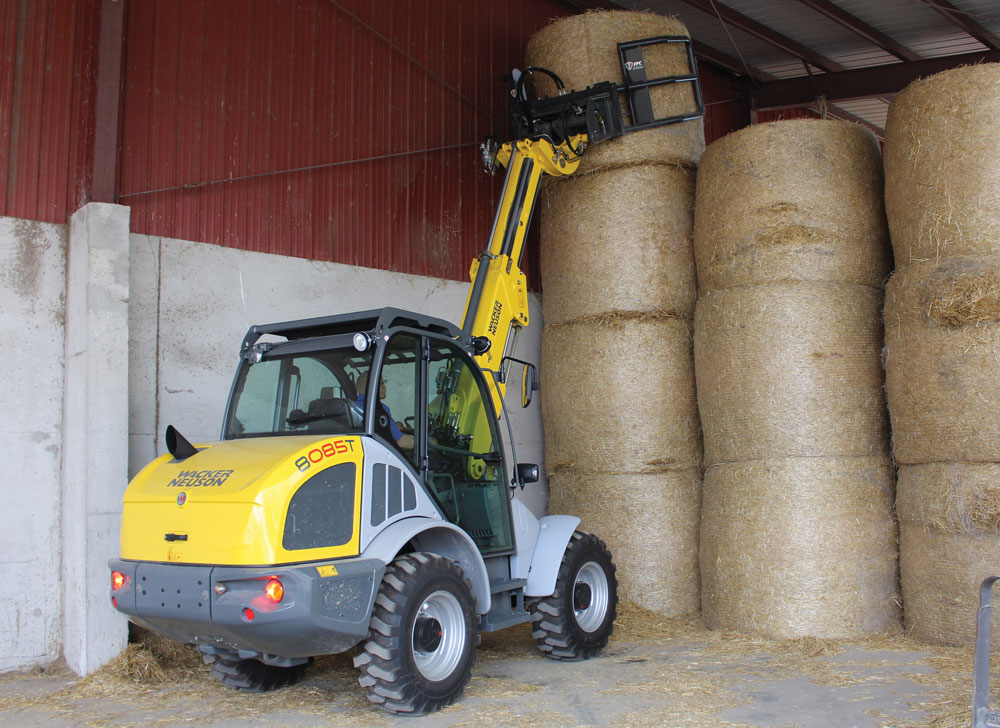 If you're looking to buy a small wheel loader, you will not be lacking in options. Even with sales for compact wheel loaders in North America hovering around a modest 5,000 units in 2017, there are 14 major manufacturers in the market: Case, Cat, Gehl, Hitachi, JCB, John Deere, Kubota, Mustang, New Holland, SDLG, Takeuchi, Volvo, Wacker Neuson and Yanmar. While most of those brands offer four or five compact wheel loaders in their lineups, Cat offers seven models, Case offers eight and Wacker Neuson offers 10. Why so many? These manufacturers are seeing the benefits of small wheel loaders over competitive machine categories, and they're also seeing specific options and sizes fitting niche applications. Both are resulting in satisfied customers.
"When they make that move into a wheel loader, they love it," says Drew Miller, product marketing manager for John Deere's Construction and Forestry Division. "It doesn't take them long to understand the benefits of it in terms of wear and tear from a machine operation and maintenance perspective. Small wheel loaders also do really well in the applications they are built for — compared to say a more versatile machine like a backhoe or a skid steer. Other benefits include visibility, fuel consumption and tire life. We've heard from customers of up to five times longer tire life for these machines versus something like a skid steer that really grinds through its tires."
Fast ground speeds, higher ground clearances, better fuel consumption, longer wheel bases for better ride quality, greater lift capacities, easy ingress and egress, outstanding visibility — compact wheel loaders have lots of advantages over other compact machinery, but what differentiators are there between brands? Are there unique technologies, options, warranties, services or styles that separate competitive units? We took the opportunity to survey the industry and find out.
All-Wheel Steer, Articulated and Telescoping
We started our research with one of the global leaders in compact wheel loaders — Wacker Neuson — which has been building units for 80 years. Today, the company offers maybe the biggest and most diverse lineup (10 units) in the American marketplace, selling all-wheel steer, articulated and telescoping models.
"Articulating wheel loaders are the most popular type in the industry. The articulation joint makes these units highly maneuverable, especially in tight working conditions," explains John Dotto, product marketing manager at Wacker Neuson. "All-wheel steer loaders have the same loading and cab concept as an articulated machine, but the steering concept is different. An all-wheel steer machine has a rigid frame where the front and rear tires steer in one of three possible modes: front wheel, all wheel and crab. In addition to the versatility provided by the various steering modes, an all-wheel steer machine has one major advantage over an articulated machine and that's stability. The center of gravity is not affected by the steering of the machine, so there is no need to calculate full turn and straight tipping loads on an all-wheel steer machine. Telescopic loaders, both all-wheel and articulated, offer all of the above-mentioned productivity and benefits, while also being capable of providing extra loading and dumping height."
Because compact wheel loaders do mostly loader work (more on attachments further in), these different wheel loader styles often have to do with application. Articulating wheel loaders are great for snow removal and commercial scrap and recycling yards. The articulated steering system allows for precise snow removal around islands, cart corrals and other typical parking lot obstructions, and scrap and recycling yards really benefit from improved visibility and reduced tire and fuel consumption. In many construction applications, an all-wheel steer loader is a productive machine — especially equipped with a universal skid-steer coupler, auxiliary hydraulics and optional high-flow packages. Agriculture is the big application for a telescopic loader — think high-lift stuff like silo work — although the benefits apply to lots of similar lift-and-dump height challenges. Telescoping units also require extra safety precautions.
"When you fully extend a telescopic wheel loader, you've changed the tipping point and center of gravity of the machine, and extreme care should be taken," suggests Dotto. "On Wacker Neuson telescopic machines, the cab has a standard load management monitor that helps the operator understand how the stability of the machine is affected by the position of the boom. A series of green lights let an operator know when they are approximately at 25, 50 and 75 percent of maximum operating load. When the system senses the load exceeding this threshold, the system warns the operator to adjust operation with an amber warning light and audible tone."

Unique Technologies and Options
Wacker Neuson's diverse product offering and its cool load management system create some interesting separation from the competition. For decades, John Deere has also been offering unique technology and options in the compact wheel loader category. Specifically, Articulation Plus is an industry-exclusive steering system that has been the foundation of John Deere units for 20 years. Articulation Plus allows operators to lift more during turns, add stability and shorten turn radii on the 244K-II, 324K and 344L models.
"Instead of the 40-degree articulation we see across the industry, we articulate 30 degrees from that center joint," explains Miller. "With that technology, we get better ability, agility and stability. The ability piece is that greater tip load performance. From an agility standpoint, you have a tighter turning radius, and then from a stability standpoint you look at an operator going into a pile. Typically, we'll talk about your straight tip load at that point, but as you back away from that pile and you start to articulate the machine, you can feel some instability. From a straight tip load to a full turn tip load, the difference in those two numbers is less for us than what we see across standard articulation machines."
Other brands have dug their own niches. Case Construction Equipment's F Series compact wheel loaders caught our collective eye for their fast cycle times, maneuverability in close quarters and great material retention. Case has also focused on flexibility and precision with its speed features. Case's inch and brake pedal technology progressively disengages the transmission in the decelerating phase while progressively engaging the brakes, allowing power to be diverted to the loader's hydraulics without disconnecting the drive and still maintaining constant engine rpms. There's also an optional creep speed that allows the operator to independently set engine rpm and ground speed for greater control and performance with various attachments.
Despite wheel loaders mostly doing loader work, hydraulic capability has been a big focus. Small wheel loaders compete with skid steers and track loaders, which have some of the best hydraulic versatility of any category of equipment. To bridge the gap, Volvo Construction Equipment touts two separate hydraulic systems on its L20H and L25H units. One system is for steering and the other is for load-sensing hydraulic pumps. The advantage of this design is that separate pumps ensure full steering power regardless of the load on the main hydraulic pumps. Oil flow on the load-sensing pump also automatically adjusts to match the work demand. So, if an operator is working in tight spaces and wants to articulate, steer and lift, they will always have maximum oil available for steering and for the work hydraulics.
"The result is lower fuel consumption during operation and no compromise in performance when operating in tough conditions or demanding applications," says John Comrie, producer manager, compact wheel loaders and excavators at Volvo Construction Equipment. "It makes for very smooth and efficient work too."
One of the more unique models in the industry has to be Kubota's R630, which exclusively offers four operating modes that can be easily selected to match the machine's application — normal, attachment, power and eco mode. Normal mode is compatible with everyday load-and-carry operations. In attachment mode, the operator can independently control travel speed from flow to the attachments. To save on fuel, eco mode conserves fuel up to 15 percent over other modes, says Kubota, while power mode exchanges travel speed for an increase of about 40 percent in traction power to excavate or attack a hard-packed pile with ease.
Along with these specific technologies and models, we're also seeing units being purpose built for particular markets with market-specific standard additions. Caterpillar, for instance, introduced agricultural application-specific models at the end of 2017 — the 906M, 907M and 908M. These Ag Handler models include standard equipment features such as high-speed transmissions, ag-specific tires, an engine pre-cleaner and farm-focused LED work lights.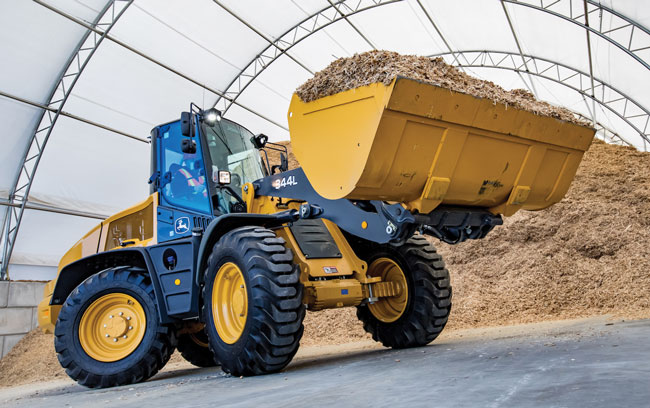 Remember: It's Still Mostly About Loading
From our survey of the 14 manufacturers in the industry, there are some interesting and unique options for compact wheel loaders, but for most folks a hard-working standard articulating unit is what's needed. This goes back to researching the size and specs of all the brands — engine horsepower, operating weight, breakout force, bucket capacity, travel speed, turning radius, width, height and beyond. Start out by focusing on loading (the major application). Selecting the right loader is often based on the amount of material (measured in cubic yards) that needs to be moved per hour, the weight of the material and the area that the loader will operate in. It's important that you know how the loader will get the material, how quickly the material needs to be moved and where the material needs to go. It's always best to look for a brand that accommodates your bucket work. Like we mentioned…
"There are a lot of options out there," says Miller. "Things like just determining if you want a cab or an open ROPS system. But the big thing is really just knowing how much material you need to move and maybe what height requirements you might have. So, what is that hinge pin height or that lift height that you're going to need in order to meet your needs? I think from there, then you can decide what machines you're looking at and that will help you narrow those options down."
And while compact wheel loaders are known for mostly loading, these compact construction machines are becoming more like their tool-carrying competitors.
"Versatility is the trend," says Dotto. "The more work you can put on one piece of equipment, the quicker the payback and the greater the ROI. Specialty attachments allow for compact wheel loaders to become profit centers for contractors looking to capitalize on the big productivity they offer. Just don't forget about that."
---
Ultra-Small Wheel Loaders
There's more and more interest in a type of super small wheel loader attachment-takers that really don't fit into any product category. These machines are bigger than a compact tool carrier like a Toro Dingo or a Ditch Witch mini skid steer and actually allow operators to sit on a seat while boasting just as much attachment versatility as those walk-behind or stand-on units. Texas-based importer and distributor Miniloaders.com (formerly Compactgiant) announced that it has started distribution of this unique type of mini loader brand. The compact, articulating wheel loaders are built by Belgian manufacturer Knikmops. The company's KM100 Series will be branded "Intrepid," with two variants: a standard boom Intrepid KM100 and the Intrepid KM100 Tele, which features a telescoping boom.
Perhaps the leader in this industry is Avant Tecno. The company's sit-down-style of compact tool carrier boasts big visibility in tight spaces, easy cab access (just hopping on and off), an impressive amount of rated operated capacity via vertical-lift loader arms and (yes) the ability to sit on your keister and work. These are lighter weight machines with improved maneuverability (they articulate) that can handle similar loads to that of a skid steer with hundreds of attachments available for serious application adaptability (from tree removal to indoor demolition). Avant Tecno offers six different units from its largest 700 Series with telescoping boom, 3,810-lb lift capacity and speed of 18.5 mph to a fully electric, battery-powered compact Avant e5, which is especially suitable for indoor use where ventilation is limited or non-existent and there are strict noise requirements.
Tags:
Avant Tecno
,
home
,
John Deere
,
September 2018 Print Issue
,
Wacker Neuson Group