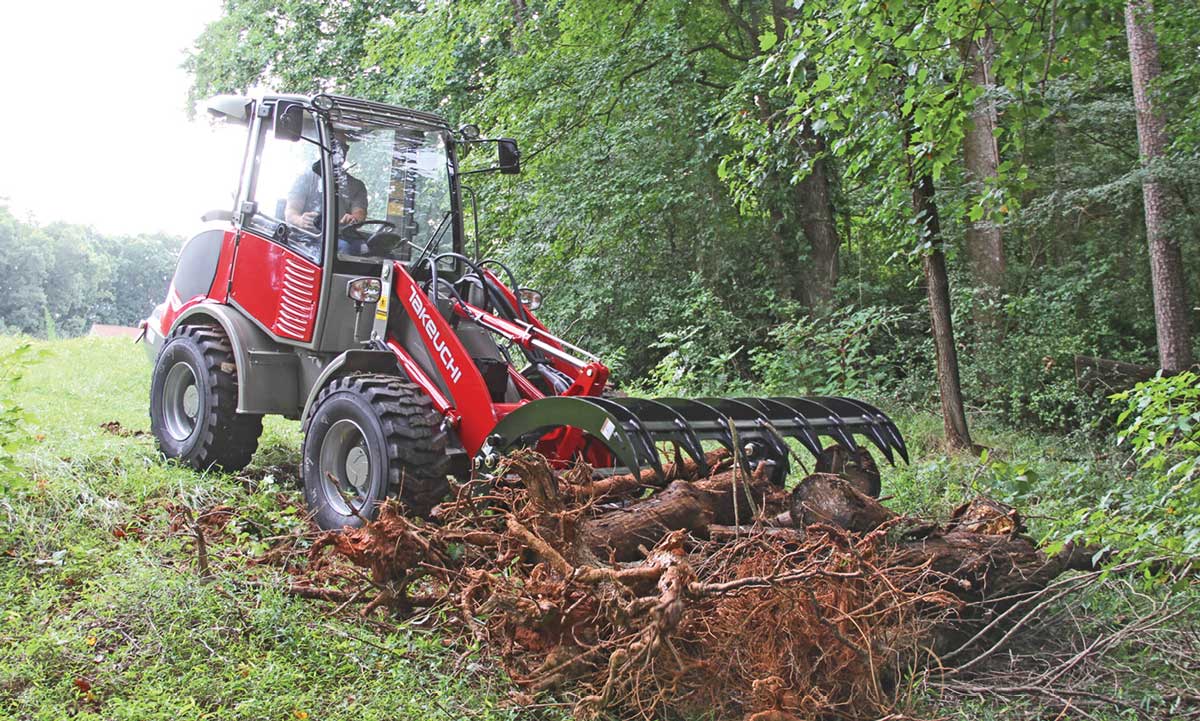 Three Compact Wheel Loaders Designed to Deliver Power and Precise Control
This post is a part of Compact Equipment's annual Spec Guide. View other brands' product and spec info by clicking this link. View the magazine version of these summaries by clicking right here. Sign up for the print edition right here. Now enjoy!
Since 1963, Takeuchi Mfg. has been a pioneer in the compact equipment industry. Takeuchi developed one of the world's first compact excavators in 1970, and the company's innovation continued again in the mid-'80s with the introduction of one of the first compact track loaders. Today, Takeuchi is a world leader in the manufacture and service of compact construction equipment, including track loaders, wheel loaders, conventional excavators and zero tail swing excavators.
Takeuchi first entered the compact wheel loader market in 2006. According to Takeuchi, its compact wheel loaders are designed and engineered to be powerful, efficient and durable, providing a high level of quality and performance. Takeuchi says its products are the result of extensive research, testing and refinement and feature a standard two-year, 2,000-hour full machine warranty.
Takeuchi's current lineup includes three center-pin oscillation wheel loaders with Z-bar type loader linkages. These three models are the 61-hp TW60 Series 2 at 10,758 lbs, the 74-hp TW80 Series 3 at 12,700 lbs and the 114-hp TW95 model at 18,188 lbs. The TW60 Series 2 features a skid-steer-loader-style quick-coupler for greater attachment versatility. Because these machines use Z-Bar loader linkages, they require a single cylinder which requires less maintenance and produce greater bucket breakout forces, making them good candidates for excavation and grading applications.
The Takeuchi lineup ranges in size from the 61-hp TW60 Series 3 model to the 74-hp TW80 Series 2 and up to the 114-hp TW95 model. These three machines feature a compact design that allows them to easily maneuver in tight spaces with minimal damage to lawns, pavement or other sensitive surfaces. They provide reach-and-dump height for material handling, and the spacious operator's station is elevated, giving operators greater visibility and jobsite awareness.
These compact wheel loaders deliver power and precise control for increased productivity and lower operational and maintenance costs, which make them a great alternative to skid steer loaders. They're ideal for loading mulch and sod, removing snow, feeding hoppers or sorting and stockpiling material. Available road gear allows the TW65, TW80 and TW95 to travel speeds up to 25 mph, and available high-flow hydraulics provides greater attachment versatility.
Takeuchi wheel loader cabs are spacious and comfortable, featuring air conditioning and heat, an adjustable armrest and controller position, as well as convenient storage compartments for the operator. The automotive-styled interior design also features a frameless door for enhanced visibility, easy-to-operate function switches, an inching pedal for precise machine control and precision pilot controls. Currently through the factory, Takeuchi offers several general-purpose construction buckets and pallet forks. Its wheel loaders come standard with auxiliary hydraulics that can power many different attachments such as brooms, plows and snowblowers that can be sourced through its dealer network.

Advice to Buyers
"If you're trying to decide whether to purchase a wheel loader or a different type of machine, keep in mind that wheel loaders can complete many of the same tasks as a compact track loader or skid steer," says Lee Padgett, product manager for Takeuchi-US. "However, wheel loaders provide better visibility from an elevated operator's station with a panoramic view of the work area, higher ROC and lift arm forces in most cases, better fuel economy and faster travel speeds to cover longer distances more quickly when on larger jobsites. Automation features are helping wheel loaders and their operators achieve more in less time."
One of the best parts of small equipment is the variety of attachments. From buckets and breakers to mowers and plows, click here to see what's out there. Tags: July August 2022 Print Issue, Spec Guide, Spec Guide 2022, Takeuchi