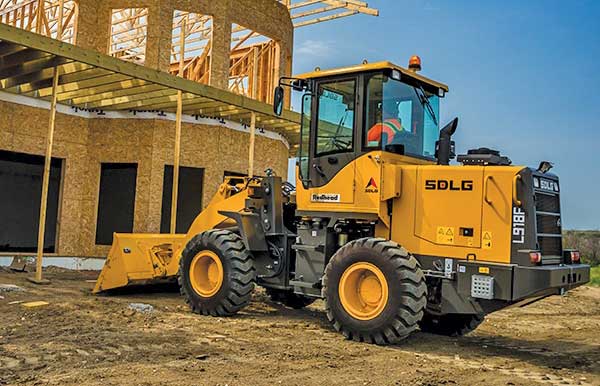 A Compact Wheel Loader Built to Handle Tough Applications
SDLG is one of the world's top sellers of wheel loaders. In 2013, the brand was introduced to North America, already having proven itself in many other international markets. The company has been a subsidiary of Volvo Construction Equipment since 2007. Today, SDLG offers four wheel loader models in North America: the L918F, L938F, L948F and the L959F, all of which are Tier 4 Final machines. The brand continues to grow, as its North American dealer network has expanded to encompass 36 dealers that account for more than 200 branch locations. SDLG has also invested in its machine and parts distribution facilities.
SDLG has become known for attracting customers who are looking for new machines that are reliable, simple and have a more competitive price point than premium, features-led equipment. The company says its wheel loaders have become popular for a number of tasks in North America, including snow removal, roadwork, auto salvage, landscaping and more.
What can we say? We love rental. So much so that we published a Digital Rental Guide covering everything you need to know when renting a machine. Check it out here!
The L918F features a 1-cu-yd bucket capacity mounted to a skid steer-style coupler, placing it in the compact loader category but with the versatility of skid steer-style attachments. In addition, the unit has an optional 2-cu-yd light material skid steer bucket for applications such as snow removal or mulch yards. There is also an optional boom suspension for smoother ride handling and ISO coupler with a general-purpose type, 84-in. bucket for full load capacity.
The machine is priced competitively with large skid steer loaders, and as it provides similar bucket capacities, the L918F is ideal for skid steer owners looking to upsize into a compact loader that has higher ground speeds and better operator comfort. With ground speeds of up to 15 mph, the L918F wheel loader is a good fit for customers who need to operate at faster speeds to clear snow or at a slower pace for jobs that aren't time-sensitive. In terms of operator comfort, the cab features A/C, AM/FM and USB radio, and is ROPS/FOPS approved with excellent 360-degree visibility for a ready-to-work operator environment. Additionally, its low-maintenance engine and basic features make it a simple, compact loader at an affordable price.
Like other SDLG loaders, the L918F is ideal for applications that are seasonal or don't require lots of operating hours. The machine is also perfect for owners who can find value in a reliable, low-cost loader backed by a 12-month, 2,000-hour warranty, with extended warranties available. The L918F is an ideal yard machine for landscapers who have retail stone or mulch yards and do snow contract work in the winter.

Advice to Buyers
"Buyers should take a comprehensive view of what a machine and the manufacturer have to offer: performance, durability, versatility, warranty coverage and more," says Babliton Cardoso, commercial sales support director for SDLG North America. "Customers looking for a price-competitive and reliable machine, which can be used in a variety of applications with satisfactory performance, should definitely consider those factors."
For reprint and licensing requests for this article, please click here.
Tags:
July August 2021 print issue
,
SDLG
,
Spec Guide
,
Spec Guide 2021